January 22, 2012 -
Joe Fortenbaugh
Four prop bets for Championship Sunday
With the 2012 Super Bowl just two weeks away, I wanted to get you guys thinking about prop bets so that we're ready to hit the ground running in a little over a week.
Prop bets are very popular at this time of year as bettors are limited in their gambling options when it comes to picking sides and totals. Super Bowl Sunday offers a menu of proposition bets so deep and extensive that a little research can often give you a leg up against the house as there's only so much time and manpower that can be put towards setting these odds.
So let's dip our toes in the water today and get acclimated to proposition betting so that we have a better idea of what to look for come Super Bowl Sunday. Our good friend Warren Sharp from the excellent website Sharp Football Analysis.com was kind enough to offer up his advice on four prop bets for today's games that he believes offers some excellent value.
CLICK HERE for the AFC and NFC Championship lines.
NEW YORK GIANTS at SAN FRANCISCO 49ERS (6:30pm ET)
Ahmad Bradshaw OVER 3.5 Receptions (+110)
"There are some teams who, based on defense, tend to force more passes to running backs (SF, CHI, TEN, NYG). Other teams (NE, NO, GB) do it by putting up so many points that teams are forced to play catch-up through the air. In two playoff games this season, Bradshaw has a total of eight receptions, but neither defense was extremely stout vs. the run (GB and ATL) and the G-Men were never playing catch-up against the Packers.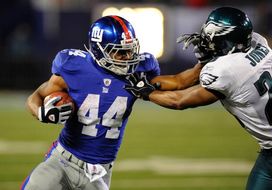 ICONAhmad Bradshaw could play a big role in the Giants passing game on Sunday.
San Francisco is one of the best run stopping units in the league. In the regular season matchup between these two teams, running back D.J. Ware had five catches filling in for Bradshaw, while Brandon Jacobs added another two. This week, I doubt Ware sees more than one reception, as the bulk of the running back targets will go straight to Bradshaw.
With the pressure that the 49ers must put on Eli Manning and with the way San Francisco stops the run, I think Bradshaw will be the target of at least four passes. Remember, last week Saints quarterback Drew Brees connected with running back Darren Sproles on 15 passes. The Giants offense is not similar to the Saints in that respect, but I still think that at plus money, taking the over here gives you a good chance to cash."
Giants/49ers Total Punts OVER 9.5 (-115)
"In my opinion, this number is slightly deflated due to the game last week between the Giants and Packers, which saw only four total punts. Not only is this a solid hedge vs. an over bet, it's a solid play on its own. Since the Giants defense has gotten healthier down the stretch, New York forced nine punts from the Jets, six punts from the Cowboys and seven punts from the Falcons. Those numbers have us well on our way to the ten that we need in the NFC Championship game.
San Francisco held the No. 1 third down offense in the league (New Orleans) to just 5 of 14 (36%) during their Divisional Round matchup last week. In that game, the Saints punted five times, their second-highest total on the season. Over the last seven weeks, the Giants have punted almost 4.5 times per game, despite facing the following teams ranked in third down defense: Atlanta (31), Green Bay (26) 2x, Dallas (23) 2x, Washington (18) and the New York Jets (17). These teams average 41% conversions on the season using my third down weighted averages. San Francisco is at 38%. I look for the Giants to punt at least twice as much as the two times they punted in their previous matchup with the Niners."
BALTIMORE RAVENS at NEW ENGLAND PATRIOTS (3:00pm ET)
Joe Flacco OVER 19.5 Completions (-105)
"This is one where you can't look at Joe Flacco's numbers as much as you need to look at what the Patriots tend to allow. But first we'll look at Flacco:
Through the first ten weeks of the season, Flacco had 20+ completions in six of nine games. The problem is that he had 30 completions in the Ravens' Week 10 loss at Seattle.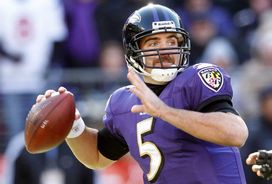 Will Joe Flacco make his way to 20 completions on Sunday?
From that point onward the Ravens recommitted themselves to the run, as they knew that Flacco could not win games for them through the air. He's simply not a good or great quarterback. He is above average, but even the Ravens themselves know they must limit how often they let Flacco throw the football.
Since that Week 10 game, the Ravens have played eight contests and Flacco has thrown 20 or more completions just twice. If the Ravens could have it their way, Flacco would be completing far less than 20 passes per game.
This season, if their opponent scores over 17 points, Flacco has thrown 24+ completions in four of six games with an average of 24 completions per outing.
The Patriots have allowed an average of 23 completions per game this season, which ranks fourth-most in the league. It easily could be over 24 (which would rank them first), but for playing three of the worst completion teams in the league twice each in Denver, Miami and the New York Jets.
Even teams who played close, low scoring games with the Pats, such as Pittsburgh, the New York Giants and Dallas, completed 20 or more passes. The key to playing New England is to control the ball, but you can't do it all on the ground for four quarters.
Assuming the Patriots take the lead, Flacco will be forced to throw and he's shown the ability to average over 20 completions in these situations. The Ray Rice reception prop (below) plays well next to this prop, as there is a very good chance Rice will occupy a bulk of these completions on check downs or designed running back routes."
Ray Rice OVER 4.5 Receptions (-130)
"Particularly on the road, Rice has a ton of receptions as he eclipsed this total in six of eight away games this season. The only contests where he didn't hit this mark were in solid wins against teams who were struggling to score (at Cleveland, at Cincinnati).
In tight games or against teams who could score, Rice got a ton of looks in the passing game:
at San Diego: 9 receptions
at Seattle: 8 receptions
at Pittsburgh: 5 receptions
In addition, I think it's clear that Rice will be New England's focus when it comes to the ground game and there is a good chance Flacco will have to move the ball through the air to keep this one close. On the season, the Ravens are No. 3 in the league in passes to their running backs and dead last in passes to their wide receivers. Rice will surely see his share of targets in the check down game this weekend."
For more great insight, check out Warren Sharp on Twitter: @SharpFootball
Hit me up on Twitter: @JoeFortenbaugh