August 05, 2011 -
Barry Dorey
Garrard suffers back injury
Having moved up six spots in the first round to draft quarterback Blaine Gabbert (Missouri), the Jacksonville Jaguars have a Plan B in place should something happen to starter David Garrard.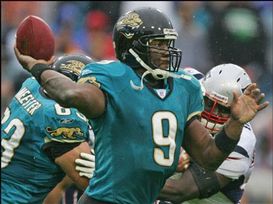 Garrard's on the clock in Jacksonville.
Something has happened to starter David Garrard.
Although apparently not serious, Garrard suffered a back injury during practice on Thursday night when he was knocked down during 11-on-11 drills, per Tania Ganguli and Vito Stellino of the Florida Times-Union.
"David's back got a little tight, so we're just icing him down," Del Rio told reporters after practice. "He'll get treatment and all that. But he should be fine, so nothing major there. He came to me after the first team period, then to Mike Ryan, and said it was getting tight. It's not the time to push through that kind of thing, so just let it settle down."
Garrard is expected to start at quarterback for the Jaguars in Week 1, but it will be interesting to see how Del Rio and the coaching staff handle the position, should the team get off to a slow start.
Because at some point, Gabbert is going to be on the field whether Garrard is healthy or not.
Hit me up on Twitter: @JoeFortenbaugh