August 17, 2011 -
Barry Dorey
Generating interest: 5-6 teams make offer to Maybin
Apparently two underwhelming seasons in Buffalo isn't enough to derail a professional football career for good.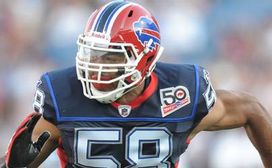 Will Maybin get a second chance with the Jets?
Cut by the Bills on Monday, free agent linebacker and 2009 first-round draft pick Aaron Maybin is drawing some interest on the open market. Per Manish Mehta of the New York Daily News, the New York Jets have made a one-year offer to the 23-year-old linebacker.
In addition, Mehta tweets that 5-6 other teams have made a similar offer.
After becoming the 11th overall pick in the 2009 draft, Maybin went on to start only one game and record just 22 tackles in two highly disappointing seasons with the Bills. Buffalo pulled the plug on Monday and Maybin cleared through waivers on Tuesday.
Hit me up on Twitter: @JoeFortenbaugh