November 28, 2011 -
Barry Dorey
Giants-Saints Monday night betting primer
NEW YORK GIANTS (6-4, 3-2 road) at NEW ORLEANS SAINTS (7-3, 4-0 home)
Time: 8:30pm ET (ESPN)
Opening line: New Orleans -6.5/52
Current line: New Orleans -7.5/51
Current betting trends: 54% backing the Saints, 66% backing the OVER.
New York Giants: 4-5-1 against the spread, OVER is 5-4-1
New Orleans Saints: 6-4 against the spread, OVER is 5-5
KEY TRENDS
1. The Giants are 4-0 ATS in their last four Monday night games.
2. The Giants are 1-4-1 ATS in their last six games overall.
3. The Saints are 4-0 ATS in their last four games overall.
4. The Saints are 6-1 ATS in their last seven November games.
5. The OVER is 18-7-1 in the Giants' last 26 games vs. NFC opponents.
6. The UNDER is 6-1 in the Saints' last seven games against a team with a winning record.
7. The favorite is 6-1 in the last seven meetings between these two teams.
8. The UNDER is 5-2-1 in the last eight meetings between these two teams.
KEY INJURIES
NEW YORK GIANTS: OUT: T Will Beatty (eye, back), RB Ahmad Bradshaw (foot), DB Derrick Martin (hamstring), DOUBTFUL: LB Michael Boley (hamstring), QUESTIONABLE: WR Mario Manningham (knee), WR Michael Clayton (knee), PROBABLE: T Kareem McKenzie (toe), DE Justin Tuck (ankle, shoulder), DE Osi Umenyiora (knee), RB D.J. Ware (concussion)
NEW ORLEANS SAINTS: OUT: DE Turk McBride (ankle), QUESTIONABLE: LB Jonathan Vilma (knee), PROBABLE: DE Cameron Jordan (hand), CB Patrick Robinson (stomach)
EXPERT ANALYSIS
Marco D'Angelo, Las Vegas Handicapper, Pregame.com: "Personally, I give the Giants a big shot here in their second-consecutive primetime game as they looked awful last Sunday Night at home against the Eagles. If the Giants can't beat Philly, how do they go to New Orleans and win?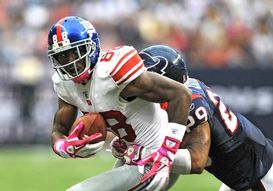 ICONCan Hakeem Nicks and the Giants keep it close in New Orleans tonight?
A careful examination of their 2011 season shows that the Giants seem to play to the level of their competition. How else do you explain losing at home to Seattle and Philadelphia and then winning at New England and taking San Francisco to the limit on the road?
The Giants own the fifth-best passing offense in the NFL and when you consider half of those games were played at the Meadowlands—where wind can always be a factor—think what this team can do Monday night in perfect conditions at the Superdome.
Betting wise, it looks like the sharps are agreeing with me as I have seen two key sportsbooks here in Vegas (MGM and Stations) bring this line back to NO -7 from NO -7.5. Let's follow the money and tonight, that's with the underdog Giants.
If you can't get NYG +7.5, wait until closer to game time, as once the public gets involved I believe the number will go back to NO -7.5. But it won't go below the key number of 7, so you won't lose anything by waiting if you can't get +7.5 now."
Follow Marco on Twitter: @MarcoInVegas
To check out some expert analysis for Monday night's over/under, CLICK HERE.
Hit me up on Twitter: @JoeFortenbaugh