June 03, 2013 -
Joe Fortenbaugh
Going deep
The calendar flipped to the month of June this past weekend, which means that those of you who have been stealthily hiding your fantasy football obsession from friends and family can finally emerge from the darkness without the fear of being ostracized from society. Two months of prep work is considered due diligence. Three or more can be viewed by some (but not this writer) as an unhealthy obsession.
We'll help you get that much-needed fix today by taking a look at ten players we believe could come at an excellent price on draft day in August.
1. Lamar Miller, RB, Miami Dolphins: Averaged 4.9 yards per carry on 51 rushing attempts as a rookie last season and enters the 2013 campaign atop Miami's depth chart thanks to the departure of former feature back Reggie Bush. Miller was a stud in his final season at The U (2011), amassing 1,357 total yards and ten scores (5.56 yards per touch average) for the 6-6 Hurricanes. The additions of wide receiver Mike Wallace and tight end Dustin Keller should help to open up some running lanes underneath now that the Dolphins have what many consider to be a legitimate passing attack.
Note: Don't be shocked if Miller's stock begins to rise this summer when the halfway crook fantasy owners realize he's the new starting running back in Miami.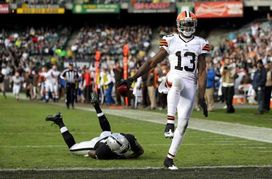 Gordon could emerge as a big-time playmaker in Cleveland's new-look offense.
2. Josh Gordon, WR, Cleveland Browns: Averaged 16.1 yards per reception (50 catches for 805 yards) as a rookie wideout in 2012 playing with a first-year quarterback. We spent last week examining the impact offensive coordinator Norv Turner has in his first year with a new club and we believe that Gordon will be the primary beneficiary of Turner's years of experience. We've taken to calling the 22-year-old from Baylor "Mike Wallace Light," so don't be shocked when you see Gordon scoring from downtown this fall.
Note: Gordon ranked fourth in the NFL in YPR average last season for receivers with a minimum of 50 grabs.
3. Alshon Jeffery, WR, Chicago Bears: Caught just 24 passes in ten appearances as a rookie in 2012, but enters the fall ready to take the next big step in his development. Brandon Marshall, Matt Forte and Martellus Bennett provide an excellent support system that should help keep opposing defenses from focusing too much of their time on Jeffery. At 6-3, 216 pounds, the former Gamecock playmaker makes for an excellent red zone target in Marc Trestman's new offense.
Note: Will spend the first few weeks of the 2013 fantasy season on your bench until he can demonstrate the ability to consistently produce reliable fantasy numbers.
4. Jared Cook, TE, St. Louis Rams: Found the end zone only eight times in 59 games with the Tennessee Titans, but you have to consider the following: There's a reason why Jeff Fisher and the Rams awarded Cook with a five-year, $35 million contract this past offseason. And that reason isn't because St. Louis plans on turning Cook into a full time blocker. The 26-year-old is going to record a career-high in the targets category this season.
Note: Now that youngsters Tavon Austin and Brian Quick have been tasked with leading the St. Louis receiving unit thanks to Danny Amendola's defection to New England, Cook's experience will function as a security blanket for quarterback Sam Bradford.
5. Giovani Bernard, RB, Cincinnati Bengals: The first running back selected in the 2013 NFL draft was taken by a team that dished out a three-year, $9 million contract to veteran BenJarvus Green-Ellis during the 2012 offseason. The Bengals wouldn't have spent a second-round pick on Bernard had they thought the Law Firm was capable of making a significant impact as the team's workhorse running back. In 26 games with the North Carolina Tar Heels from 2011-2012, Bernard rolled up 3,446 total yards (6.69 yards per touch average) and 31 touchdowns. The 21-year-old's ability to contribute in the passing game could get him significant field time a lot quicker than some expect.
Note: Patience will be a virtue with Bernard, who could begin the season seeing limited action as Cincinnati's third down running back.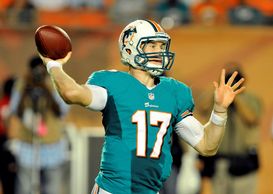 US PRESSWIRETannehill's has an upgraded arsenal at his disposal this season.
6. Ryan Tannehill, QB, Miami Dolphins: Completed 58.3% of his passes as a rookie and threw just one interception in Miami's final five regular season games last season. Laugh if you want, but Tannehill is going to record bumps in every major statistical passing category this season. Mike Wallace and Dustin Keller were added to a roster that was severely lacking in the firepower department, giving the former Aggie quarterback the arsenal he needs to post notches in the win column. Tannehill makes sense as a late-round QB3 who could be used as trade bait later in the season.
Note: Tannehill amassed more fantasy points than Matt Schaub, Sam Bradford and Christian Ponder last season.
7. Darrius Heyward-Bey, WR, Indianapolis Colts: Produced so little during his four seasons in Oakland (140-2,071-11) that many a fantasy owner will be quick to pass on DHB this summer. That means a dip in stock price and a plummet towards the later rounds of the draft. Good. More for me and you. Heyward-Bey traded the revolving door at the quarterback position in Oakland this past offseason for a spot on the field with Pro Bowler Reggie Wayne and up-and-comer Andrew Luck. We don't envision a hefty reception total for DHB in 2013, but we think he'll post a career-high in the touchdown department.
Note: The last time Heyward-Bey recorded more than 85 receiving yards in a game was November 6, 2008 against Virginia Tech.
Editor's Note: Not exactly sure how we screwed this one up, but DHB last topped 85 receiving yards in a game on January 1, 2012.
8. Johnathan Franklin, RB, Green Bay Packers: Second-round pick Eddie Lacy will likely begin the season as the starting running back for the Green Bay offense, but don't be surprised if the underrated Franklin finds a way to slowly pilfer more and more playing time from the Alabama bruiser. The 23-year-old from UCLA averaged 6.1 yards per carry for the Bruins last fall (282 carries for 1,734 yards) and possesses the hands and speed to make plays in the Green Bay passing game. With every NFL defense focusing the majority of their attention on Aaron Rodgers and the Packers aerial attack, the running back who claims the starting gig could be in for a surprisingly productive season.
Note: Rushed for 100 or more yards in nine of UCLA's 14 games last season.
9. Danario Alexander, WR, San Diego Chargers: Posted a career-high stat line with the Bolts last season (37-658-7) despite appearing in only ten games . Robert Meachem was a complete bust in 2012 after leaving New Orleans and youngsters Vincent Brown and Keenan Allen will have to prove themselves before earning a shot at the starting lineup. That leaves Alexander with a chance to solidify himself as one of Philip Rivers' top targets.
Note: Averaged 17.8 yards per reception in Norv Turner's vertical passing attack last season, but could struggle in the transition to new head coach Mike McCoy's offense.
10. Zac Stacy, RB, St. Louis Rams: A fifth-round selection out of Vanderbilt who amassed 2,465 rushing yards and 24 touchdowns over his final two seasons with the Commodores, Stacy will have the opportunity this summer to compete with Daryl Richardson and Isaiah Pead for the job vacated by Steven Jackson. This will be one of the more compelling training camp battles worth keeping a close eye on throughout July and August.
Note: Stacy could fall through the cracks on draft day which would make him a hot waiver wire acquisition, should the rookie crack the starting lineup at some point during the season.
Hit me up on Twitter: @JoeFortenbaugh