June 11, 2012 -
Joe Fortenbaugh
Golden Nugget releases CFB Games of the Year lines
I think most of us would agree that there are no fewer than 3,187 activities we would rather partake in than a trip to the dentist.
Like mowing the lawn or paying taxes, visiting the dentist is a necessary evil. Every six months you are expected to climb into that chair and prepare for sixty minutes worth of lectures designed to educate you on everything you're doing wrong. And then when the final whistle blows and you're preparing to make a mad dash for the exit, the woman at the front desk asks you to schedule your next appointment. I have enough trouble trying to figure out what I'm going to eat for lunch. Committing to something I have no interest in doing six months in advance ain't happening.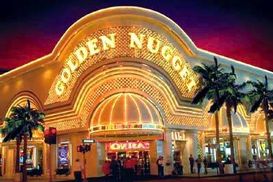 The Golden Nugget made a big splash on Monday with their release of 111 college football point spreads.
But those much-dreaded trips to the dentist aren't all bad. You get a goodie bag filled with things you'll use (a toothbrush) and things you won't (floss). You can make wisecracks that nobody will laugh at (is it ok if I have a cigarette while you're working?). And most importantly, in between being asked questions that you can't possibly be expected to answer because you have no fewer than three medical devices inserted into your mouth, you have time to think.
Monday morning during my latest trip to the dentist I chose to avoid thinking about the disaster that is my golf game and opted instead to zero in on what's taking place back at my home base of Las Vegas. Today is a holiday for the sports betting community as the Golden Nugget released point spreads for 111 of the most popular 2012 college football games.
For the uneducated, the Nugget has a made a splash posting early college football lines in each of the past five years. Some of the sharpest minds in the sports betting world grabbed a spot in line beginning at 10:00am pacific on Monday, salivating at the thought of getting down on some of the most highly anticipated games of the upcoming season. The max bet allowed is $1,000 and each bettor is permitted to make a total of three plays at the counter before heading to the back of the line.
Before we take a look at some of the more intriguing options, let's check in with some local Vegas betting experts for their opinions on what transpired at the Golden Nugget on Monday:
Teddy Covers, professional handicapper, Covers.com: "We saw a handful of teams get hit pretty hard right off the bat, including Florida, Ohio State, Texas and Tennessee. The Longhorns and Volunteers are two teams that I agree with 100% who are primed to have strong seasons. Oklahoma, Alabama, Notre Dame and South Carolina all saw some money as well, but I think the Sooners have been a bit overvalued by the Nugget."
Follow Teddy on Twitter: @Teddy_Covers
Steve Fezzik, professional handicapper, LVASports.com: "The Nugget did a great job this year and as far as I could tell, not one game got hit three times. I really like Tennessee +17 vs. Alabama. I still remember in 2009 when a horrible Tennessee team almost beat a great Alabama team until Terrence Cody blocked that field goal."
Follow Fezzik on Twitter: @FezzikSports
Marco D'Angelo, professional handicapper, Pregame.com: "I feel the Pitt Panthers were underrated by the Golden Nugget, so I jumped on Pitt +5 against Cincinnati on September 6 for the max bet that I was allowed. The line moved down to +4 as I left the window. The other team that was surprisingly getting no respect was Ohio State. I felt they were undervalued in most of their posted games."
Follow Marco on Twitter: @MarcoInVegas
Here is just a small sampling of what's being offered over at the Golden Nugget today. For the complete list, check out our friends at Beyond The Bets.com, who are on the scene in downtown Las Vegas.
9/1: Alabama (-12) vs. Michigan (Arlington)
9/8: Georgia (-3) at Missouri
9/22: Notre Dame (-1) vs. Michigan
9/22: Florida State (-8) vs. Clemson
9/22: South Carolina (-5) vs. Missouri
10/6: LSU (-7.5) at Florida
10/6: Ohio State (-2) vs. Nebraska
10/6: Notre Dame (-9.5) vs. Miami
10/13: Oklahoma (-6) vs. Texas (Dallas)
10/27: Oklahoma (-12) vs. Notre Dame
11/3: LSU (-2) vs. Alabama
11/3: USC (-6) vs. Oregon
11/10: Alabama (-20) vs. Texas A&M
11/17: Oklahoma (-4) at West Virginia
11/24: USC (-14) vs. Notre Dame
11/24: Alabama (-18) vs. Auburn
11/24: Michigan (-3) at Ohio State
Hit me up on Twitter: @JoeFortenbaugh