June 13, 2014 -
Joe Fortenbaugh
Golden Nugget's college football point spreads have arrived
LAS VEGAS—Buried beneath the global coverage of the 20th FIFA World Cup and brushed aside for the 114th edition of the United States Open golf championship at Pinehurst No. 2, the college football countdown clock continues to grind its way toward kickoff on August 28, a mere 76 days from today. Soccer, golf, the demise of the Heat and rise of the Kings are currently dominating the athletic landscape in our country, but the sport of college football is never far from the minds and wallets of Las Vegas' sports betting proletariat.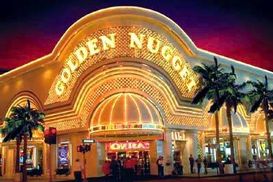 The Golden Nugget in Vegas was a hotbed for college football action on Friday.
Friday afternoon in downtown Las Vegas serves to remind us of this fact, as Phil Steele magazine-carrying professional bettors, cash-packing tourists and more lined up at the Golden Nugget sports book to bet into the shop's "College Football Games of the Year" point spreads, an annual summer tradition that draws plenty of action.
Beginning at 1:00pm pacific on Friday, bettors will have the opportunity to wager on any of the 200 college football point spreads Golden Nugget sports book director Tony Miller and assistant Aaron Kessler have been working on over the last few weeks. Bettors are permitted to make as many as five $1,000 limit wagers before they must return to the back of the line.
The full rundown of the Golden Nugget's college football "Games of the Year" point spreads is listed below. In addition, we'll be tweeting information regarding popular bets and teams, key line movements and more Friday afternoon from the Nugget (@JoeFortenbaugh).
GOLDEN NUGGET 2014 COLLEGE FOOTBALL GAMES OF THE YEAR OPENING LINES
THURSDAY 8/28
Texas A&M Aggies at South Carolina Gamecocks -9
Boise State Broncos vs. Mississippi Rebels -9 (Atlanta)
FRIDAY 8/29
UNLV Rebels at Arizona Wildcats -23.5
BYU Cougars -16.5 at Connecticut Huskies
SATURDAY 8/30
Arkansas Razorbacks at Auburn Tigers -24
Colorado State Rams at Colorado Buffaloes -4 (Denver)
Clemson Tigers at Georgia Bulldogs -9
California Golden Bears at Northwestern Wildcats -9.5
UCLA Bruins -21.5 at Virginia Cavaliers
Ohio State Buckeyes -14 at Navy Midshipmen
Penn State Nittany Lions -2.5 at Central Florida Knights (Ireland)
West Virginia Mountaineers at Alabama Crimson Tide -27.5 (Atlanta)
Florida State Seminoles -17 vs. Oklahoma State Cowboys (Arlington)
LSU Tigers -7 vs. Wisconsin Badgers (Houston)
MONDAY 9/1
Miami Hurricanes PICK at Louisville Cardinals
FRIDAY 9/5
Pittsburgh Panthers -9 at Boston College Eagles
SATURDAY 9/6
USC Trojans at Stanford Cardinal -3.5
San Diego State Aztecs at North Carolina Tar Heels -21
BYU Cougars at Texas Longhorns -6
Michigan State Spartans at Oregon Ducks -13
Michigan Wolverines at Notre Dame Fighting Irish -3
Virginia Tech Hokies at Ohio State Buckeyes -18
Colorado State Rams at Boise State Broncos -10
SATURDAY 9/14
Boise State Broncos -10 at Connecticut Huskies
USC Trojans -23 at Boston College Eagles
Tennessee Volunteers at Oklahoma Sooners -19
UCLA Bruins -8 at Texas Longhorns (Arlington)
Louisville Cardinals -7.5 at Virginia Cavaliers
Nebraska Cornhuskers -4 at Fresno State Bulldogs
Iowa State Cyclones at Iowa Hawkeyes -9.5
Georgia Bulldogs at South Carolina Gamecocks -3
Purdue Boilermakers vs. Notre Dame Fighting Irish -21 (Indianapolis)
THURSDAY 9/18
Auburn Tigers -13 at Kansas State Wildcats
SATURDAY 9/20
Clemson Tigers at Florida State Seminoles -17
Mississippi State Bulldogs at LSU Tigers -12
San Diego State Aztecs at Oregon State Beavers -13
Virginia Cavaliers at BYU Cougars -17
Georgia Tech Yellow Jackets at Virginia Tech Hokies -7
Oregon Ducks -23 at Washington State Cougars
Oklahoma Sooners -17 at West Virginia Mountaineers
Florida Gators at Alabama Crimson Tide -21
Miami Hurricanes at Nebraska Cornhuskers -3
THURSDAY 9/25
UCLA Bruins -7 at Arizona State Sun Devils
Texas Tech Red Raiders at Oklahoma State Cowboys -7
SATURDAY 9/27
Oregon State Beavers at USC Trojans -17
Tennessee Volunteers at Georgia Bulldogs -17
Minnesota Golden Gophers at Michigan Wolverines -12
Florida State Seminoles -30 at North Carolina State Wolfpack
Notre Dame Fighting Irish -5.5 vs. Syracuse Orange (East Rutherford)
Cincinnati Bearcats at Ohio State Buckeyes -21
North Carolina Tar Heels at Clemson Tigers -4
Arkansas Razorbacks vs. Texas A&M Aggies -11 (Arlington)
TCU Horned Frogs -10 at SMU Mustangs
Missouri Tigers at South Carolina Gamecocks -11
THURSDAY 10/2
Arizona Wildcats at Oregon Ducks -25
SATURDAY 10/4
Louisville Cardinals -1 at Syracuse Orange
LSU Tigers at Auburn Tigers -6.5
Arizona State Sun Devils at USC Trojans -11
Miami Hurricanes -4 at Georgia Tech Yellow Jackets
Vanderbilt Commodores at Georgia Bulldogs -24
Wisconsin Badgers -7 at Northwestern Wildcats
Alabama Crimson Tide -9 at Mississippi Rebels
Virginia Tech Hokies at North Carolina Tar Heels -10
North Carolina State Wolfpack at Clemson Tigers -23
Baylor Bears -3 at Texas Longhorns
Texas A&M Aggies at Mississippi State Bulldogs -3
Texas Tech Red Raiders at Kansas State Wildcats -7
Boise State Broncos -6 at Nevada Wolf Pack
Oklahoma Sooners -14 at TCU Horned Frogs
Florida Gators -4.5 at Tennessee Volunteers
Stanford Cardinal -6 at Notre Dame Fighting Irish
Nebraska Cornhuskers at Michigan State Spartans -8
SATURDAY 10/11
Alabama Crimson Tide -24 at Arkansas Razorbacks
USC Trojans -7.5 at Arizona Wildcats
Oregon Ducks -3 at UCLA Bruins
LSU Tigers -9 at Florida Gators
Georgia Bulldogs -7 at Missouri Tigers
Florida State Seminoles -21 at Syracuse Orange
Texas Longhorns vs. Oklahoma Sooners -9 (Dallas)
Louisville Cardinals at Clemson Tigers -10
Mississippi Rebels at Texas A&M Aggies -1
Auburn Tigers -9.5 at Mississippi State Bulldogs
Cincinnati Bearcats at Miami Hurricanes -11
West Virginia Mountaineers at Texas Tech Red Raiders -10
North Carolina Tar Heels at Notre Dame Fighting Irish -2.5
Penn State Nittany Lions at Michigan Wolverines -7
THURSDAY 10/16
Virginia Tech Hokies at Pittsburgh Panthers -1
Fresno State Bulldogs at Boise State Broncos -4.5
SATURDAY 10/18
Georgia Bulldogs -14.5 at Arkansas Razorbacks
Stanford Cardinal -6.5 at Arizona State Sun Devils
UCLA Bruins -22 at California Golden Bears
Notre Dame Fighting Irish at Florida State Seminoles -24
Missouri Tigers at Florida Gators -3
Nebraska Cornhuskers -2.5 at Northwestern Wildcats
Clemson Tigers -18 at Boston College Eagles
Tennessee Volunteers at Mississippi Rebels -12
Kansas State Wildcats at Oklahoma Sooners -14
Baylor Bears -16 at West Virginia Mountaineers
Texas A&M Aggies at Alabama Crimson Tide -16.5
Washington Huskies at Oregon Ducks -20
THURSDAY 10/23
Miami Hurricanes at Virginia Tech Hokies -1
FRIDAY 10/24
Oregon Ducks -34 at California Golden Bears
South Florida Bulls at Cincinnati Bearcats -19
BYU Cougars -3 at Boise State Broncos
SATURDAY 10/25
South Carolina Gamecocks at Auburn Tigers -7
Oregon State Beavers at Stanford Cardinal -13
Mississippi Rebels at LSU Tigers -7.5
Michigan Wolverines at Michigan State Spartans -7.5
West Virginia Mountaineers at Oklahoma State Cowboys -19
USC Trojans -10 at Utah Utes
North Carolina Tar Heels -14 at Virginia Cavaliers
Arizona State Sun Devils at Washington Huskies -6
Texas Longhorns at Kansas State Wildcats -3.5
Alabama Crimson Tide -20 at Tennessee Volunteers
Ohio State Buckeyes -9 at Penn State Nittany Lions
THURSDAY 10/30
Florida State Seminoles -17 at Louisville Cardinals
SATURDAY 11/1
Arizona Wildcats at UCLA Bruins -14
Florida Gators vs. Georgia Bulldogs -9 (Jacksonville)
Oklahoma Sooners -22.5 at Iowa State Cyclones
Auburn Tigers -7 at Mississippi Rebels
Boston College Eagles at Virginia Tech Hokies -16
Oklahoma State Cowboys at Kansas State Wildcats -3.5
North Carolina Tar Heels at Miami Hurricanes -1
Notre Dame Fighting Irish -3 at Navy Midshipmen
Stanford Cardinal at Oregon Ducks -10
Tennessee Volunteers at South Carolina Gamecocks -18
Texas Longhorns at Texas Tech Red Raiders -1
THURSDAY 11/6
Clemson Tigers -20 at Wake Forest Demon Deacons
SATURDAY 11/8
Texas A&M Aggies at Auburn Tigers -14
Notre Dame Fighting Irish at Arizona State Sun Devils -4.5
Michigan Wolverines -3 at Northwestern Wildcats
Alabama Crimson Tide -2.5 at LSU Tigers
Louisville Cardinals -15 at Boston College Eagles
Ohio State Buckeyes at Michigan State Spartans -1
Iowa Hawkeyes PICK at Minnesota Golden Gophers
Baylor Bears at Oklahoma Sooners -11
Florida Gators -9 at Vanderbilt Commodores
West Virginia Mountaineers at Texas Longhorns -13
Oregon Ducks -20 at Utah Utes
UCLA Bruins -3.5 at Washington Huskies
Kansas State Wildcats -4 at TCU Horned Frogs
THURSDAY 11/13
California Golden Bears at USC Trojans -34
SATURDAY 11/15
LSU Tigers -14 at Arkansas Razorbacks
Washington Huskies at Arizona Wildcats -5
Utah Utes at Stanford Cardinal -14
South Carolina Gamecocks -6 at Florida Gators
Clemson Tigers -6 at Georgia Tech Yellow Jackets
Auburn Tigers at Georgia Bulldogs -1
San Diego State Aztecs at Boise State Broncos -7.5
Pittsburgh Panthers at North Carolina Tar Heels -10
Texas Longhorns at Oklahoma State Cowboys -2
Arizona State Sun Devils -2 at Oregon State Beavers
Missouri Tigers at Texas A&M Aggies -6
Nebraska Cornhuskers at Wisconsin Badgers -7
Florida State Seminoles -14.5 at Miami Hurricanes
Oklahoma Sooners -10 at Texas Tech Red Raiders
Northwestern Wildcats at Notre Dame Fighting Irish -8
THURSDAY 11/20
Kansas State Wildcats-7.5 at West Virginia Mountaineers
North Carolina Tar Heels -3 at Duke Blue Devils
SATURDAY 11/22
Mississippi Rebels -5 at Arkansas Razorbacks
Stanford Cardinal -17 at California Golden Bears
USC Trojans at UCLA Bruins -4.5
Cincinnati Bearcats -10 at Connecticut Huskies
Oklahoma State Cowboys at Baylor Bears -9
Arizona Wildcats at Utah Utes -2
Miami Hurricanes -10 at Virginia Cavaliers
Oregon State Beavers at Washington Huskies -7.5
Wisconsin Badgers -6 at Iowa Hawkeyes
Missouri Tigers -4 at Tennessee Volunteers
Louisville Cardinals at Notre Dame Fighting Irish -8
THURSDAY 11/27
LSU Tigers -5 at Texas A&M Aggies
TCU Horned Frogs at Texas Longhorns -9.5
FRIDAY 11/28
Arizona State Sun Devils -1 at Arizona Wildcats
Stanford Cardinal at UCLA Bruins -3
Central Florida Knights -21 at South Florida Bulls
Virginia Cavaliers at Virginia Tech Hokies -14
Nebraska Cornhuskers at Iowa Hawkeyes -1
SATURDAY 11/29
BYU Cougars -11 at California Golden Bears
Notre Dame Fighting Irish at USC Trojans -10
Florida State Seminoles -17 at Florida Gators
Georgia Tech Yellow Jackets at Georgia Bulldogs -14
West Virginia Mountaineers PICK at Iowa State Cyclones
Illinois Fighting Illini at Northwestern Wildcats -9.5
Kentucky Wildcats at Louisville Cardinals -15
Arkansas Razorbacks at Missouri Tigers -10
North Carolina State Wolfpack at North Carolina Tar Heels -20
Michigan Wolverines at Ohio State Buckeyes -8
Oregon Ducks -13 at Oregon State Beavers
South Carolina Gamecocks -3 at Clemson Tigers
Tennessee Volunteers -3 at Vanderbilt Commodores
Washington Huskies -4.5 at Washington State Cougars
Minnesota Golden Gophers at Wisconsin Badgers -13
Auburn Tigers at Alabama Crimson Tide -6
Kansas Jayhawks at Kansas State Wildcats -25
Pittsburgh Panthers at Miami Hurricanes -7
Nevada Wolf Pack -5 at UNLV Rebels
Baylor Bears -6.5 at Texas Tech Red Raiders
SATURDAY 12/6
Oklahoma State Cowboys at Oklahoma Sooners -11
Kansas State Wildcats at Baylor Bears -6
SATURDAY 12/13
Navy Midshipmen -13 vs. Army Black Knights (Philadelphia)
Hit me up on Twitter: @JoeFortenbaugh