March 01, 2013 -
Joe Fortenbaugh
Greg Jennings looking to break the bank
<p> One side comes out shooting for the stars, the other responds by offering the desert floor. Somewhere in between both sides reach an agreement. So go negotiations, in a crude and rudimentary nutshell.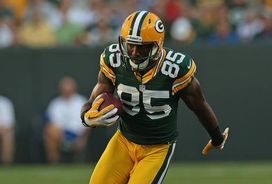 Jennings is reportedly looking for a deal that pays close to $12 million per year.
Green Bay Packers wide receiver Greg Jennings and his agent have recently launched this soon-to-be widespread process. According to a report from Mike Florio of Pro Football Talk, the word around the NFL is that Jennings is looking for a deal that pays in the neighborhood of $12 million per year.
Whether or not Jennings winds up reaching the negotiating process remains to be seen, as the Green Bay brass is currently contemplating whether or not to use the franchise tag on the seven-year veteran at a cost $10.537 million in base salary for the 2013 season.
There's nothing wrong with setting the bar high, should Jennings make it to the open market. But it's important that the wide receiver taper his expectations. Jennings will turn 30-years-old on September 21 and if he avoids the tag, will be competing on the open market with a much younger and more explosive receiver in Pittsburgh's Mike Wallace. 28-year-old Dwayne Bowe could be out there as well, unless the Kansas City Chiefs follow through on what many are predicting and slap the franchise tag on the six-year veteran.
Further complicating matters for Jennings is the fact that he's only appeared in 21 of a possible 32 regular season games over the last two seasons due to injuries. While his last full campaign produced impressive results (76-1,265-12 in 2010), Jennings has caught just 103 passes with 13 touchdowns from 2011-2012.
But that won't stop him and his agent from shooting for the stars, even if both are well aware they won't get there.
Hit me up on Twitter: @JoeFortenbaugh