January 30, 2012 -
Joe Fortenbaugh
Gronk sits out Monday practice session
Two years ago in Miami one of the dominant storylines heading into the Colts-Saints Super Bowl showdown was the status of Pro Bowl defensive end Dwight Freeney's ankle.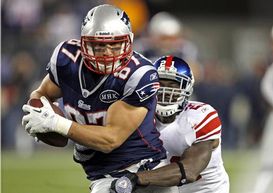 It's highly unlikely Gronkowski will be anywhere near 100% by Sunday.
This week in Indianapolis, another ankle has taken center stage.
Patriots tight end Rob Gronkowski—who suffered a high ankle sprain in New England's 23-20 AFC Championship game win over the Baltimore Ravens—did not practice on Monday, according to head coach Bill Belichick.
The 22-year-old from Arizona got off the plane in Indy Sunday afternoon in a walking boot and isn't expected to practice at all this week, according to PFT's Mike Florio. However, Florio's source does believe that Gronkowski will play on Sunday.
One thing's for certain: expect to see plenty of pictures and analysis in regards to how Gronkowski moves/walks during Tuesday's annual Media Day.
Hit me up on Twitter: @JoeFortenbaugh