February 05, 2012 -
Joe Fortenbaugh
Gronkowski and his banged-up ankle will play
INDIANAPOLIS—It's official. Patriots tight end Rob Gronkowski is active and will start Sunday's Super Bowl against the New York Giants.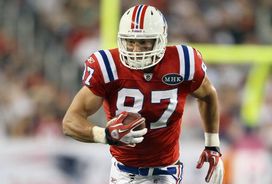 Gronkowski is active and will play Sunday against the Giants.
The 22-year-old from Arizona suffered a high ankle sprain in the Patriots' 23-20 AFC Championship game win over the Baltimore Ravens two weeks ago and was listed as "questionable" on Friday's injury report.
In 18 games this season, Gronkowski hauled in 105 receptions for 1,559 yards and 20 touchdowns in what many consider to be the most prolific statistical season for a tight end in NFL history.
Gronk most certainly won't be operating at 100% on Sunday, be his presence on the field will force the Giants' defense to pay attention, which should help to free up playmakers Wes Welker and Aaron Hernandez. And even with one bad wheel, don't discount this guy's ability to convert in the red zone. During the 2011 regular season, Gronkowski ranked second in the league in red zone targets (26) among NFL pass-catchers.
BetOnline.com has set Gronkowski's over/under for receiving yards at 77.5 (over +115, under -145).
Hit me up on Twitter: @JoeFortenbaugh