February 05, 2011 -
Joe Fortenbaugh
Hall of Fame welcomes seven new members
DALLAS—After roughly seven and a half hours of deliberations on Saturday, the Pro Football Hall of Fame is set to expand its membership by seven.
Marshall Faulk, Deion Sanders, Shannon Sharpe, Richard Dent, Chris Hanburger, Les Richter and Ed Sabol were elected by the 44-member committee Saturday afternoon to join the NFL's elite at the Pro Football Hall of Fame in Canton, Ohio.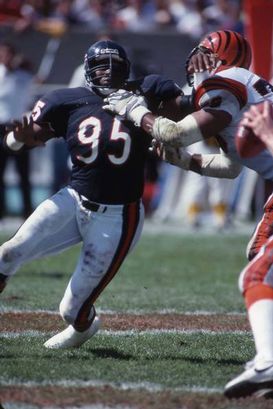 Defensive end Richard Dent.
This was the first year Sanders and Faulk were eligible for enshrinement. Finalists must receive a minimum vote of 80% in order to be elected into the Hall of Fame.
Upon retiring from the NFL in 2001, Sharpe was the all-time leader in touchdowns, receptions and yards at the tight end position. He was named to the Pro Bowl eight times and won three Super Bowls during his 14-year career.
A linebacker for the St. Louis Rams, Richter was named to the Pro Bowl eight times in nine NFL seasons. He never missed a game in his career.
Hanburger was voted to nine Pro Bowls during a 14-year career in which he played linebacker for the Washington Redskins.
Sabol was the founder of NFL films and is said by many to have revolutionized the game.
The notable players who will have to wait for next year include wide receivers Andre Reed, Cris Carter and Tim Brown, along with defensive tackle Cortez Kennedy, running back Curtis Martin and offensive tackle Willie Roaf.
Hit me up on Twitter: @JoeFortenbaugh