January 03, 2011 -
Joe Fortenbaugh
Handing out the hardware
Sadly, the 2010 NFL fantasy season has officially come to a close. If you're anything like me, you're dreading six months of coaches visiting the mound to talk with pitchers about what to do in a meaningless situation during game No. 54 of 162.
But before we officially close the book on the 2010 fantasy football season, it's time to hand out some hardware in recognition of the best and worst this year had to offer.
Since I'm sure many of you will be in disagreement with some of the following selections, you can email me at Joe.Fortenbaugh@NationalFootballPost.com to express your displeasure.
Thanks to all of you for reading this column and for making the 2010 NFP fantasy season a success. Here's your final motivational moment of the day…
Movie Videos & Movie Scenes at MOVIECLIPS.com
MOST VALUABLE PLAYER
Arian Foster, RB, Houston Texans: With all due respect to Eagles quarterback Michael Vick, we have to give the nod to the undrafted running back from Tennessee. Foster's ADP (average draft position) back in August was 36.3 according to Fantasy Football Calculator.com, meaning 2010's highest scoring running back was a player you probably passed on at least three times during your fantasy drafts. In addition, outside of Chris Johnson's stellar 2009 campaign (332 fantasy points), no running back has posted a more productive fantasy season over the last four years than Foster (315 points).
The 24-year-old from San Diego averaged 18.5 fantasy points per week this season, which is 4.8 points per week higher than what second-place running back Adrian Peterson totaled in 2010. Foster finished the season ranked first in rushing (1,616 yards), first in rushing touchdowns (16) and first in scrimmage yards (2,220). As if that wasn't enough, the two-year veteran posted 30 or more fantasy points in four games this season while topping 20 points nine times.
Yes, Foster's five-point dud in Week 15 possibly cost you a shot at playing for a fantasy championship, but this guy delivered in a big way week in and week out in 2010. Remember, Vick finished the year ranked third in scoring among fantasy quarterbacks, while Foster ended the season so far ahead of his positional competition that you could eliminate his SEVEN lowest scoring weeks and he'd still have beaten Peterson by nine fantasy points.
BEST VALUE PICK
Mike Williams, WR, Tampa Bay Buccaneers: The logic was simple: Somebody has to catch the football in Tampa Bay, right? After finishing the 2009 season with the league's 24th-ranked passing offense (185.8 yds/gm), general manager Mark Dominik and head coach Raheem Morris drafted two talented wide receivers last April in an effort to provide second-year quarterback Josh Freeman with some much needed firepower.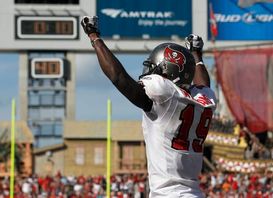 ICONMike Williams was an absolute steal for fantasy owners in 2010.
The 6-2, 212-pound Williams fell to the fourth round due to character concerns that sent many NFL general managers running for the hills, but the Buccaneers took a chance and were handsomely rewarded. Savvy fantasy owners picked up on the scent back and August and targeted Williams with a late-round draft pick in the hopes of adding some depth to their WR unit (ADP: 118.3, 47th wide receiver drafted).
17 weeks later, Williams put the finishing touches on a 2010 season that even some of the best wideouts in the game had to envy. The 23-year-old concluded his rookie campaign ranked fourth in the league in touchdown receptions (11) and posted a stat line (65-964-11) that was solid enough to finish in the top-11 in scoring among fantasy wide receivers.
Miles Austin, DeSean Jackson, Larry Fitzgerald, Marques Colston, Anquan Boldin and Brandon Marshall are just a few of the big-name wideouts that were selected more than seven rounds before Williams.
PERFORMANCE OF THE YEAR
Monday, November 15, 2010: Michael Vick vs. Washington Redskins
Final stat line: 413 total yards, 6 touchdowns, 52 fantasy points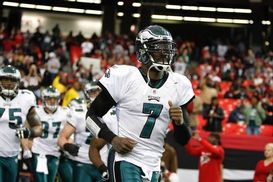 ICONVick smoked the Redskins en route to the top fantasy performance of the season.
On national television in front of millions of people, Vick came out guns blazing and hit wide receiver DeSean Jackson for an 88-yard touchdown pass on the first play from scrimmage en route to a 59-28 primetime blowout of the Washington Redskins.
The Philadelphia quarterback connected on his first ten passes of the game and finished the evening having completed 20 of 28 passes (71.4%) for 333 yards with four touchdowns and no interceptions (QB rating: 150.7). The mobile signal-caller also picked up 80 rushing yards and two additional scores on eight carries to cap off the fantasy performance of the year.
To put Vick's monster game into perspective, you could have started the following lineup in Week 10 and still fallen two points shy of Vick's 52-point explosion:
QB: Peyton Manning
RB: Ray Rice
RB: Adrian Peterson
WR: Reggie Wayne
WR: Randy Moss
WR: Stevie Johnson
TE: Vernon Davis
K: Rob Bironas
D/ST: Baltimore Ravens
BUST OF THE YEAR
Randy Moss, WR, New England Patriots/Minnesota Vikings/Tennessee Titans: You can make a solid case for San Diego running back Ryan Mathews to take home this award (ADP: 14.8), but at the end of the day, no player in the NFL was a bigger disappointment in 2010 than Randy Moss.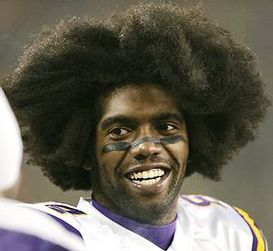 Moss was a bust in three different uniforms this season.
Entering a contract year and playing on the same offense as one of the best quarterbacks in NFL history, Moss managed to piss off the wrong people in not one, but two organizations en route to one of the most underproductive fantasy seasons in recent memory.
Remember, this guy had an preseason ADP of 8.8, meaning many of you (myself included) wasted a first-round draft pick on a healthy player that finished the season ranked 67th in scoring among fantasy wide receivers (one spot shy of Miami's Brian Hartline and two spots shy of Carolina's David Gettis).
To put this pathetic display into context, take a look at the following comparison:
Final four games of the 2010 season:
Randy Moss, WR, Tennessee Titans: 1 reception, 18 yards, 0 TDs, 1 fantasy point
Joe Fortenbaugh, WR, Free Agent: 0 receptions, 0 yards, 0 TDs, 0 fantasy points
Clearly I was the better value, as you wouldn't have wasted a first-round pick on me back in August.
WAIVER WIRE ACQUISITION OF THE YEAR
I broke down and ranked the top-ten waiver wire acquisitions of the 2010 season last Wednesday. CLICK HERE to check it out.
SLEEPER OF THE YEAR
Mike Wallace, WR, Pittsburgh Steelers: I'm sure many of you are currently headed right to my email inbox in an effort to tell me how much you disagree with this selection, but the fact remains that Wallace delivered a top-five performance with an ADP of 72.3.
According to Fantasy Football Calculator.com, on average, 27 wide receivers were selected before Wallace back in August. Those draft picks include Mike Sims-Walker, Chad Ochocinco, Steve Smith (Carolina), Wes Welker and Larry Fitzgerald.
But after 17 weeks of football, only four wideouts can say they posted more fantasy points this season than Wallace (Brandon Lloyd, Dwayne Bowe, Roddy White and Greg Jennings).
The second-year speedster out of Ole Miss averaged 11.4 fantasy points per week this season and posted seven games with 100 or more receiving yards. More importantly, this guy was money down the stretch as Wallace topped 100 receiving yards six times over his final nine games while scoring six touchdowns in the process.
2010 marked Wallace's coming out party as the NFL's most dangerous deep-threat. The 24-year-old led the league in receptions of 20+ yards (26) and 40+ yards (10) this season, which will certainly make him one of 2011's sexiest draft picks.
IN-SEASON COMEBACK OF THE YEAR
Jason Witten, TE, Dallas Cowboys: The following stat line speaks for itself:
5 full games with Tony Romo at quarterback: 6.2 fantasy points per week
11 games without Tony Romo at quarterback: 10.5 fantasy points per week
The addition of rookie wide receiver Dez Bryant to the Dallas offense led quarterback Tony Romo away from his security blanket early in the season, sending fantasy owners who used a fifth or sixth round draft pick on Witten to the ledge.
However, Romo went down with a busted clavicle in Week 7 against the New York Giants, which opened the door for veteran journeyman Jon Kitna to step under center. Witten instantly became the 38-year-old Kitna's favorite target and promptly scored two touchdowns in his first six quarters after the switch at quarterback.
It was a disappointing year in Big D to say the least, but Witten finished off the season with six touchdown receptions over his final five games and ended 2010 as the fantasy world's highest scoring tight end. Over the three most crucial weeks of the fantasy season (Weeks 14, 15 and 16), the Dallas tight end caught 25 passes for 254 yards and four touchdowns.
That's what we call clutch.
COMEBACK PLAYER OF THE YEAR
Darren McFadden, RB, Oakland Raiders: With all due respect to Kansas City's Dwayne Bowe, Run DMC takes home this award after many believed that running back Michael Bush would start the season for the Silver & Black.
Per Fantasy Football Calculator.com, Bush entered the season with an ADP of 84.5, while McFadden checked-in at 108.9…and for good reason. The former Arkansas standout had rushed for just 856 yards and scored five touchdowns over his first two NFL seasons, coming dangerously close to earning the dreaded "bust" label.
But a preseason thumb injury to Bush opened the door for McFadden and the third-year ball-carrier never looked back. In just 13 games this season, the 23-year-old amassed 1,664 total yards (fifth in NFL) and ten touchdowns (15th in NFL), earning himself a spot in the top-six in scoring among fantasy running backs despite missing three games due to injury.
Run DMC finished the 2010 season ranked second in the NFL in scrimmage yards per game (128.0), which most likely cemented his place towards the top of the draft board for 2011.
ROOKIE OF THE YEAR
Mike Williams, WR, Tampa Bay Buccaneers: With running backs Ryan Mathews, Jahvid Best and C.J. Spiller all flopping, Williams (65-964-11) takes home this award in a landslide.
2011 TOP-TEN MOCK DRAFT
Go ahead and have some fun ripping this apart:
1. Arian Foster, RB, Houston Texans
2. Adrian Peterson, RB, Minnesota Vikings
3. Chris Johnson, RB, Tennessee Titans
4. Jamaal Charles, RB, Kansas City Chiefs
5. Maurice Jones-Drew, RB, Jacksonville Jaguars
6. Michael Vick, QB, Philadelphia Eagles
7. Michael Turner, RB, Atlanta Falcons
8. Roddy White, WR, Atlanta Falcons
9. Darren McFadden, RB, Oakland Raiders
10. Aaron Rodgers, QB, Green Bay Packers
11. Peyton Hillis, RB, Cleveland Browns
12. Andre Johnson, WR, Houston Texans
Hit me up on Twitter: @JoeFortenbaugh