April 01, 2011 -
Joe Fortenbaugh
Happy prank day
Ahhh the return of April Fools Day. A 24-hour pass to act like an idiot for the sole purpose of making someone else look like an idiot.
However, if you spent any time in a locker room growing up, you know damn well that pranks are not limited to just one day out of the year.
In honor of the most immature of holidays, today we're going to take a look a few pranks that are guaranteed for a laugh. The first two have been implemented by Matt Bowen and myself in the past, the third is an internet favorite and the final two have already earned their rightful place in the Hall of Fame.
AMATUER HOUR
1. The old switcheroo
What's Needed: The patience, quickness and stealthiness of a ninja.
How it works: This was an old favorite during my so-called glory days at Parkland High School. Every player owned the same style of Master Lock for his locker, so it was virtually impossible to tell one from another.
The mission was to swipe and switch two locks from two different owners while they were suiting-up for practice. Once dressed, the owners would unknowingly throw the switched locks onto their lockers before heading out to the field.
The beauty of this prank is that you'd forget all about it while at practice. Two and a half hours later the team returns to the locker room and is treated to the pleasure of watching two jackasses struggle to open their lockers. The first few minutes are always the best, as you watch these two fools question whether or not they forgot their combinations.
This always worked better late in the season when the temperatures dropped. By the end of practice, nobody had the patience to deal with this type of tomfoolery, which made it all the more entertaining to watch.
2. Helmet burn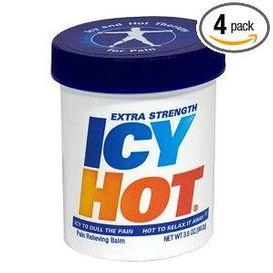 Not meant to be applied to your dome.
What's Needed: IcyHot
How it works: This one comes to us from former Washington Redskins safety Matt Bowen, who used to slather the inside of some of his unsuspecting teammates' helmets with IcyHot.
Don't understand what all the fuss is about? Then you've obviously never used this product to help rehab an injury.
Per Bowen, "IcyHot on your head is an awful experience."
STEPPING UP YOUR GAME
3. The impossible sit-up
What's Needed: One (1) gullible individual, one (1) towel, one (1) butt
How it works: This prank is well known and has been documented countless times on YouTube, which means it will require one hell of an acting job to accomplish. However, the reward for pulling this off is so priceless that I guarantee it will be 100% worth the effort.
For those of you unfamiliar with this masterpiece, here's a brief rundown: A conversation begins about how it is "impossible" to do a sit-up from your back while someone holds a towel (or similar item) over your eyes and holds your head to the ground. Eventually, some brave soul will step forward and call bullshit, at which point he will attempt to disprove the theory.
Rather than describe it, CLICK HERE to see "the impossible sit-up" in action.
THE HALL OF FAME
4. LenDale White decides enough is enough
What's Needed: Dummy dressed up in your jersey, multiple conspirators who can act.
How it worked: Back in 2005, USC running back LenDale White got into a shouting match at practice with head coach Pete Carroll and offensive coordinator Lane Kiffin regarding a perceived lack of carries for the bruising ball-carrier.
White stormed off the field and announced to reporters in attendance that he had quit the team. Minutes later, the disgruntled running back appeared on the roof of an adjacent building.
The only people in on the prank were White, Carroll, teammate Reggie Bush, offensive line coach Pat Ruel and equipment coordinator Tino Dominguez. After the shouting match that took place on the practice field, the coaches in the loop went so far as to tell the rest of team that White was a distraction and that USC would go on to win without him.
"We killed them," Carroll told White upon his return to the field.
5. Kyle Kendrick gets shipped off to Japan
What's Needed: Front office cooperation, fake contract.
How it worked: The video says it all.
Have a great story about a prank you executed? Leave it in the comments section below.
Hit me up on Twitter: @JoeFortenbaugh