October 19, 2012 -
Joe Fortenbaugh
Harbaugh's decision costs 49ers bettors big-time money
Let's make one thing perfectly clear before we dive into the madness that took place at the end of Thursday night's divisional showdown between the San Francisco 49ers and Seattle Seahawks: Jim Harbaugh made the right call.
That being said, San Francisco bettors will take little comfort in knowing that the Niners boss made the correct tactical decision when he declined a last-minute safety that would have given his team a 15-6 lead and a point spread cover for gamblers who backed the favorites at -7.5 or -8.
Trailing 13-6 with less than a minute to play and facing a fourth-and-17 from their own four-yard line, Seahawks quarterback Russell Wilson completed a 16-yard pass to wideout Ben Obamanu. But the officials called a chop block on Seattle that occurred in the end zone and resulted in a safety, giving San Francisco a 15-6 lead and bettors a backdoor cover.
That is, if Harbaugh would have accepted the penalty.
But he didn't.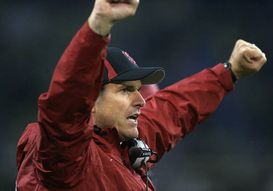 Right now, the sportsbooks love Jim Harbaugh. Bettors, on the other hand, may have slightly different feelings.
Rather than take a nine-point lead and risk an onsides kick recovery by the Seahawks, the 49ers coach opted for a seven-point lead and the ball on the Seattle 20-yard line.
"Although it was at San Francisco -7 for a good portion of the week, most bets we took were at -7.5 and -8," Dave Mason of offshore sportsbook BetOnline.com told the National Football Post Thursday night. "So Harbaugh was definitely looking out for the house by taking points off the board, considering about 65% of the action we booked was on the 49ers."
San Francisco bettors were understandably irate, but Harbaugh made the correct decision. Sure, he's only up seven points instead of nine, but he's got the ball and is facing an opponent that is bankrupt in the timeouts department. Two kneel downs and the game is over, with virtually no risk.
And this brings us to the most important lesson of the evening: If you're going to bet, you've got to shop for the best price. The Niners were a seven-point favorite from Sunday evening until Thursday morning, meaning a bet placed during that time frame would have resulted in a tie for San Francisco bettors rather than a loss.
Lesson learned.
But instead of blaming Harbaugh, San Francisco backers can feel free to resume their disgust with 49ers quarterback Alex Smith, who opted to throw a fourth quarter interception in the back of the Seattle end zone rather than toss an easy touchdown pass to a wide open Randy Moss.
Had Smith chosen the later, the 49ers would have had a 17-6 lead with just under 12 minutes remaining in the game.
Hit me up on Twitter: @JoeFortenbaugh