January 29, 2012 -
Joe Fortenbaugh
Harmless Brady comments create stir that officially kicks-off Super Bowl week
INDIANAPOLIS—Who says the upcoming New York-New England showdown can only take place between the Giants and the Patriots at Lucas Oil Stadium next Sunday evening?
Looking to get a jump on the Super Bowl festivities, members of the media are already doing their damndest to provide eye-catching headlines in an effort to pump more drama into next Sunday's season-finale.
Speaking to 25,000 fans at a Gillette Stadium pep rally prior to boarding a plane for Indianapolis Sunday afternoon, Patriots quarterback Tom Brady told those gathered in attendance, "We wish we could take all you guys to Indy with us. We're going down there, and we're going down there for one reason. We're going to give it our best and hopefully we have a lot more people at our party next weekend."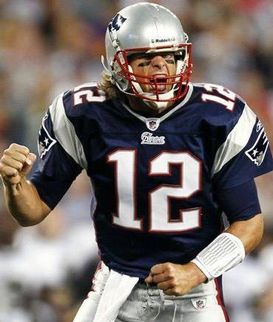 ICONIs Tom Brady really planning a victory party? We'd imagine the guy might have some better things to do.
It didn't take more than a few hours before ESPN New York went live with a story about the comments under the title, "Brady planning victory party."
Right. The Patriots' bid to go 19-0 back in 2008 fell short to the New York Giants, so Brady decided that this time around he would plan a victory party seven days in advance of the game and then invite 25,000 strangers. That really sounds like something the future Hall of Famer would do.
But we're not done yet.
Shortly after the ESPN New York article went live, Chad Finn of the Boston Globe posted a story under the title, "New York media exaggerates Brady's comments," essentially stating that Brady's statement to the Gillette Stadium crowd was being blown out of proportion, which it most certainly was.
This is great stuff and I'm not being sarcastic. Brady's comments were blown way out of proportion, but this is Super Bowl week. The last thing we all want is a bunch of company lines coming from the two teams participating in the biggest game of the year being reported as such. Brady's comments were harmless and certainly aren't worth a spot on the front or back page of any newspaper, but we've only got one game left this season and the more fun we can have before the sport of football goes into hibernation, the better.
The Giants and Patriots are going to settle everything on the field come next Sunday. The intriguing question is what's going to happen before then?
Hit me up on Twitter: @JoeFortenbaugh