November 09, 2010 -
Joe Fortenbaugh
Harris drawing interest from around the league
Former Green Bay Packers cornerback Al Harris may not be grabbing headlines in the same way Randy Moss did last week, but that hasn't prevented some NFL teams from expressing their interest.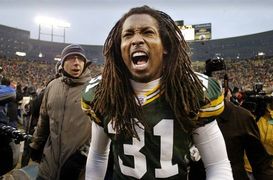 At least six teams have made an inquiry about Harris since the Packers released the veteran cornerback on Monday, the National Football Post has learned from a source close to the situation.
What's even more interesting is that one of those aforementioned teams is from the NFC North.
Harris—a two-time Pro Bowler who started 102 games for Green Bay from 2003-2009—suffered a season-ending knee injury in November of last year that has kept him off the field ever since. There's a chance the veteran cornerback could clear waivers, as NFL teams may want to put Harris through a workout to test out his knee prior to signing him to a contract. That's a scenario that would also give Harris the opportunity to pick his team, rather than have it chosen for him.
Hit me up on Twitter: @JoeFortenbaugh