July 25, 2013 -
Joe Fortenbaugh
Harvin lands on PUP list with hip injury
A breakout 11-5 campaign in 2012 has the Seattle Seahawks believing they are ready to contend for the Super Bowl. With a talented—and more importantly, cheap—franchise quarterback in Russell Wilson and the league's fourth-ranked defense from a year ago, the Seattle front office got aggressive during the offseason and acquired several talented veterans to bolster the team's chances in 2013.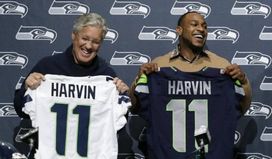 Harvin will seek a second opinion on his injured hip, according to ESPN.
One of those acquisitions took place in March, when the Seahawks traded first and seventh-round picks in 2013 as well as a third-round selection in 2014 to the Minnesota Vikings in exchange for wide receiver Percy Harvin. Not wasting any time, Seattle immediately locked-up Harvin to a six-year, $67 million contract with $25.5 million in guarantees.
Unfortunately for the Seahawks, Harvin's time in Seattle encountered its first speed bump before training camp even opened.
The Seahawks announced on Thursday that Harvin has been placed on the physically unable to perform list due to a hip injury. According to ESPN, Harvin will get a second opinion, as the first doctor who examined the wide receiver believes there is a slight tear, which could require surgery.
The news isn't pleasant for Seattle, who was clearly hoping that Harvin would bolster the team's 17th-ranked offense from a year ago while simultaneously aiding in the development of Wilson. But the good news is that no surgery has been scheduled as of the moment, meaning Harvin could still find his way onto the field in Carolina for the Seahawks' Week 1 opener.
Hit me up on Twitter: @JoeFortenbaugh