May 04, 2012 -
Joe Fortenbaugh
Head coach power rankings
Let me start by stressing the fact that these rankings are merely a jumping-off point for a regular feature that we'll be running during the 2012 season.
Many of you will find arguments for why certain head coaches deserve to be ranked higher while others should be slotted lower. This is expected and, in fact, encouraged. I've taken various bits of criteria into account for what you're about to read, but keep in mind that these are power rankings. Andy Reid has made five trips to the NFC Championship game during his 13-year tenure in Philadelphia, but does that mean he should be ranked higher than a coach like Marvin Lewis, who exceeded all expectations with a rookie quarterback last season and earned a trip to the playoffs?
Your thoughts and arguments are welcome in the comments section below, as are your predictions for Saturday's 138th running of the Kentucky Derby.
1. Jim Schwartz, Detroit Lions: You may scoff at the fact that Schwartz tops our list, but consider the evidence: This guy took an 0-16 franchise with a roster that couldn't beat half the teams in Canada and turned it into a legitimate Super Bowl contender in just three years. He may not have a Vince Lombardi Trophy on his mantel just yet, but nobody has done more with less in such a short time span than Jim Schwartz, who still doesn't get enough credit for what he's done with the former laughing stock of the NFL.
2. Tom Coughlin, New York Giants: Two Super Bowl wins since 2008 as well as the uncanny ability to deliver when he's pressed up against it has the Big Blue boss right near the top of our rankings. To borrow a phrase from Saturday's Kentucky Derby, Coughlin's a stalker who likes to race just behind the lead pack before making his move down the backstretch when it's time to go for the kill.
3. Bill Belichick, New England Patriots: He's delivered double-digit win totals in every regular season since 2003 and has led New England to the Super Bowl five times over the last eleven years. When people start to get jumpy after seven seasons have passed without a Vince Lombardi Trophy, you know you're in rarefied air.
4. Mike McCarthy, Green Bay Packers: McCarthy has only experienced one losing campaign since taking the reigns in 2006, won a Super Bowl in 2011 and watched his squad rattle off a ridiculous 15 wins last year coming off a strike-shortened offseason. He's also the architect of what is considered by many to be the most lethal passing attack in today's NFL.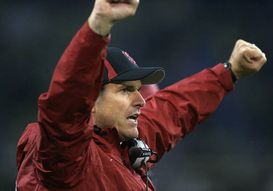 After a 13-3 campaign last season, what does Jim Harbaugh have planned for an encore?
5. Jim Harbaugh, San Francisco 49ers: The former Indianapolis signal-caller has just one season at the controls of an NFL franchise under his belt, but dammit, it was a good one. Harbaugh took a 6-10 team in 2010 and had them an overtime away from playing in the Super Bowl the following season. He also took a first-round bust in Alex Smith and transformed him into a legitimate starting quarterback. However, Harbaugh will need another solid campaign in 2012 to prove to the naysayers that last year wasn't a fluke.
6. John Harbaugh, Baltimore Ravens: Four seasons, four trips to the playoffs, two appearances in the AFC Championship game and a career regular season record of 44-20 (.688) means that as I type this sentence, I'm realizing I may need to move the Baltimore boss up a few spots. A Super Bowl appearance next February could be enough to elevate John Harbaugh to the top of this list.
7. Mike Tomlin, Pittsburgh Steelers: He won a Super Bowl in February of 2009 and has a career regular season record of 55-25 (.688), but an 0-2 mark against the Ravens last year coupled with January's 29-23 wildcard defeat at Denver as a 7.5-point favorite has Tomlin now looking up at his Baltimore rival.
8. John Fox, Denver Broncos: It's a matter of perspective: Was Fox responsible for Tim Tebow's success or was it the other way around? Either way you look at it, Fox was the engineer of a divisional upset that saw the Broncos not only capture the AFC West, but also shock the Pittsburgh Steelers in overtime during the first round of the playoffs. However, now that he's got Peyton Manning running his offense, Fox will be expected to deliver lofty results in 2012.
9. Mike Smith, Atlanta Falcons: During the same time span (2008-2011), Smith has posted a regular season record (43-21, .672) that is nearly identical to what John Harbaugh has achieved in Baltimore (44-20, .688). The difference, however, is that Smith is 0-3 career during the postseason, which includes blowout losses to the Giants (24-2) in 2011 and Packers (48-21) in 2010. Smith needs to find success in the playoffs before he can start climbing up the rankings.
10. Gary Kubiak, Houston Texans: With his back against the wall and a five-year tenure in Houston that included zero trips to the postseason, Kubiak turned his attention to the defensive side of the football and added former Dallas head coach Wade Phillips to his staff. The result was a 10-6 campaign that saw the Texans emerge victorious in the franchise's first ever playoff game, despite the fact that the team had to make due with rookie fifth-round pick T.J. Yates under center. Expectations will be at an all-time high in Houston entering 2012, so we'll see if Kubiak can deliver bigger things with a healthy roster and a weak divisional schedule.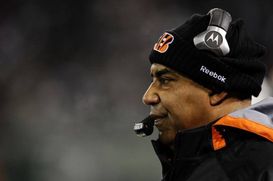 In a crowded division and with a rookie quarterback, Marvin Lewis led the Bengals to the playoffs.
11. Marvin Lewis, Cincinnati Bengals: The inability to maintain any level of consistency coupled with the fact that he's never won a playoff game in nine seasons with the Bengals has Lewis on the outside of our top ten. However, you have to give credit where credit is due. Lewis took a rookie quarterback in Andy Dalton and a team that had zero expectations for success last season and guided them to a 9-7 record and a spot in the postseason. That's no small task considering the company the Bengals keep in the AFC North.
12. Mike Munchak, Tennessee Titans: Munchak did a hell of a job in his first year running the show in Tennessee by leading the Titans to a 9-7 record despite losing star receiver Kenny Britt after just three games and getting next to nothing from highly-paid running back Chris Johnson. Now that Peyton Manning is no longer playing in the AFC South, the Titans need only to find a way to outduel the Houston Texans for a divisional crown.
13. Rex Ryan, New York Jets: Two trips to the AFC Championship game in three years will bring the calls for Ryan to be ranked higher. But last season's underachieving 8-8 campaign that saw the locker room come unraveled late in the year has Ryan on the hot seat entering 2012. He's a great motivator and a damn good football coach, but these are power rankings. Ryan will climb the charts early in the year if he can get the Jets to play to their potential.
14. Lovie Smith, Chicago Bears: Time and time again, Smith has found himself on the hot seat in Chicago. And time and time again, Lovie has managed to respond with quality results. That's good news for Bears fans, because their head coach is coming off an 8-8 meltdown of a season that saw the front office get cleaned out over the team's failure to possess a capable backup quarterback. Smith has only totaled three losing campaigns during his eight years in Chicago and made a Super Bowl appearance back in 2006, so the argument could definitely be made that he deserves a spot higher up the rankings.
15. Andy Reid, Philadelphia Eagles: If this were merely a ranking of head coaches based on success over an extended period of time, Reid's resume would warrant a spot higher up the list. But he dropped the ball in 2011 with an unimpressive 8-8 record despite a roster that was oozing at the seams with talent. Still, it's tough to overlook five trips to the NFC Championship game and a regular season record of 126-81-1 (.609) in 13 years on the job.
16. Ron Rivera, Carolina Panthers: Don't let the 6-10 record fool you. Rivera had two goals to accomplish during a 2012 regular season that saw his defense get decimated by the injury bug: develop rookie quarterback Cam Newton and show the Carolina fan base that this organization is headed in the right direction. Mission accomplished.
17. Ken Whisenhunt, Arizona Cardinals: He's gone just 13-19 in a weak division over his last two seasons in Arizona, but Whisenhunt managed to grind out an 8-8 campaign last year despite quarterback problems, the loss of the team's rookie running back during the preseason and a defense that ranked 18th in the league. A solid start in 2012 could have him on the rise, but a shaky run to open the year could land Whisenhunt towards the bottom of this list come Week 6.
18. Chan Gailey, Buffalo Bills: The Bills haven't made a whole lot of noise since Gailey took over the reigns in 2010, but the team has been moving in the right direction. Buffalo went from 4-12 and scoring 17.7 points per game in 2010 to 6-10 and scoring 23.2 points per game in 2011. Not a drastic improvement, but now that the defense has been upgraded this offseason, we expect Gailey and the Bills to take another step forward in 2012.
19. Jason Garrett, Dallas Cowboys: After a disastrous 1-7 start to open the 2010 season, Wade Phillips was sent packing and Garrett was installed as the team's interim head coach. Over the second half of the season, the former Dallas quarterback guided the team to a 5-3 record, triggering big expectations for 2011. But a mediocre 8-8 campaign and another missed opportunity to qualify for the postseason are the two reasons why Garrett lands in the bottom half of this list.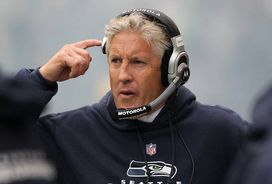 Carroll's been to the postseason, but his regular season record with Seattle is under .500.
20. Pete Carroll, Seattle Seahawks: The former USC head coach has gone just 14-18 in two seasons with the Seahawks, but his first year did include a divisional crown and wildcard upset win over the then-defending champion New Orleans Saints. If free agent acquisition Matt Flynn lives up to expectations, Carroll could land in the top ten of these rankings by midseason.
21. Romeo Crennel, Kansas City Chiefs: There isn't much to work with here, but Crennel went 2-1 as the interim head coach of the Chiefs last season, which was highlighted by a shocking upset victory over the then-undefeated Green Bay Packers. The return of running back Jamaal Charles should provide a big boost for the offense, but once again, the season rests of the shoulders of highly-paid quarterback Matt Cassel.
22. Mike Shanahan, Washington Redskins: The former Broncos head coach was expected to deliver big things when he signed a five-year deal with the Redskins back in 2010 worth approximately $7 million per season. But since owner Daniel Snyder broke the bank to land the highly-coveted head coach's services, all he's gotten in return is an 11-21 record and back-to-back last place finishes in the NFC East. Can rookie quarterback Robert Griffin III turn this franchise around?
23. Leslie Frazier, Minnesota Vikings: Frazier went 3-3 as Minnesota's interim head coach in 2010, but followed that up with a disastrous 3-13 campaign last season. The rest of the NFC North has loaded up for the 2012 season and if the Vikings fail to show any improvement in quarterback Christian Ponder's second year, Frazier could find himself in trouble come November.
24. Pat Shurmur, Cleveland Browns: The Browns are in rebuilding mode and looking towards the future, but after compiling a 9-23 record in two seasons as the head coach, it's time for Shurmur to deliver some results. Nobody's expecting him to conquer the AFC North in 2012, but a seven-win season—something the Browns have achieved just once over the last nine years—isn't asking too much.
Update: My mistake.