April 03, 2014 -
Joe Fortenbaugh
Heading south?
Nathaniel Hawthorne once wrote, "Families are always rising and falling in America." The same can be said about professional football franchises in the NFL. Every year we witness surprise contenders emerge to fill the void vacated by organizations that fell well short of meeting expectations. Just look at the AFC in 2013 as an example, where Kansas City and San Diego came out of nowhere to earn playoff berths, while Houston fell flat on its face and finished the campaign a league-worst 2-14.
For the surprise contenders, the key is to both maintain what was achieved the year before while working to take another step toward the ultimate goal. But as we all know, this is much easier said than done.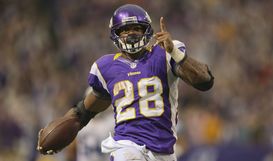 AP and the Vikings went from a 3-13 squad in 2011 to a 10-6 playoff team in 2012. In 2013, the franchise regressed to 5-10-1.
Since 2002, there have been 36 instances in the NFL where a team with a losing record one season came back the following year to win at least ten games. What's interesting, however, is what happened to those teams after they won ten games. Of those 36 instances that have taken place over the last 12 years, 29 of the teams (.805) regressed by at least one win the following season. Even more disappointingly for those fan bases, the average regression for those 29 teams following their surprise 10-win season was a staggering 4.06 wins. In several cases, that meant a surprise trip to the playoffs one season was followed immediately by a lackluster 6-10 (or worse) campaign.
Four teams entered the 2013 season having posted a losing record in 2011 followed by a 10-win effort in 2012. Two of those teams—Minnesota and Washington—went from playoff squads to five wins or worse. The other two organizations—Indianapolis and Seattle—found a way to take another step forward in 2013, with the Colts winning a playoff game and the Seahawks emerging victorious in the Super Bowl.
In 2014, the following five teams will look to buck the aforementioned trend that has doomed 80 percent of the organizations it has ensnarled.
Kansas City Chiefs
2012 record: 2-14
2013 record: 11-5
2014 Cantor season win total: 8 (Over: -120, Under: +100)
After dumping Romeo Crennel for Andy Reid and acquiring Alex Smith to replace Matt Cassel, the Chiefs went from having the first pick in the 2013 NFL draft to owning a 38-10 third quarter lead over the Indianapolis Colts in the wild card round of the playoffs before flaming out 45-44. Kansas City jumped out to a roaring 9-0 start, but did so against opposition that concluded the 2013 campaign with a combined record of just 52-92 (.361). Noteworthy is the fact that the Chiefs went 1-5 last season against teams that qualified for the playoffs. In addition, Jacksonville, Cleveland and Houston are off the schedule this year, while New England, Seattle, Pittsburgh, San Francisco and Arizona have been added.
Carolina Panthers
2012 record: 7-9
2013 record: 12-4
2014 Cantor season win total: 8.5 (Over: -115, Under: -105)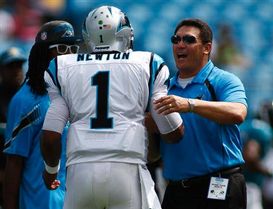 Will Newton and Rivera find their way back to the postseason in 2014?
Carolina's 5-1 run to close out the 2012 regular season proved a sign of things to come, as head coach Ron Rivera and quarterback Cam Newton took a massive step forward last year. A 12-4 regular season that featured an eight-game winning streak and the league's second-ranked defense resulted in the organization's first playoff berth since 2008. But the offseason saw 53.4 percent of Newton's completed passes in 2013 depart for different cities and now Carolina boasts a receiving unit that is headlined by 31-year-old Jerricho Cotchery. With an up-and-coming quarterback and elite defense, it was a big red flag to watch the 12-win Panthers hit the board in Vegas with an opening season win total of just 8.5.
New Orleans Saints
2012 record: 7-9
2013 record: 11-5
2014 Cantor season win total: 9.5 (Over: -125, Under: +105)
The Saints rebounded from their first losing season since 2007 to win 11 games and qualify for the postseason for the fourth time in five years, but they are the first team on this list to give us pause when it comes to a possible regression in 2014. New Orleans could very well fail to hit the 11-win mark this season, but the team's 7-9 record in 2012 was due largely to the Bountygate scandal that landed head coach and offensive mastermind Sean Payton on suspension for the entire year. New Orleans has won 11 or more games in each of the last four seasons that Payton has been on the sidelines and as long as quarterback Drew Brees is lining up under center, this team is going to be in contention. That 7-9 record in 2012 was the anomaly, not the 11-5 bounce-back performance we witnessed last season.
Philadelphia Eagles
2012 record: 4-12
2013 record: 10-6
2014 Cantor season win total: 9 (Over: -115, Under: -105)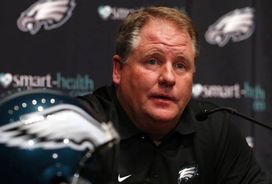 Despite the loss of DeSean Jackson, Kelly and the Eagles look to take another step forward in 2014.
New coach, new system, different results. Philadelphia went 3-5 to open the Chip Kelly era, but hit their stride midseason and rattled off seven victories over the franchise's last eight contests to qualify for the playoffs for the first time since 2010. Quarterback Nick Foles, who began the year playing second fiddle to Michael Vick, led the NFL in passer rating (119.2) while throwing just two interceptions in 317 attempts. But how good was this new-look Eagles outfit? Remember, the Birds went just 1-3 last season against teams that made it to the postseason and their ten wins came against opposition that combined to post a regular season record of only 62-97-1 (.387). So the big question entering 2014 is—outside of how the DeSean Jackson loss will affect the offense—does the rest of the league catch up to what Chip Kelly is doing, or do the Eagles build off last year's success and take another step forward? Also worth noting is the fact that Philly will hit the road this year to play Arizona, San Francisco, Green Bay and Indianapolis.
Arizona Cardinals
2012 record: 5-11
2013 record: 10-6
7.5 (Over: -125, Under: +105)
Bruce Arians went from winning the 2012 AP Coach of the Year award while serving as interim HC in Indianapolis to transforming the 5-11 doormat Cardinals into a 10-6 contender last season. That's quite an impressive two-year stretch for the former Pittsburgh offensive coordinator. Arizona displayed a strong finishing kick in 2013, winning seven of its final nine games including a 17-10 upset win at Seattle in Week 16, marking the Seahawks' only defeat at CenturyLink Field in two years. CB Antonio Cromartie, OT Jared Veldheer and WR Ted Ginn highlight the team's key free ag ent acquisitions, while LB Karlos Dansby departed for the big money in Cleveland. Arians got the most out of aging veteran quarterback Carson Palmer last season, but the 34-year-old still threw 22 interceptions (career high) while posting a QB rating of 83.9 (20th in NFL). There's no doubting the fact that Arians has something cooking in Arizona, but four games against the Niners and Seahawks as well as showdowns with Philly, San Diego, Kansas City, Denver, Chicago and Washington makes a ten-win season in 2014 a tough sell.
Hit me up on Twitter: @JoeFortenbaugh