February 01, 2011 -
Joe Fortenbaugh
Here's what the snow-covered streets of Dallas look like this morning
DALLAS—Call it a cruel test run for next year's Super Bowl in Indianapolis. Or, call it a sign of things to come when the NFL's big game heads to North Jersey in 2014.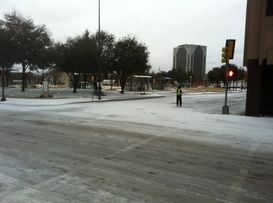 Just don't call it warm.
The city of Dallas awoke to a pleasant mixture of snow and ice Tuesday morning, reminding many of us who traveled here of how nice the weather was for the Super Bowl in Miami last February.
The pictures tell the tale. They were taken outside of the Sheraton Hotel in downtown Dallas early Tuesday.
Notice you don't see anyone in shorts sipping on Mai Tais.
Hit me up on Twitter: @JoeFortenbaugh