June 20, 2013 -
Joe Fortenbaugh
Hernandez update: Tight end destroyed home security system, cell phone
Based on what we've seen and heard over the last 24 hours, it's going to be very hard to believe anything New England Patriots tight end Aaron Hernandez has to say when he finally decides to share his side of the story.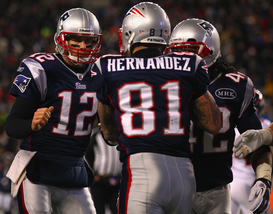 When he finally decides to talk, Aaron Hernandez has a lot of explaining to do.
On the heels of a report that Hernandez and two other men were in a car with Odin Lloyd the night Lloyd was murdered and found in an industrial complex less than one mile from the tight end's home comes another damning report that won't help Hernandez win any favor with the public.
ABC News is reporting that police plan to return to Hernandez's home on Thursday with another warrant based on evidence that the former Florida Gator "destroyed his home security system."
The report also states that Hernandez's cell phone was submitted to police "in pieces" and that a team of house cleaners were hired on Monday to clean the football player's mansion.
We are all entitled to the presumption innocence until proven guilty. But how many individuals involved in no wrongdoing whatsoever destroy their home security systems and cell phones?
Hit me up on Twitter: @JoeFortenbaugh