April 18, 2011 -
Joe Fortenbaugh
Hillis upsets Rodgers in Madden 12 Cover Vote
After almost a month of voting, only two players remain in the hunt to see who will grace the cover of EA Sports' latest installment of the Madden video game franchise.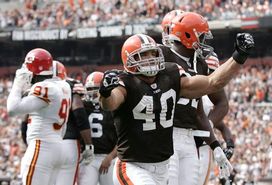 Will the dream run continue for Hillis?
That loud exhale you are hearing across the country at the current moment is no doubt emanating from Wisconsin, as Packer fans are finding out that the infamous Madden Cover Curse won't be headed to Lambeau Field in the foreseeable future.
Cleveland Browns running back Peyton Hillis will take on Philadelphia Eagles quarterback Michael Vick in the finals of ESPN's Madden 12 Cover Vote, which began Monday at noon eastern. Hillis upset Rodgers by garnering 61% of the vote, while Vick took down Adrian Peterson with 59% of the vote.
On April 7, Bodog.com installed Hillis at 12/1 and Vick at 3/2 to win the contest. At that time, Rodgers was listed as the favorite at 2/3.
So who's it going to be, Madden fans? Will the dream continue for Peyton Hillis or will Michael Vick be your next cover boy?
Hit me up on Twitter: @JoeFortenbaugh
CLICK HERE to vote!