April 24, 2012 -
Joe Fortenbaugh
Holding all the cards
Stop me if you've heard this one before: Professional athlete plays at a high level, exceeding expectations in the process. Professional athlete then becomes disgruntled, as his current contract fails to reflect his on-field performance. As a result, professional athlete threatens a holdout in an attempt to leverage his bosses into a new deal.
It's a common scenario we've seen played out time and time again in professional sports. Less than two years ago, New York Jets cornerback Darrelle Revis staged a 35-day holdout that resulted in a renegotiated four-year contract worth $46 million with $32 million in guaranteed money.
Revis was happy. The Jets were happy. A crisis had been averted.
Unfortunately for the Jets, that new contract only bought the team 19 months of contentment.
Now, Revis is unhappy. He watched Nnamdi Asomugha land a $60 million deal with Philadelphia last summer and saw Brandon Carr cash in for $50.1 million with Dallas in March. Revis feels he's a better player than both and many in the industry would agree. Is it possible that we could be on the verge of another contract dispute only 19 months after the Jets opened up the vault to make their All Pro cornerback happy?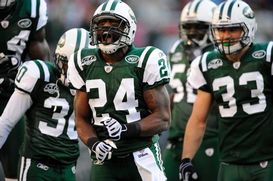 ICONFour trips to the Pro Bowl in five seasons gives Revis all the leverage he needs.
"I just don't know," Revis told reporters at a charity event in New York on Monday about the possibility of a holdout. "I'm not saying I'm going to hold out. I'm not saying I won't."
Revis had three years remaining on his contract the first time these two parties butted heads. This time around, the 26-year-old has two years left. This raises an interesting question. Should the Jets be willing to pony up the greenbacks once again this summer, what's to stop Revis from demanding another new contract two years from now?
In all likelihood, the answer is nothing.
As long as he stays healthy and continues to perform at an All Pro-caliber level, Revis holds all the cards. The market for shutdown cornerbacks features a short supply with a very high demand. Take Eric Wright as an example. After five seasons and zero trips to the Pro Bowl, Wright landed a $37.5 million deal with the Tampa Bay Buccaneers back in March. Is the 26-year-old's game tape worth that much money? Probably not, but the free agent market offered few options, making Wright the beneficiary of the economic principle of supply vs. demand.
Complicating matters for the Jets is the fact that after an underwhelming 2011 campaign that saw the organization go 8-8 and miss the playoffs, general manager Mike Tannenbaum and head coach Rex Ryan find themselves on the hot seat entering 2012. Another poor showing could cost both men their jobs, meaning the pressure to win now will be greater than ever.
And the easiest way to earn a trip back to the postseason while simultaneously avoiding the unemployment line would be with a happy and productive Revis manning one of the cornerback positions.
The Jets can try to create as much leverage as possible, but a Revis holdout would likely result in another trip back to the negotiating table ending with a new payday for the Pro Bowl cornerback. The organization—specifically Tannenbaum and Ryan—simply can't afford a 2012 season without him.
At that point, the Jets and their star cornerback will once again be happy.
Until the next time Revis feels he's outperforming the market.
Hit me up on Twitter: @JoeFortenbaugh