August 01, 2011 -
Barry Dorey
Holdouts no more? Gore, D-Jax expected to show up
The new collective bargaining agreement reached by the owners and players has been designed to do many things, most noticeably of which has been to prevent holdouts.
Almost the entire 2011 rookie class has been signed in less than a week, meaning holdouts like the one 49ers wide receiver Michael Crabtree got himself into two years ago could be a thing of the past.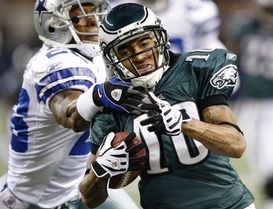 Jackson is expected to report to camp this week.
As for the veterans, the new $30,000 fine for missing practice seems to be achieving its intended purpose.
Not only has disgruntled Giants defensive end Osi Umenyiora already ended his holdout, but it appears that both 49ers running back Frank Gore and Eagles wide receiver DeSean Jackson will be throwing in the towel as well.
<p> Howard Eskin of 610 WIP in Philadelphia is reporting that Jackson will end his holdout this week. The Pro Bowl wide receiver
has been looking
for a new contract since last season and is scheduled to make just $560,000 in base salary this year.
As for Gore, the veteran running back is scheduled to make $5 million this season and is in the final year of his deal, but will be ending his holdout as well, according to head coach Jim Harbaugh via Matt Maiocco of CSN Bay Area.
Whether or not either player lands his desired extension remains to be seen, but as we're all quickly learning, a $30,000 fine isn't easily overlooked.
Hit me up on Twitter: @JoeFortenbaugh