May 14, 2012 -
Joe Fortenbaugh
Home field advantage rankings
With the NFL entering its annual breaking news lull now that free agency and the draft are well behind us, I figured now would be a good time to open up the floor to one of the many debates we'll be featuring this summer.
Today's topic focuses on home field advantage. Our sample size is a three-year span from 2009-2011 and includes only the regular season.
I've devised a rudimentary formula for these rankings that consists of both home field record and ATS (against the spread) record. The team that posted the best home field record since 2009 is awarded one point, while the organization with the worst record is awarded 32 points, and so on. If two teams had the same record and occupied spots No. 4 and No. 5 in the rankings, the difference was split and both teams were awarded 4.5 points. As I'm sure you could have already guessed, the goal is to have the fewest total points between the two categories.
ATS record is included because I feel it provides an accurate assessment of how well a team plays at home against inferior competition. Think about it: how much value would you assign a Ravens win in Baltimore over a team like St. Louis? Probably not all that much. But if the Ravens failed to cover the Vegas number, that would serve as an indicator that maybe it's not as tough to play in Baltimore as the team's 21-3 straight-up home record since 2009 indicates.
As a tiebreaker, I gave the edge to the team that was more often posted as the Vegas favorite. For example, Dallas and Philadelphia both finished with a total of 42 points, but the Cowboys were favored in 22 home games while the Eagles were favored in 20. If the rankings needed to go one step further (as in the case of Detroit and Jacksonville), the team with the best ATS record prevailed.
As always, your feedback is more than welcome in comments section below.
Note: "ATS HOME FAV" indicates the number of times a home team was posted as the Vegas favorite since 2009.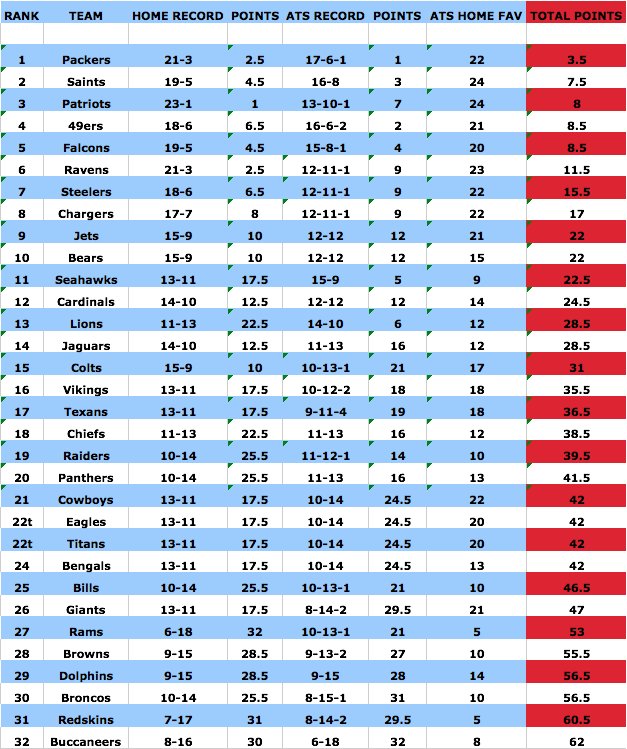 Hit me up on Twitter: @JoeFortenbaugh