August 10, 2011 -
Barry Dorey
Hot air? Grossman thinks 'Skins will win NFC East
After winning a combined ten games over the past two years, you could put the Washington Redskins in any division in football and I'm still not sure anyone would pick them to come out on top.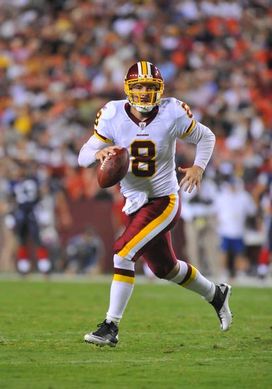 ICONWin the NFC East? Grossman thinks his squad can do it.
Keep them right in the NFC East with the 'Dream Team,' the Cowboys and the Giants, and Redskins quarterback Rex Grossman believes his team will win the division.
In a move that even his own teammates probably won't take seriously, Grossman—speaking to CSN Washington—told reporters he thinks his team has what it takes to win the division.
""We're just waiting in the wings ready to take over the NFC East. Nobody's talking about us, it's right where we want to be. You look at us from top to bottom out here, there's a bunch of great players. And we don't need people saying we're the best right now. But when it's all said and done, I really feel like this team's going to win the [NFC] East."
Vegas bookmakers would strongly disagree, as the Redskins are currently listed at 25/1 to win the division behind the Eagles (-180), Cowboys (+300) and Giants (+350).
We understand that part of a quarterback's job is to instill confidence in his teammates, but maybe Grossman should set his sights a bit lower.
Perhaps aiming to improve on last year's 2-4 divisional record would be a better place to start.
Hit me up on Twitter: @JoeFortenbaugh