August 23, 2013 -
Joe Fortenbaugh
How do first-year head coaches fare in Week 1?
In two weeks time, eight men will take the sidelines at NFL stadiums across the league, assuming control of their first regular season games draped in the colors and under the watchful eyes of new employers. One of these men has been down this perilous road before, while the other seven will quickly realize, if they haven't already, that the stakes have soared to the highest possible level. The official mandate is to win, with a fervent emphasis placed, in most cases, on the sooner rather than the later.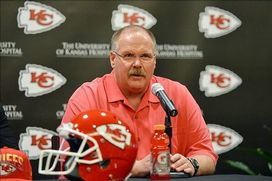 Andy Reid takes over in Kansas City after posting a 130-93-1 record during his 14 seasons in Philadelphia.
In two weeks time, Andy Reid, Marc Trestman, Gus Bradley, Doug Marrone, Mike McCoy, Chip Kelly, Rob Chudzinski and Bruce Arians will attempt to accomplish a feat that, since 1993, over half of their colleagues, predecessors and counterparts have failed to achieve: Winning their Week 1 debut as the new head football coach of their respective teams. Excluding interim head coaches who maintained their position into the following season (for example, Minnesota's Les Frazier in 2011), there have been 126 instances over the last 20 years in which an NFL head coach commenced employment for his new team in Week 1 of the regular season. In 73 of those instances (57.9 percent), that new head coach went from undefeated to 0-1 in just four quarter's time.
Each of these aforementioned eight coaches will begin their journeys facing a different set of circumstances, against contrasting levels of opposition, in approximately two weeks. Chudzinski, Bradley and Marrone, for example, will be tasked with rebuilding organizations that have not qualified for the playoffs in a combined 28 seasons. The assumption is that these men will be afforded a longer leash. Andy Reid, armed with a veteran quarterback and potentially explosive offense, will be charged with pushing division rival Denver for the AFC West crown.
Different circumstances, same objective. Yet, no matter what the scenario, each of these head coaches faces an uphill battle in the attempt to escape Week 1 with that highly coveted victory.
(h/t to both Starbucks and Panera Bread, who supplied this writer with copious amounts of coffee and bacon turkey bravos over the last 48 hours while I assembled the following research.)
HEAD COACHES DEBUTING WITH THEIR NEW TEAMS IN WEEK 1, SINCE 1993: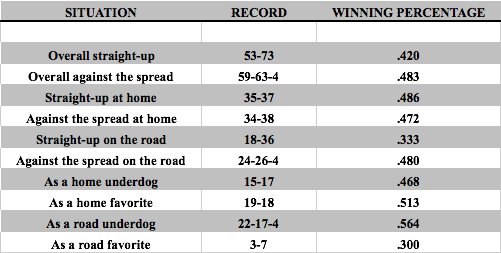 126 attempts have produced 73 losses. Unfortunately, the further we dig into this research, the more stagnant the results remain. The only situation that appears even remotely favorable for these first-year head coaches comes in the role of road underdog, where said coaches are hitting at 56.4 percent. Laying $110 to win $100 in each of these situations since 1993 would have resulted in a profit of only $330. Hardly the type of 20-year investment Warren Buffett would advise to his clients.
In two week's time, each of the aforementioned eight coaches will be given their chance to swing these results back in the direction of the victorious. Here's what each man will be facing coming Week 1:
Kansas City Chiefs (-3.5/40.5) at Jacksonville Jaguars: Andy Reid and Gus Bradley go head-to-head during the first wave of Sunday's Week 1 action, with Reid's Chiefs playing the role of road favorite (3-7 since 1993). The early action has supported Kansas City, as the opening line of KC -2 has been pushed all the way through the key number of 3 to -3.5, which is where it currently resides. Take note that Jacksonville went just 1-7 straight-up and 2-6 against the spread at home last season, while Andy Reid is a modest 7-7 in Week 1 games as an NFL head coach.
New England Patriots (-7.5/52) at Buffalo Bills: Doug Marrone gets his "Welcome to the NFL" moment right out of the gate as his new-look Bills plays host to AFC East juggernaut New England, proud owners of nine of the last ten divisional championships. The Patriots have emerged victorious in 23 of their last 25 regular season meetings with the Bills, winning by a staggering average of 14.12 points per game. Marrone falls into the category of home underdog in his debut, which has produced an against the spread record of 15-17 (.468) for first-year head coaches in Week 1 since 1993.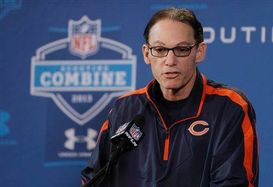 Trestman and the Bears are currently 3-point favorites for their Week 1 matchup with Cincinnati.
Cincinnati Bengals (+3/43.5) at Chicago Bears: Here's another situation where the early action is fading the first-year head coach, as Chicago has already been pushed down from a 3.5-point favorite to the key number of -3. This is more of a play ON Cincinnati than a play AGAINST Chicago. One of the most well-balanced teams in the league, the Bengals bring the NFL's sixth-ranked defense from a year ago to Soldier Field along with an offense oozing firepower. I recently spoke with two professional bettors in Las Vegas who told me that they have already fired on Cincinnati +3.5.
Miami Dolphins (PK/41) at Cleveland Browns: Joe Philbin's Dolphins opened -1.5 at Cantor Gaming in early May, but the money likes Rob Chudzinski, Norv Turner and the Cleveland Browns in this spot, who have put together several impressive performances so far during the preseason. We broke down Turner's first-year offensive impact a few months ago and based on the way quarterback Brandon Weeden has looked during the month of August (18/25, 229 yards, 3 TDs), it appears as if the former San Diego boss may once again be on his way to successfully developing another young signal-caller.
Arizona Cardinals (+5.5/41) at St. Louis Rams: 2012 Associated Press NFL Coach of the Year Bruce Arians takes over an Arizona Cardinals team that went 1-7 straight-up on the road last season and 0-2 both straight-up and against the spread against division rival St. Louis. Despite the fact that some of the sharper minds in Vegas like the over on Arizona's season win total (5.5, -140), the Rams have been taking the early money, with this line moving from -4.5 to -5.5. The offensive line's ability to keep veteran quarterback Carson Palmer upright throughout the 16-game regular season will be crucial if the Cardinals want to climb back into the ranks of respectability.
Philadelphia Eagles (+4/51) at Washington Redskins: You couldn't schedule a more intriguing Monday night opener if you tried. Will Chip Kelly's ultra-fast offensive system make a successful transition from the Pac-12 to the NFL? Will Robert Griffin III return to form just eight months after major knee surgery? The situation in Philadelphia is viewed by many as being highly unpredictable this early in the season, which is why this line has seen little movement since hitting the board back in August (opened Washington -4.5).
Houston Texans (-3/45) at San Diego Chargers: Mike McCoy assumes the role of home underdog (15-17 since 2003) in his head coaching debut against a Houston Texans team that went 4-0 both straight-up and against the spread during the month of September in 2012. Backing road favorites in primetime showdowns can be a very risky proposition, but we& rsquo;re going to lean to the Texans until San Diego's questionable offensive line can demonstrate the ability to prevent Philip Rivers' head from being knocked all the way to Tijuana.
Hit me up on Twitter: @JoeFortenbaugh