April 05, 2012 -
Joe Fortenbaugh
How free agency affected Super Bowl odds
It's hard to forget the public's reaction to the Philadelphia Eagles' free agent spending spree last summer.
Sitting on the board at 12/1 in July, the Eagles quickly became a Vegas favorite to hoist the Vince Lombardi Trophy after shelling out big-time bucks to acquire cornerback Nnamdi Asomugha, defensive end Jason Babin and a host of other high-profile athletes. But as is often the case in the NFL, spending money off the field doesn't always translate to success on it.
Now that we're close to a month removed from the start of the 2012 free agent period, let's take a look at the notable odds changes that have gone down since the league entered it's most frenetic time of the year. For reference, we're going to use the Super Bowl odds released by offshore sportsbook Bovada.LV in mid-February and compare them with the current odds on the company's website. In addition, for more Super Bowl odds information, be sure to check out the constantly updated odds page at our friend Dave Tuley's View From Vegas website.
THE BIG SPLASH
Denver Broncos (Open: 50/1, Current: 12/1): The Broncos' odds began to move when reports surfaced that the organization was a very real contender to sign free agent quarterback Peyton Manning. When the deal finally went down on March 20, bookmakers got aggressive and made sizeable adjustments that now have the Broncos listed as one of the favorites to come away victorious next February.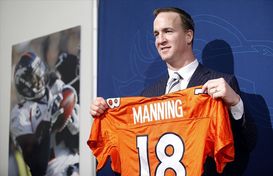 Manning's arrival in Denver sent the Broncos all the way to 12/1.
San Francisco 49ers (Open: 18/1, Current: 10/1): Quarterback Alex Smith agreed to terms on a new three-year contract on March 21, but he'll be working with upgrades at the wide receiver position this fall now that Randy Moss and Mario Manningham have been added to the roster. With the league's fourth-ranked defense that paved the way for a spot in the NFC Championship game returning intact, the Niners are going to be a popular Super Bowl pick this August with a more explosive offense that also added running back Brandon Jacobs.
Chicago Bears (Open: 30/1, Current: 20/1): The addition of Michael Bush adds some quality depth to the running back position, but this move is the result of the trade for Pro Bowl wide receiver Brandon Marshall pure and simple. In a division that features the high-flying Packers as well as the Matthew Stafford-Calvin Johnson connection in Detroit, playing good defense won't be enough to win games. You have to be able to score and score quickly in order to compete.
Seattle Seahawks (Open: 60/1, Current: 40/1): The defensive line is in better shape now that DE Red Bryant has been re-signed and DT Jason Jones was added to the roster. But the real impact transaction was the acquisition of free agent quarterback Matt Flynn, who could give head coach Pete Carroll his first legitimate signal-caller since the former USC boss took over in Seattle. And bringing back ball-carrier Marshawn Lynch won't hurt the team's cause, either.
Carolina Panthers (Open: 50/1, Current: 35-1): It's not so much about what they did in free agency that has the Panthers on the move as it is the fact that the defense should finally be healthy heading into Week 1. Linebackers Jon Beason and Thomas Davis appeared in only three combined games last season and highly-paid defensive end Charles Johnson registered just nine sacks. You also have to consider that the recent problems in New Orleans have made it a slight bit easier to capture the division.
THE BIG PLUMMET
Indianapolis Colts (Open: 50/1, Current: 100/1): When the 2013 Super Bowl odds were first released, there was still a small chance that Manning could restructure his contract and return to the Colts. But his departure—along with the exits of Pierre Garcon, Joseph Addai, Dallas Clark and countless others—has sent the Colts into rebuilding mode to the point where 100-1 still seems too low.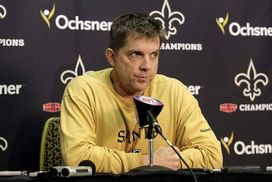 The Saints' bounty scandal has people shying from New Orleans at the ticket counter.
Cleveland Browns (Open: 100/1, Current: 150/1): Do you think any sportsbook in the world taken a single bet on the Browns to win the 2013 Super Bowl? I'm not even sure that the most diehard of Cleveland fans would be willing to throw $10 on these guys to finish the season 7-9.
New Orleans Saints (Open: 8/1, Current: 14/1): Wide receiver Robert Meachem and offensive guard Carl Nicks are gone, but that pales in comparison to the loss of head coach Sean Payton for the year due to the bounty program the Saints had been running over the last three seasons. To make matters worse, this front office still hasn't figured out a way to make the most accurate quarterback in NFL history happy by signing him to a new contract. That Super Bowl win from two years ago seems like a very distant memory.
Pittsburgh Steelers (Open: 12/1, Current: 20/1): Former Chiefs head coach Todd Haley takes over as the offensive coordinator for a team that is still uncertain about where wide receiver Mike Wallace will be playing next season. The offensive line is still below average and the defense said goodbye to linebacker James Farrior and defensive end Aaron Smith. In addition, Troy Polamalu and James Harrison aren't getting any younger, which is why Pittsburgh fans may be hesitant this year about throwing down some coin on the Black & Yellow.
Minnesota Vikings (Open: 75/1, Current: 100/1): Pro Bowl running back Adrian Peterson is coming off a blown out knee suffered in late December and the team did virtually nothing to improve their roster during the free agent period. Actually, scratch that, because they parted ways with guard Steve Hutchinson, guard Anthony Herrera and cornerback Cedric Griffin. These guys have a lot of work to do and it doesn't help by playing in a division with the Packers, Lions and Bears.
Miami Dolphins (Open: 35/1, Current: 50/1): Rumored to be in the market for everybody but actually closing the deal on nobody has expectations in Miami pretty damn low entering the 2012 season. Miami has a top-10 selection in the draft, but who knows if this front office will figure out a way to land a guy who can actually play.
THE HEAD-SCRATCHERS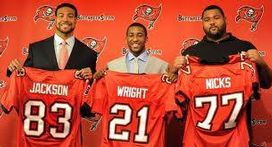 The Bucs' big splash barely registered on the radar in Las Vegas.
Tampa Bay Buccaneers (Open: 75/1, Current: 75/1): A new head coach, marquee free age nt signings that include wide receiver Vincent Jackson, guard Carl Nicks and cornerback Eric Wright and a top-5 draft pick that will be used on an impact player has forced no movement whatsoever on the Buccaneers' Super Bowl odds. I would have figured that the hype alone surrounding their headline-grabbing spending spree would have caused at least a slight alteration in the team's odds.
Buffalo Bills (Open: 60/1, Current: 60/1): Wide receiver Stevie Johnson is coming back and the team opened up the vault to upgrade the defensive line by signing Pro Bowler Mario Williams and former Chicago Bear Mark Anderson. I guess the fact that the Bills haven't won a playoff game since 1995 outweighs any hype that comes with a successful run through free agency.
THE REST
Green Bay Packers: Open: 6/1, Current: 13/2
New England Patriots: Open: 7/1, Current: 8/1
Philadelphia Eagles: Open: 12/1, Current: 14/1
Houston Texans: Open: 12/1, Current: 12/1
Baltimore Ravens: Open: 14/1, Current: 16/1
New York Giants: Open: 15/1, Current: 16/1
San Diego Chargers: Open: 16/1, Current: 22/1
New York Jets: Open: 16/1, Current: 25/1
Dallas Cowboys: Open: 18/1, Current: 22/1
Detroit Lions: Open: 18/1, Current: 25/1
Atlanta Falcons: Open: 22/1, Current: 25/1
Arizona Cardinals: Open: 30/1, Current: 50/1
Cincinnati Bengals: Open: 40/1, Current: 40/1
Tennessee Titans: Open: 40/1, Current: 50/1
Oakland Raiders: Open: 50/1, Current: 60/1
Kansas City Chiefs: Open: 50/1, Current: 50/1
Washington Redskins: Open: 60/1, Current: 50/1
St. Louis Rams: Open: 75/1, Current: 75/1
Jacksonville Jaguars: Open: 100/1, Current: 100/1
Hit me up on Twitter: @JoeFortenbaugh