August 03, 2011 -
Joe Fortenbaugh
How free agency has affected Super Bowl odds
Remember that scene from the beginning of the movie The Social Network where the Mark Zuckerberg character is explaining to his soon-to-be ex-girlfriend that his best friend made $300,000 the previous summer trading oil futures?
Soon-to-be ex: "He made $300,000 in the summer?"
Zuckerberg: "He likes meteorology."
Soon-to-be-ex: "You said it was oil futures."
Zuckerberg: "You can read the weather, you can predict the price of heating oil."
And so on it goes until Zuckerberg gets dumped, gets drunk, creates something called facebook and goes on to make billions.
The point of this little exercise is simple: Zuckerberg's friend made a boatload of cash because he was able to predict important changes that would have a significant impact on a specific marketplace. While this example pertains to oil, the ability to accurately foresee what's coming can also set the stage for big paydays in the NFL futures market.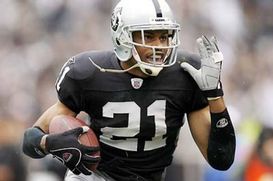 Had you known Asomugha was on his way to Philly, would you have gotten down on the Eagles?
Think of it like this: Prior to the start of free agency, the Philadelphia Eagles were listed at 12/1 to win the Super Bowl over at Sportsbook.com. That means a $100 bet on the Birds would pay $1,200 if Philadelphia winds up hoisting the Vince Lombardi trophy next February.
Had you listened to the Eagles front office—who came out and said they were planning to make a splash in free agency once the market opened up—you could have locked in that 12/1 price and hoped for the best.
However, eight days after the market opened and a half-dozen internet-rattling transactions later, the Eagles have dropped to 6/1 to win the Super Bowl, meaning that same $100 bet now pays only $600 in the event of a win.
Not only is that a 50% decrease in potential earnings, but at 6/1, is it even worth it to get down on the Eagles anymore?
The moral of the story? Being first can be a good thing, but being first with vital information is often the difference between the sharps and the squares.
These last eight days of free agency have had a pivotal impact on the NFL futures market. To help make sense of what's going on out in Vegas, I recently spoke with Todd Fuhrman, who is a Senior Race and Sports Analyst at the world famous Caesars Palace sportsbook. You can follow Todd on Twitter by clicking HERE.
FORTENBAUGH: What free agency moves had the biggest impact on the market and how have those transactions affected the odds?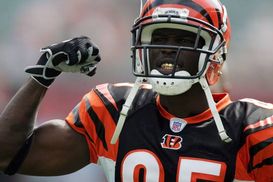 The Ochocinco trade to New England was big, but not enough to shift the odds.
FUHRMAN: I don't think there's one single free agent move that's impacted our numbers, but rather, a combination of factors. In the case of the Patriots, the rich get richer as New England added high-profile free agents Albert Haynesworth and Chad Ochocinco. However, those moves didn't really move the needle on a team that enters the 2011 season with such high expectations already.
Philadelphia is the other squad that made substantial moves and the addition of key players like Nnamdi Asomugha, Dominique Rodgers-Cromartie and Jason Babin made us drop our futures from 10/1 to 8/1 and eventually to 6/1 to stem the steady stream of public money we've taken over the past few days. If the team adds former Seahawk Lofa Tatupu as well, it would shore up a major need at linebacker and make the Eagles even more formidable defensively.
FORTENBAUGH: Where has the public money been going since the market opened?
FUHRMAN: It's no surprise the public has jumped on the Eagles bandwagon since the lockout ended last week given their rash of big-name signings. However, the holdout of DeSean Jackson should give them cause for concern because Jeremy Maclin's battle with a mystery illness is also an important issue and without their top two receiving threats, this offense would be grounded.
The surprise team we've seen the public support is the Vikings. I'm pretty sure people see the name Donovan McNabb and remember his glory days in Philly, but perception isn't reality and the aging quarterback we saw last year in Washington wouldn't leave me with enough confidence to invest in Minnesota.
FORTENBAUGH: What about the sharp money?
FUHRMAN: We haven't seen any sharp money in the futures market yet and I don't anticipate a lot coming in until teams finalize their rosters and break camp. Sharp money will normally be invested in win totals this time of year unless there is perceived value in futures that's too good to pass up.
FORTENBAUGH: What's surprised you the most about what you've seen over the last week?
FURHMAN: I've been surprised in the amount of Viking money we've taken thus far. I know Donovan is a step up from what they had in Favre (theoretically), but this is a team whose win total will most likely be set at 6.5-7 and, at least on paper, appears to be the fourth best team in their own division.
Hit me up on Twitter: @JoeFortenbaugh