October 27, 2010 -
Joe Fortenbaugh
How to replace Tony Romo
Quarterback Tony Romo is out for the next 6-8 weeks due to a fractured clavicle and at 1-5, the Dallas Cowboys are in big time trouble.
These are two things we can accept as fact.
Thinking your fantasy season has been lost due to Romo's injury?
That's just a bad attitude.
If you're like me and find yourself scrambling a bit this week due to the big injury that went down in Big D on Monday night, it's time to get aggressive and make moves.
The way we see it, you have two options:
1. Swing a trade: There's no doubt in my mind that any owner in your league that is stacked at the QB position has been coming after your best talent this week. It's already happened to me in the league in which I lost Romo (sorry, Brophy, but I don't want Kyle Orton and Chris Ivory in exchange for Brandon Marshall and Brandon Jackson). Look for the owner that has at least two, viable starting quarterbacks and go to work.
Side Note: If you're loaded with quarterback depth, you should be attacking the Romo owner this week. If he's in full panic mode, you could end up taking him to the cleaners.
2. Hit the waiver wire hard: Clear some roster space and pick up one or two of the following players to fill the void left by Romo's injury. I'm currently holding Stafford, Chad Henne and Alex Smith and plan on playing the best matchups until Romo returns.
As always, here's your motivational moment of the day:
The Replacements
Note: Mark Sanchez, Matt Cassel, Chad Henne and Matt Hasselbeck are all viable replacements for Romo as well, if they are still available.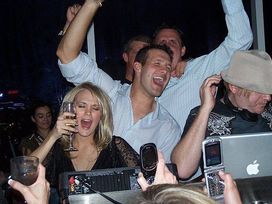 If Kitna plays well, the next step will be to see if he can party like Romo.
Jon Kitna, QB, Dallas Cowboys: Kitna won't add any sex appeal to your starting lineup, but he's definitely worth a look if you didn't have a viable QB2 backing-up Romo. For starters, the 14-year veteran has 115 career starts under his belt, so this situation won't catch him off guard. Second, despite taking no snaps with the starting unit during practice last week, Kitna stepped in for Romo on Monday night and threw for 187 yards and two touchdowns (with no interceptions) in less than three quarters of action.
The upside: Kitna is surrounded by a very deep arsenal of weapons that includes Miles Austin, Roy Williams, Dez Bryant, Jason Witten and Felix Jones. In addition, he's now the starting quarterback on an offense that has thrown the ball 65.9% of the time this year, which is the second-highest pass to run ratio in the NFL.
The downside: After a favorable Week 8 matchup against the Jacksonville Jaguars, three of Kitna's next five games (NY Giants, New Orleans, Indianapolis) come against defenses that rank in the bottom-ten in fantasy points allowed to opposing quarterbacks.
Ryan Fitzpatrick, QB, Buffalo Bills: Very quietly, the former Ivy Leaguer has been racking up the fantasy points and climbing the charts. Despite starting only four games this season, Fitzpatrick currently ranks 18th in scoring among fantasy QBs. The main reason? He's thrown two or more touchdown passes in all four starts this year (11 total) and is averaging a healthy 242.3 yards per game.
The upside: Buffalo is throwing the ball 65% of the time during the second half, which means garbage time stats are in full effect with Fitzpatrick.
The downside: Three of Fitzpatrick's next six games (Chicago, Pittsburgh, Minnesota) come against defenses that rank in the bottom-eight in fantasy points allowed to opposing quarterbacks this season.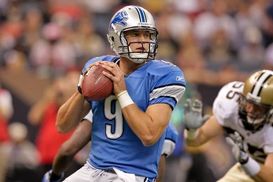 ICONStafford has a very favorable schedule over the next few weeks.
Matthew Stafford, QB, Detroit Lions: It's quite a coincidence that the week Romo goes down with an injury, the first overall pick in the 2009 draft is set to return to the starting lineup. The Lions rank No. 1 in the NFL in pass to run ratio (66.8%) as well as No. 1 in second-half pass to run ratio (71.1%), so yeah, they like to throw the football. In addition, many owners drafted Stafford as a QB2 back in August, meaning there's a very good chance he was dropped after getting injured back in Week 1 at Chicago.
The upside: Outside of the fact that he has Pro Bowl wide receiver Calvin Johnson as his top target, four of Stafford's next five games (Washington, NY Jets, Buffalo, New England) come against defenses that rank in the top-six in fantasy points allowed to opposing quarterbacks.
The downside: Playing behind that offensive line, you can't help but worry about this guy getting hurt. Stafford has already missed 11 of his first 22 games due to injuries.
Josh Freeman, QB, Tampa Bay Buccaneers: Believe it or not, Freeman is currently a top-15 fantasy quarterback despite having already had his bye week. He's thrown at least one touchdown pass in five of six games this season and is averaging 25.7 yards per game on the ground. In addition, Tampa is throwing the ball 60.8% of the time this year, which is up from the 58.1% pass to run ratio the Bucs averaged last season. At 4-2, head coach Raheem Morris is clearly more comfortable letting Freeman air it out this year than he was last.
The upside: He's already served his bye week and has thrown for 210 or more passing yards in each of the last three games. That's a good sign considering the fact that Freeman failed to top 185 passing yards in any of his first three contests.
The downside: Freeman has only thrown for 300 passing yards one time in his 16 career starts. In addition, the former Kansas State standout has thrown two or more touchdown passes just five times in his career. This is not a guy that will light up the fantasy scoreboard on weekly basis.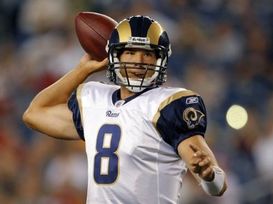 ICONHe won't light up the scoreboard, but Bradford could be a serviceable replacement when he's facing a favorable matchup.
Sam Bradford, QB, St. Louis Rams: The rookie from Oklahoma has thrown at least one touchdown pass in six of seven starts this season and is averaging a respectable 211.9 passing yards per game. Bradford's numbers have taken a slight hit over the last two weeks due to the loss of top target Mark Clayton, but expect things to pick up once he builds a rapport with reserves Danario Alexander and Laurnet Robinson.
The upside: Two of Bradford's next four games (Atlanta, Denver) come against defenses that rank in the top-nine in fantas y points surrendered to opposing quarterbacks.
The downside: He's completing only 56.2% of his passes (28th in NFL) and is averaging just 5.7 yards per attempt (31st in NFL) this season. Unfortunately, Bradford won't bring much consistency to your lineup.
Hit me up on Twitter: @JoeFortenbaugh
Win cash today playing fantasy football with the NFP and FanDuel.