August 30, 2013 -
Joe Fortenbaugh
How to survive NFL survivor pools
A staple in offices and fraternity houses around the country, the NFL survivor pool appears, on its face, to be a far simpler challenge than the one offered by its big brother, the March Madness bracket. The rules are surprisingly elementary: Pick one NFL winner each week from the list of games on the schedule. Point spreads do not apply. The only catch is that you can't use the same team twice.
[ Play NFL survivor style pools and find odds and bonuses on every NFL game at BetRivers ] 
Yeah, well, tell that to the thousands of people who selected the New England Patriots in Week 2 last season, only to watch the Arizona Cardinals pull out a stunner at Gillette Stadium, 20-18.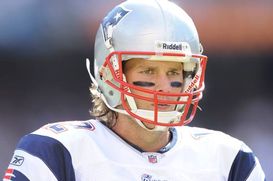 How to Survive NFL Survivor Pools
Successfully running the 17-week gauntlet of an NFL survivor pool is about as effortless and relaxing as a night spent on the North Col. You've got to have a plan in a place and you've got to possess an understanding of which pitfalls to avoid over the course of the four-month challenge if you want to have any chance of emerging in the black. Luckily, with some help from our good friends at Killer Sports.com, we've devised a set of rules to provide you with an edge for the 2013 survivor season. In addition, we've got our top Week 1 selection listed at the end of this article.
RULE 1: Home is where the heart is
The heavy hitters expected to eclipse the double-digit win mark this season while making a run at the Super Bowl—Denver, San Francisco, etc—play just as many games at home during the regular season as they do on the road. Shockingly, this fact holds true for the rest of the National Football League as well. So why opt to ride with a road team and all its baggage (travel, unfamiliar weather conditions) when you can simply select a comfortable team playing within its home confines? Since 2003, home teams are 1,463-1,095-2 (.572) during the regular season. That record alone is enough to provide us with a noticeable edge in our survivor selections. But it gets even better…
RULE 2: Pay attention to what's happening in Las Vegas
There's no reason to panic here because you don't need to possess the insight of a seasoned professional gambler to take advantage of what Las Vegas is trying to tell us. Utilizing the point spread for your weekly survivor selections is, in our opinion, the most effective weapon one can possesses within their arsenal. We've already established the need to target teams playing at home because it's an easy rule to remember with a built-in edge. But if we dig a little deeper… Since 2003, home favorites of seven or more points are 530-107-1 (.832). And for an even bigger edge… Since 2003, home favorites of ten or more points are 242-33-1 (.880). Good luck to anyone attempting to unearth a trend that carries a more significant edge than the two you just read. While certainly no guarantee, backing big home favorites has proven to be extremely beneficial to survivor participants over the last ten years. This doesn't mean that a 13-point home favorite should be selected sans any additional research, but these options should definitely rank at the top of your weekly list. In addition (for those willing to invest the time), the Las Vegas point spread can also serve to educate us on which teams are receiving the most support from the guys who do this for a living.
CLICK HERE
to check out the NFP's full array of point spreads (pay attention to the opening line and current lines to see which way the money is flowing) and
CLICK HERE
to examine which teams are feeling the most love from the betting community.
RULE 3: Fade the bad teams
Spending your precious free time on the hunt for winners is too narrow-minded of an approach to employ in the survivor game. You should pay just as much attention attempting to identify the teams most likely to lose if you want to advance into the month of December.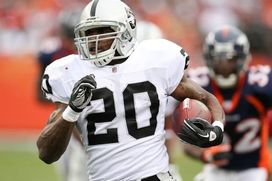 ICONDarren McFadden and the Raiders are a solid PLAY AGAINST option in 2013.
Seven of the last ten years have seen at least two NFL organizations post a record of 3-13 or worse during the regular season (2010 and 2004 had one team qualify for this study, while 2003 had zero). You need a grand total of 17 victories to reach the money in an NFL survivor pool. In seven of the last ten years, you've been handed at least 26 losses between two teams spread out over those 17 weeks. What this tells us is simple enough: Keep a very close eye on which teams are playing the Oakland Raiders, Jacksonville Jaguars and New York Jets each week.
RULE 4: Examine the situations
Not all 10-point home favorites are created equal. Weather, cross-country travel and extra rest are just a few of several critical factors you should incorporate into your weekly selections. Think about it: Would you rather back a 10-point home favorite against a non-conference opponent traveling west to east for a 1:00pm game, or a 10-point home favorite against a familiar divisional foe who resides less than 300 miles away? Needless to say, there's an edge to be gained in survivor pools by looking for under the radar trends.
Example:
Over the last six years, teams playing on the road against a non-conference opponent one week before a road game against a divisional opponent are 17-40 (.298) in the non-conference showdown.
CLICK HERE
to check out the five games on the 2013 schedule that fit this trend. The NFP will be rolling out more of these trends throughout the season. But for now, here are two more to keep in mind: Since 1989, home favorites against an opponent that is playing its second road game in as many weeks are 703-366-0 (.658). Since 1989, road underdogs coming off a Monday night game the previous week are 58-105-1 (.356).
RULE 5: Be skeptical of the Thursday night game
The NFL implemented a rule change for the 2012 season that saw the incorporation of a Thursday night game into the weekly schedule commencing Week 1 and running through Week 16. Factor in the three Thursday games played on Thanksgiving and we have a grand total of 18 matchups that were contested on a Thursday last season. In those 18 games, the home team went 8-10. Yes, there are certain factors (short rest, travel) capable of creating an advantageous situation for the home team during these Thursday night games, but 2012 demonstrated these contests to be more of a crapshoot than anything else. Stay away from Thursday night showdowns in 2013 until we can compile a larger sample size that depicts at least one favorable trend.
RULE 6: Wait until the last possible moment to submit your pick
On Sunday, December 6, 2009, the New England Patriots were hovering somewhere in the neighborhood of a 10-point favorite for their road showdown at Miami before the line started plummeting. At first, very few had any idea what was happening, but then the news surfaced that quarterback Tom Brady was battling a previously undisclosed thumb injury on his throwing hand. The erratic line movement forced some sportsbooks to temporarily take the game off the board, with the line eventually reemerging to close at New England -4.5. Brady played, threw two interceptions and the Patriots lost outright, 22-21. The weather, injury reports and Las Vegas point spreads can change in the blink of an eye—sometimes to your benefit, sometimes to your detriment. Eliminate the volatility these scenarios can bring to your survivor selections by waiting until the league deadline to submit your pick.
RULE 7: Don't get cute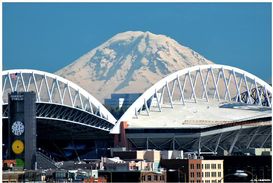 The Seahawks have emerged victorious in ten of their last 11 games played at CenturyLink Field.
In 2011 I thought I was slicker than a seal's ass when I backed the Cleveland Browns in their Week 1 home opener against a Cincinnati Bengals team that went 4-12 the year before and was starting a rookie second-round pick at quarterback in Andy Dalton. I was going to advance to Week 2 thanks to the lowly Browns, with a wide selection of elite teams left to choose from in the weeks ahead. Four hours later and my survivor entry was up in smoke thanks to a 27-17 upset win courtesy of the Bengals. Moral of the story: Don't get fancy, especially early in the season. Teams like the 2012 Colts emerge to shock the league every year while teams like the 2011 Eagles fall flat on their face despite lofty expectations. Even some of the sharpest bettors in the world wait a couple of weeks before making their first wagers in an attempt to get a better read on league. Zero in on the organizations with a proven track record and a favorable matchup.
Our Week 1 Survivor entry:
INDIANAPOLIS (vs. Oakland)
Hit me up on Twitter:
@
JoeFortenbaugh