July 27, 2011 -
Barry Dorey
Ike Taylor is back in black (and yellow)
After eight years together, cornerback Ike Taylor and the Pittsburgh Steelers still feel like they are a good match.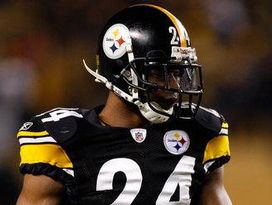 Taylor is coming back for a ninth season in Pittsburgh.
So it comes as no surprise Wednesday morning to find out the two sides have come to an agreement to keep Taylor in Pittsburgh, per Ed Bouchette of the Pittsburgh Post-Gazette.
The terms of the deal are still unknown, but with Taylor returning to the Steelers, we know the free agent cornerback market just shrunk by one, which is good news for a guy like Johnathan Joseph.
In eight seasons in Pittsburgh, Taylor has started 91 games and recorded 11 interceptions.
Are you surprised the Steelers brought back Ike Taylor? Discuss it now in the NFP Forums!
Hit me up on Twitter: @JoeFortenbaugh