May 21, 2012 -
Joe Fortenbaugh
Implementing the plan
"Good plans shape good decisions. That's why good planning helps to make elusive dreams come true."
--Lester Robert Bittel, writer
Making the transformation from divisional basement dweller to playoff contender is no small task. Talent needs to be procured, money must be spent and effective systems must be implemented on both sides of the ball. But before any of that can take place, a plan needs to be developed.
The Tampa Bay Buccaneers look like a team with a plan.
On the heels of a dreadful 4-12 campaign that began with so much promise in the wake of a ten-win season in 2010, the Bucs sent head coach Raheem Morris packing. The message was clear: Losing is unacceptable.
The organization filled the void by hiring former Rutgers head coach Greg Schiano, who guided the Scarlet Knights to eight or more wins in five of eleven seasons. That may not seem all that impressive for those of you who reside in the heart of the SEC, but prior to Schiano's arrival at Rutgers, the team hadn't posted a single eight-win season since 1979.
Money was spent in the form of All-Pro offensive guard Carl Nicks, cornerback Eric Wright and wide receiver Vincent Jackson. Talent was procured in April's draft with the selections of safety Mark Barron, running back Doug Martin and outside linebacker Lavonte David.
Which brings us to today and the latest developments out of Tampa designed to improve this football team in an effort to contend for the postseason.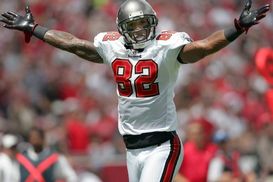 ICONDespite a relatively productive career in Tampa, the Buccaneers are trying to trade tight end Kellen Winslow.
Appearing on Sirius XM NFL Radio Monday morning, Tampa Bay tight end Kellen Winslow said that the Buccaneers are trying to trade him.
At first glance, it's curious to see a team that ranked 27th in scoring last season attempting to unload a player who ranks second in receptions at the tight end position since 2006 and led all Buccaneer receivers in receptions last season, with 75.
But this move isn't about money or production. It's about the locker room. And for what Schiano is trying to build in Tampa Bay, Kellen Winslow doesn't fit.
How else would you explain the fact that despite being one of the most productive and highly paid members on the roster, Winslow wasn't named one of the team's five captains in 2011?
Just two days before the news surfaced regarding Winslow's impending departure, Roy Cummings of The Tampa Tribune published a piece on how newly-acquired wide receiver Vincent Jackson—who caused his fair share of headaches in San Diego—is assuming a leadership role in Tampa Bay just two months after inking a $55 million contract. At the time of the signing, many in the industry speculated that the Buccaneers were taking a big risk by committing so much cash to a player with as many off-the-field issues as Jackson. But so far, the 29-year-old appears to be holding up his end of the deal.
"We still get advice from each other, too, but it's mostly coming from [Jackson] now," fellow Tampa wideout Mike Williams told Cummings. "He's been showing us a lot of what he's seen throughout his long career and his 1,000-yard seasons and his Pro Bowl seasons. He's been letting us know what we're going to see (from opposing defenses), and he's basically been telling me to just keep working on my game. You can't ever think you've mastered it."
This is all part of the plan that is being implemented in Tampa Bay. High-priced veterans who can contribute on Sundays and provide leadership to the younger players during the week are an integral component for success in the NFL. Those who are unwilling or incapable of getting on board will be jettisoned.
A plan has been formulated. The Buccaneers are moving in the right direction, but it will take time. After all, having a plan is only half the battle.
Executing that plan on Sundays is the other half.
Hit me up on Twitter: @JoeFortenbaugh