July 27, 2011 -
Barry Dorey
In the end, the Chargers prevail
He was a hot commodity on the open market, but in the end, free safety Eric Weddle decided that returning to San Diego was the best move on the board.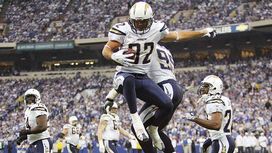 Eric Weddle just got paid.
(Editor's note: By "best move on the board," we mean that it is likely the Chargers offered Weddle the most cash money.)
Per Kevin Acee of the San Diego Union-Tribune, free agent Eric Weddle and the San Diego Chargers have reached an agreement. Weddle has played for the Chargers since he was selected by the organization in the second round of the 2007 draft.
The 26-year-old from Utah has started 45 games for the Bolts over the last four years. His signing was considered a top priority for San Diego entering the free agent period.
In other Chargers news, Acee reports the Bolts have reached an agreement with second-round draft pick Jonas Mouton (Michigan).
UPDATE: Per Acee, it's a five-year deal worth $40 million with $19 million guaranteed. Like we said: cash money.
Are the Chargers the frontrunners to win the AFC West? Let us know in the NFP Forums!
Hit me up on Twitter: @JoeFortenbaugh