August 04, 2011 -
Joe Fortenbaugh
Injury bug hits Philly
In a collision sport like football, one of the tough realities is that injuries are going to happen. Teams can do their best to try and prevent players from getting hurt, but in the end, there's really no way around it.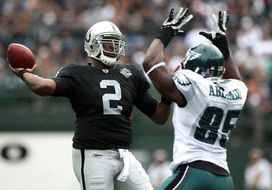 Abiamiri hasn't appeared in a game for the Eagles since 2009.
Just ask the Philadelphia Eagles.
One day after defensive tackle Mike Patterson collapsed on the field and was rushed to the hospital, reports in Philadelphia indicate that defensive end Victor Abiamiri has suffered a ruptured Achilles tendon and is done for the season.
Fielding a starting defense without Abiamiri is nothing new for the Eagles. In four professional seasons, the 25-year-old from Notre Dame has appeared in just 29 of a possible 64 regular season contests, making only six starts.
In other Eagles-related news, Geoff Mosher of the News Journal of Wilmington is reporting that 2010 fifth-round pick Ricky Sapp (DE, Clemson) has left the team and as a result, was placed on the Reserved/Left Squad list.
Hit me up on Twitter: @JoeFortenbaugh