July 11, 2011 -
Barry Dorey
Inside NCAA Football 12
Between the NFL lockout and the recent scandals at Ohio State and Oregon, the game of football hasn't exactly provided a lot of positive talking points over the last few months.
Expect that to change on Tuesday.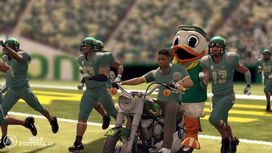 Here come the Ducks!
For those of you who have grown weary of hearing terms like injunction, revenue sharing and Willie Lyles, it's time to reacquaint yourself with your couch because the good folks at EA Sports will be releasing the 19th installment of their popular NCAA Football franchise on Tuesday.
In addition to working on the 2011 NFP Fantasy Draft Guide (set to launch on Wednesday), I spent the last ten days avoiding sunlight, increasing my cholesterol intake and testing NCAA Football 12.
This game has come a long way since the days of Bill Walsh College Football (1994). Here's what to look for in the latest edition…
Collision Based Tackling System: Gone are the days when an open-field tackle looked like one bowling pin knocking down another bowling pin. In NCAA 12, tackles don't begin until a defender makes contact with the ball carrier. The beauty of this new feature is that it no longer feels like the linebacker is "suctioning" to the running back when making a tackle.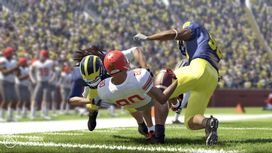 NCAA 12's Collision Based Tackling System is an upgrade over previous editions of the video game.
In addition, EA Sports created a new tackle button ("X" on Xbox 360, "Square" on PS3) that allows the defender to lunge towards the ball carrier if he's not close enough to make the stop.
Just be sure to keep the defender's momentum under control by breaking down before the tackle. While the improvements look and feel terrific, more attention and focus is now required when going for the tackle.
Note: The new collision system also translates to improved catching and blocking. Enhanced offensive line play allows for more blitz pickups, but it's still difficult to avoid getting sacked when running play-action.
New live mascots & authentic gameday traditions: There's nothing quite like seeing Ralphie the Buffalo charge onto Folsom Field at a Colorado game or watching the Oregon Duck storm the turf on a motorcycle at Autzen Stadium prior to kickoff. Mascots and traditions are two big reasons why college football stands alone on the American sports landscape.
This season, EA Sports is introducing an all-star lineup of live mascots, entrances and traditions for the latest installment of NCAA 12. CLICK HERE to take a look.
Road to Glory: Users have the ability to recreate their senior season of high school, where you can play a full 8-12 game regular season schedule with playoffs. In Road to Glory, NCAA 12 gives you the option to create custom uniforms and play both sides of the ball like an Iron Man. Should you opt to go the Iron Man route, you'll get recruited at both positions and will eventually have to make a decision regarding what side of the ball you'll want to play in college.
I didn't have the opportunity to spend much time using the Road to Glory feature, but when I finally get a chance to dive into it, you can bet I'll be creating a #14 Joe Fortenbaugh who will run over, around and through a #41 Matt Bowen.
Dreadlock overload: Every player with dreads looks like a computerized version of the Predator. If EA Sports wants to get really creative, they should find a way to allow defenders to tackle running backs with dreads by their hair.
This could be the new "make his head bleed" feature that we all remember from the movie Swingers.
Dynasty: The most popular mode of the NCAA Football franchise now has a Coaching Carousel feature that allows users to assume the role of a coach. You'll have to find a job, sign a contract and meet certain expectations if you want to stay employed.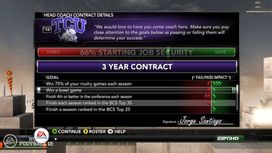 Your coaching contract will have certain goals that must be met. Otherwise, you'll be out on the street.
Casual users who only spend a couple hours a week playing NCAA 12 may find themselves a bit overwhelmed with all the recruiting, etc. that is required in Coaching Carousel. But for the hardcore players out there, I'm sure this is right up your alley.
Side note: How long do you suppose it will be before NCAA Football allows coaches to pay recruiters and players to trade autographs for cash?
The Booth: Color guy Lee Corso is out, so you'll only be listening to Brad Nessler and Kirk Herbstreit during the game (with occasional input from Erin Andrews). This could be either a good or bad change depending on your feelings towards Corso. Personally, I like the guy, so it feels like the game took a slight step back here. Don't expect to laugh at anything said by Nessler or Herby.
Coach Mode: EA Sports provides the opportunity to call games as a coach (you're just calling the offensive and defensive plays, not running them). The camera angle for Coach Mode is new, as you'll be viewing the game from a "broadcast presentation angle." In other words, it's the view from up in the booth.
If I thought I was bad at executing plays in NCAA Football, this past week taught me that I'm even worse at calling them. My younger brother kicked my tail in all three games we played in Coach Mode.
Random, unrelated side note: I won't be playing with TCU anymore.
Don't like the current conferences? Do something about it! Yessir! You now have the ability to create custom conferences (minimum 4 teams, maximum 16 teams) as well as the option to edit Bowl Tie-Ins.
First thing I did with this new feature? Added Boise State to the SEC. Lets see the BCS try to screw an undefeated Broncos team now!
Speaking of Boise State, the blue turf at Bronco Stadium looks sick with the new visual upgrades.
Final Thoughts: This franchise has come a long way from the days of lining up five-wide and throwing for 500+ yards every time out (Danny Wuerffel!). You can now run the football with more ease (which I love, because I was terrible at it before) and play defense at a higher level.
The folks at EA Sports realize they have a quality product here, so they're very careful about how and what they change. NCAA 12 looks and functions sharper than before, but still needs some tweaks on defense in regards to AI player movement. All in all, I feel very comfortable recommending this game.
Grade: 4.3 stars out of 5.
Hit me up on Twitter: @JoeFortenbaugh
CLICK HERE to buy NCAA Football 12.