March 07, 2012 -
Joe Fortenbaugh
Internet meltdown alert: Broncos to inquire about Manning
At this point, who isn't interested in Peyton Manning?
As the Indianapolis Colts parted ways with the greatest player in franchise history on Wednesday, a wide variety of teams around the league began lining up for a shot at Peyton Manning's services.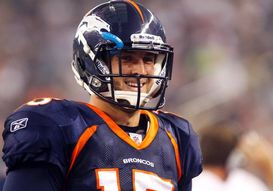 Is Tim Tebow still the favorite to be under center for the Broncos come Week 1?
We can now add the Denver Broncos to the list.
According to a report from Mike Klis of the Denver Post, the Broncos are expected to call Manning's agent, Tom Condon, in the very near future to find out their chances of landing the most coveted free agent since Reggie White.
Whether or not the Broncos are a real contender in the hunt for Manning remains to be seen, but it will be interesting to see the reaction of Broncos fans—and more specifically, Tebow fans—to the news that the team still isn't 100% sold on the former Heisman Trophy winner out of Florida.
After all, general manager John Elway and head coach John Fox continue to tell everyone willing to listen that Tebow will be the starter in Denver next year.
Unless, of course, Peyton Manning is.
Hit me up on Twitter: @JoeFortenbaugh