December 16, 2014 -
Joe Fortenbaugh
Into the fire
In what very well may go down as the worst professional quarterback performance of the 2014 season, assuming we're no longer operating under the impression that Geno Smith is a professional quarterback, the Johnny Manziel rocket ship detonated on the launch pad Sunday against Cincinnati without lifting even so much as an inch off the Earth's surface. It was a horrific display of indecisiveness and ineffectiveness that resulted in just 10 of 18 completed passes for only 80 yards with two interceptions and zero points scored while marking Cleveland's fourth loss in five games and signaling the end of the city's hopes for a postseason berth.
It was also the 22-year-old former Heisman Trophy winner's first career start.
This last part is of particular importance because of the reaction Manziel's performance has solicited from both the fans and media. You'd think the 22nd overall pick in last May's draft was an eight-year veteran and six-time Pro Bowler who just pulled a Chris Webber in the Super Bowl with the amount of backlash, criticism and "I told you so" nonsense that made its way into the air we breathe at such a breakneck speed.
Take this tweet from ESPN's Stephen A. Smith, which was sent out into the vast abyss of the internet barely one hour into Manziel's first career start:
"It's officially awful right now for @JManziel2. Merrill Hoge is looking like a profit right now"
This is the type of overreaction that we can all do without, but is simultaneously necessary to both attract eyeballs and ignite debate, something Smith's television show First Take excels at doing. Manziel is a hot topic, so simply employing some elementary level of patience while giving the rookie signal-caller a chance to grow over the course of a few weeks or, gasp, even months won't move the meters. The Texas A&M product performed poorly on Sunday, so the natural conclusion of this day and age is that he must be a bust. There's no other way to slice the pie.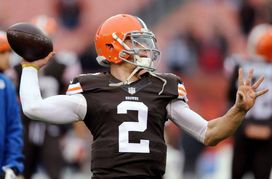 Manziel's debut was terrible, but it was still only one game.
Let's start with the fact that Cleveland made the right move by turning the keys to the car over to Manziel, as there are still some making the case that veteran journeyman Brian Hoyer and his 76.3 passer rating (31st in the NFL, one spot behind Oakland rookie Derek Carr) should be under center for the Browns. Why? The Cleveland Browns weren't winning this season because of Hoyer, they were winning despite him. Prior to the passing of the torch to Manziel, Hoyer's previous five starts had resulted in just one touchdown pass and eight interceptions. The bottom line is that the guy wasn't getting it done and won't be back in Cleveland next season, so whether the franchise was in the playoff race or not, the correct move was to get Manziel in the starting lineup so that he could get his feet wet and commence building a rapport with wide receiver Josh Gordon so the team could hit the ground running in 2015.
Let's next acknowledge the fact that there was no way Cleveland was winning that football game on Sunday, regardless of who was under center. The AFC North-leading Bengals, a playoff team in four of the past five seasons, had this game circled on the calendar ever since they were embarrassed on their home turf in front of a national audience by the Browns back in early November. Cincinnati entered this contest having won three of its last four outings with a defense that was permitting just 20.6 points per game in 2014 (tenth in NFL). If there was ever a game where revenge played an integral role in the outcome, this was it.
But even though the franchise made the right call in opting for Manziel over Hoyer and despite the fact that this was a showdown the Browns were unlikely to win, the first-year signal-caller is still taking a Mayweather-like beating in the media for playing like a rookie quarterback who was making his first career start. Is it perhaps just the slightest bit possible that once again a drastic overreaction is taking place in regards to a situation that was both predictable and common amongst those thrust into a similar set of circumstances?
The heat Manziel took following Sunday's loss was nowhere near the level of scrutiny paid to fellow rookie quarterbacks Derek Carr, Teddy Bridgewater and Blake Bortles, all of whom have produced just as dreadful stat lines during their respective inaugural campaigns. But the difference between those three quarterbacks and Manziel is that neither Carr nor Bortles nor Bridgewater gave the media any ammunition with which to use against them when the going got tough. Remember, Manziel is the guy with the big ego, bad attitude and arrogant swagger. He's an easy target and it's largely his own fault. If anything, the former Heisman Trophy winner's approach to his post-collegiate career should serve as a lesson in how not to act when you've yet to win anything at the professional level.
But that doesn't change the fact that this is still a 22-year-old kid who was making his first career start against one of the best teams in the league. It was a poor performance with a disastrous result, but that doesn't mean Manziel is a bust, just like a stellar outing and a win over Cincinnati wouldn't have made Johnny Football the next Tom Brady.
Sometimes one game is simply that and nothing more.
Hit me up on Twitter: @JoeFortenbaugh