July 26, 2011 -
Barry Dorey
Is another team about to enter the Asomugha sweepstakes?
It goes without saying that shutdown cornerback Nnamdi Asomugha is the cream of the crop when it comes to this year's free agent class. In eight professional seasons, the soon-to-be former Oakland Raider is a four-time All Pro who has been voted to four Pro Bowls.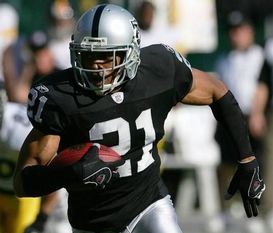 Could Asomugha be headed to Baltimore?
The speculation regarding which team will sign Asomugha this summer has been growing in recent weeks, with many experts installing the Houston Texans as the favorites to land the 30-year-old cornerback. And while the Philadelphia Eagles and Washington Redskins are two other teams that have been rumored to have an interest, we've become quite enamored with a theory floated by Clark Judge of CBS Sports Monday evening.
What about the Baltimore Ravens?
Judge writes that, "With the releases of Willis McGahee, Kelly Gregg, Todd Heap and Derrick Mason, the Ravens are clearing substantial cap room for a big move. Asomugha might just be that move."
With Ray Lewis, Ed Reed, Terrell Suggs and Haloti Ngata as the foundation of the Baltimore defense and Asomugha playing opposite rookie first-round pick Jimmy Smith, we imagine the 12-1 odds on the Ravens to win the Super Bowl would begin to drop in a hurry.
Where will Asomugha be playing football in 2011? Weigh in with your thoughts in the NFP Forums!
Hit me up on Twitter: @JoeFortenbaugh