May 19, 2011 -
Joe Fortenbaugh
Is it too early to talk about the Heisman?
Before you read any further, scroll down to the bottom of this article and closely examine the chart featuring the current odds for the top-20 2011 Heisman Trophy contenders (courtesy of SBGGlobal.com).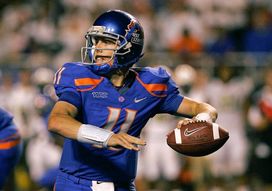 ICONWhere are the odds on college football's most efficient passer?
Notice any big names that were omitted from the list? Say, for example, Kellen Moore?
Amazingly, the Boise State quarterback—who finished fourth in the voting for college football's most prestigious individual honor last December—has been left off the list despite a 38-2 record as a starter and a 74:9 touchdown to interception ratio over the last two years.
Could it be that the upset loss to Nevada last November—which derailed any chance at a spot in the BCS Championship game—is still haunting the Boise State football program?
I know it's early, but with the NFL in ultra-boring, snooze-fest lockout mode, we might as well open up the comments section and declare our early summer 2011 Heisman Trophy predictions.
Here's a quick rundown on the top-five candidates according to the odds that were recently released over at SBGGlobal.com:
Andrew Luck, QB, Stanford (+250): Last year's runner-up is this season's heavy favorite as Luck opted to return to the Cardinal for another shot at a national championship rather than head to Carolina to take over the Panthers offense. The 235-pounder ranked third in the country in passing efficiency last season (behind Kellen Moore and Cam Newton) en route to earning second-team All-American honors. However, will the loss of head coach Jim Harbaugh derail Luck's bid for the Heisman?
The play: The odds (+250) stink and Harbaugh is gone. This bet isn't worth it.
Marcus Lattimore, RB, South Carolina (+500): Auburn quarterback and Heisman Trophy winner Cam Newton was the only player in the SEC to carry the rock more last season than Lattimore. The true freshman found the end zone 17 times in 2010 (third in SEC), but will need either out-of-this-world numbers or an appearance in the SEC title game if he wants to walk away with the hardware.
The play: The last two running backs to win the Heisman Trophy (Mark Ingram & Reggie Bush) either won or played for the National Championship that season. I don't see Lattimore doing either, so I'm going to take a pass.
Denard Robinson, QB, Michigan (+500): Just like Luck (above), Robinson will enter the 2011 campaign with a new head coach (Brady Hoke) running the show. The dual-threat playmaker took the country by storm during Michigan's 5-0 start last season, but quickly faded into Heisman obscurity after the Wolverines dropped six of their final eight games. However, another 1,700+ rushing yards is a must if Robinson wants an invite to New York.
The play: Robinson will be a delight to watch on Saturdays, but the fact remains that his team won't win enough games to keep him in serious contention. He could be invited to New York, but it's unlikely Robinson will win.
LaMichael James, RB, Oregon (+600): James finished fourth in the country in scrimmage yards per game (161.6) for the 12-1 Ducks last season, but keep in mind that only two running backs have hoisted the Heisman Trophy over the last 11 years. He's one of the quickest and most elusive players in the country, but how valuable is James to the Oregon offense? We only ask because this unit doesn't seem to miss a beat when backup Kenjon Barner enters the game, meaning James' success could be interpreted as a byproduct of Chip Kelly's scheme.
The play: The sad reality is that not enough voters stay up late to watch Oregon routinely post 40+-point performances. James could make it to New York for the second consecutive year, but there just won't be enough hype to back him up.
Landry Jones, QB, Oklahoma (+600): Ah, yes. The player that most people have already labeled as their dark horse to win the Heisman is none other than former Sam Bradford backup Landry Jones. The 22-year-old signal-caller finished 2010 ranked second in the country in both passing yards (4,718) and touchdowns (38) and no longer has to worry about dates with Nebraska or Colorado (as if Colorado was an issue to begin with). With wide receiver Ryan Broyles back in the mix as well, meaning Jones should once again have no problem blowing up the stats sheets.
The play: At +600, Jones is certainly worth the investment. Keep in mind that nine of the last 11 Heisman winners have been quarterbacks, two of which (Jason White, Sam Bradford) played at Oklahoma.
JOE FORTENBAUGH'S EARLY SUMMER VALUE PICK
Trent Richardson, RB, Alabama (+1200): You can bet your ass that head coach Nick Saban is going to have his team ready to play in 2011 after losing three games last season. Richardson averaged 6.3 yards per carry last year and scored ten touchdowns despite playing second fiddle to former Heisman Trophy winner Mark Ingram. In addition, the Crimson Tide will once again be a Saturday afternoon staple on CBS, meaning every voter in the country will get more than enough time to witness the talent. As a bonus, Cam Newton and Urban Meyer are no longer around to pose any problems. If Alabama makes it to the SEC Championship game, you can bet your last dollar that Richardson will be a major reason why.
Hit me up on Twitter: @JoeFortenbaugh