May 18, 2012 -
Joe Fortenbaugh
Is Matt Forte worth as much as LeSean McCoy?
Step 1: Identify the problem. Step 2: Assess and evaluate the situation. Step 3: Find a solution.
The Philadelphia Eagles understand this process. With LeSean McCoy set to enter the final season of his four-year rookie contract, the Philadelphia front office cleared the necessary cap space and rewarded one of the league's best running backs with a five-year contract extension worth $45 million with $20.765 million guaranteed on Thursday.
McCoy is happy. The team is happy. 2012 could be a big year for the Birds.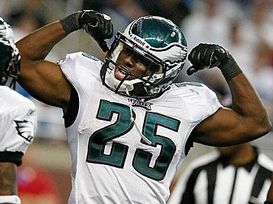 LeSean McCoy landed a lucrative new contract extension after a record-setting 2011 season.
The McCoy deal serves as the most recent example of how the Eagles have done an excellent job of identifying, evaluating and solving potential problems. Disgruntled wideout DeSean Jackson got his big payday back in March and should be nothing but smiles heading into training camp. Defensive woes were addressed with the acquisition of veteran linebacker DeMeco Ryans as well as the selections of DT Fletcher Cox, LB Mychal Kendricks and DE Vinny Curry in April's draft.
The forecast is looking good in Philadelphia.
But just over 750 miles to the west, a storm has been building on the horizon.
Chicago Bears running back Matt Forte wants to feel the love. Since entering the league in 2008, only five players have amassed more total yards from scrimmage than Forte. Two of those players (Chris Johnson, Adrian Peterson) struck gold last offseason and should be financially set for life. Forte wants to join CJ2K and AP in the VIP section, but at the current moment, the Bears don't appear willing to shell out the paper.
This much we can accept as fact: Matt Forte deserves a new contract. He earned a trip to January's Pro Bowl and during his first three seasons in the NFL, Forte started all 48 games for Chicago and accounted for 33% of the Bears' total offense.
But does Forte deserve to be paid the same amount of money as LeSean McCoy? He and his agent will vehemently argue yes, but they could run into some pitfalls along the way:
1. Age: Forte turns 27-years-old on December 10 while McCoy turns 24-years-old on July 12. That's a big gap when it comes to the running back position. Forte also has an additional 436 touches worth of tread on his tires, having played in 14 more regular season games than McCoy.
2. Competition: McCoy is the featured back in Philadelphia and will only lose carries if he's hurt or needs a quick break during the game. On the other hand, Forte now has to contend with the likes of former Oakland Raider Michael Bush, who signed a four-year deal with the Bears back in March. Bush is one of the league's most underrated running backs, having amassed 1,395 total yards and eight scores in just nine starts last season due to an injury sustained by starter Darren McFadden. With Bush on the roster, the Bears won't need Forte to handle as much of the load as he has in the past.
3. Career Production: McCoy is coming off an All-Pro season in which he was named the FedEx Ground Player of the Year while setting the Philadelphia franchise record for single-season touchdowns (20). He's averaging 5.29 yards per touch for his career vs. Forte's 5.02. In addition, McCoy has found the end zone once every 24.3 touches during his career, while Forte is scoring once every 42.6 touches.

The above chart illustrates another discrepancy between the two players. In McCoy's three NFL campaigns, the Philadelphia running back tends to produce at a consistent level throughout the entire season, while Forte's production tends to decrease during the second half of the year.
Further complicating the negotiations will be the Arian Foster dynamic. The Houston running back signed a five-year, $43.5 million deal with $20.75 million guaranteed back in March. Forte and his agent, Adisa Bakari, will likely point to this extension as well during their talks with the Bears front office, but you have to remember that Foster has produced at a much higher level over the last two seasons than Forte. Since 2010, Foster ranks second in the NFL in rushing yards (2,840), first in rushing touchdowns (26) and first in total yards from scrimmage (4,061). He's also a year younger than Forte and has 451 less touches worth of wear on his tires.
As it stands, the Bears appear content to let Forte play out the 2012 season under the franchise tag at a value of $7.742 million. That's a significant wedge of cheese, but it pales in comparison to the $20+ million in guarantees that both McCoy and Foster landed this offseason.
Identify, assess and solve. Chicago and Philadelphia have taken two different approaches to a very similar problem. It should be interesting to see which organization's approach yields the greater return.
Hit me up on Twitter: @JoeFortenbaugh