September 12, 2011 -
Joe Fortenbaugh
Is the clock already ticking on McNabb?
Two rookie quarterbacks, two encouraging results.
Sunday afternoon in Arizona, former Heisman Trophy winner Cam Newton threw for an ultra-impressive 422 yards and two touchdowns in a competitive 28-21 loss to the Cardinals. Earlier that day in Cleveland, second-round pick Andy Dalton threw for only 81 yards in his NFL debut, but the former Horned Frog posted a QB rating of 102.4 and led the Bengals to a 27-17 upset win over the Browns.
However, while those two inexperienced signal-callers were giving their respective fan bases something to cheer about, fellow rookie quarterback Christian Ponder was on the sidelines in San Diego watching Donovan McNabb struggle.
And by "struggle," I mean "produce the ugliest stat line of his 13-year career."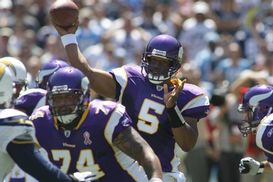 ICONIs it already time to make a switch at quarterback in Minnesota?
McNabb completed only 7 of 15 passing attempts for just 39 yards with one touchdown and one interception in a 24-17 loss to the San Diego Chargers in a game that had Minnesota up 17-14 entering the fourth quarter.
What's even worse is that with the loss, the Vikings quickly find themselves in the basement of the NFC North as the Packers, Lions and Bears all posted victories on opening weekend.
Which brings us to the big question that many will be talking about on Monday: How long until new head coach Les Frazier pulls the plug on the McNabb experiment and turns the keys to the car over to rookie Christian Ponder?
Do the Vikings need to fall out of playoff contention for the switch to go down, or will Frazier take note of the inspiring performances produced by Newton and Dalton as wet-behind-the-ears quarterbacks and give his own inexperienced rookie a shot to make something happen?
Remember, the Vikings used the 12th overall pick in last April's NFL Draft to land Ponder. He's not a long-shot developmental project.
What do the fans in Minnesota have to say about all of this? Their team entered the 2011 campaign with expectations set lower than in recent memory, but that doesn't mean they were expecting to find themselves a game back of all three divisional opponents 60 minutes into the year.
This isn't meant to be an indictment of McNabb. The guy has been to six Pro Bowls and was named NFC Offensive Player of the Year in 2004. He may even have a shot at getting his bust into Canton after he decides to hang 'em up.
This is about the Vikings and what's in the best interest of their proud franchise moving forward. While McNabb may give the organization a better chance to win now, keeping a first-round pick like Ponder on the sidelines while fellow rookie signal-callers gain valuable game experience could put the rebuilding process in Minnesota further behind schedule than some anticipated.
The Tampa Bay Buccaneers are coming to town in six days. What's Minnesota's next move?
Hit me up on Twitter: @JoeFortenbaugh