November 28, 2012 -
Joe Fortenbaugh
Is the Heisman Trophy race already over?
For the most part, people who book action for a living know what they're doing. These are individuals tasked with setting lines and odds that will not only balance the money wagered on a particular event, but will also turn a profit for their respective employers. Big mistakes in the oddsmaking department can lead to five, six and even seven-figure losses. Added up over time, those mistakes and subsequent losses can result in unemployment.
Oddsmakers take a variety of factors into consideration when setting the lines for a given event. Not only are an individual or teams true chances of winning taken into account, but the public's perception of said individuals and teams also plays an integral role. This is the reason why Tiger Woods is regularly posted as one of the favorites to win any of golf's four Major Championships, despite the fact that the 36-year-old hasn't won a Major since his U.S. Open victory in 2008. The betting public just loves to throw down cash on Woods.
We're going to hear a lot about the 2012 Heisman Trophy race over the next ten days. Arguments will be made for and against standout players like Collin Klein, Manti Te'o and Johnny Manziel, but for all intents and purposes, this race might already be over. The Kansas State and Notre Dame faithful won't be interested in hearing any such nonsense, but that doesn't make it untrue.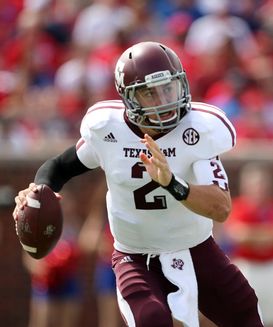 US PRESSWIREThe bookmakers are currently saying that Texas A&M quarterback Johnny Manziel will win the 2012 Heisman Trophy.
As of Wednesday morning, Texas A&M quarterback Johnny Manziel is your runaway favorite to win the Heisman Trophy based on the odds posted at a variety of offshore sports books. Think this type of information doesn't matter? Then take a look at the 2012 Presidential election.
While both the mainstream media and United States citizens kept a close eye on the polling results, bookmakers and professional bettors knew the race was over well before election day. Barack Obama was a sizeable favorite in the months leading up to the election, but the incumbent jumped as high as a 5-1 favorite on November 6. This didn't happen because of chance. The bookmakers were taking an abundance of action on Obama and as a result, adjusted their odds to reflect that position. Obama won in a landslide and bettors who backed the Democratic nominee cashed in.
The same thing is happening as we speak in regards to the Heisman Trophy race, as Johnny Manziel's performance against the Alabama Crimson Tide on November 10 has vaulted the redshirt freshman quarterback—who was posted as high as 50-1 back on October 23—to a sizeable favorite in the days leading up to the unveiling. Manziel's lead keeps getting bigger, despite the fact that Kansas State's Collin Klein still has one game left to play on Saturday. Whether or not Klein can close the gap remains to be seen, but based on the current odds being offered around the internet, this appears to be Manziel's race to lose.
Which should raise a big red flag for anybody interested in betting one of the other contenders.

Hit me up on Twitter: @JoeFortenbaugh