June 25, 2012 -
Joe Fortenbaugh
Is this the year?
You'll have to excuse Ravens fans if they're getting a little antsy.
With the John Harbaugh era set to enter its fifth season, this is a city that has enjoyed a great deal of football success since parting ways with Brian Billick after the 2007 campaign. But for all of the regular season wins and postseason trips the Ravens have accumulated over the last four years, the organization has still come up short in its efforts to earn a spot in the Super Bowl.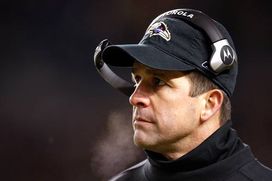 Harbaugh has done a fantastic job with the Ravens in his four years at the helm. But can he get this team into the Super Bowl?
So will 2012 be the year the Ravens finally break through and take that elusive next step?
Oddsmakers are once again giving Baltimore a legitimate shot. Less than 24 hours after the Giants took down the Patriots in Super Bowl XLVI, the MGM Grand opened the Ravens at 20/1 to hoist the Vince Lombardi Trophy next February. That number has since been readjusted, as offshore shops Sportsbook.ag (15/1), Bovada.LV (16/1) and BetOnline (17/1) are all currently offering shorter prices.
Let's go to work…
JOE FLACCO
The Delaware product is 44-20 during the regular season as the Ravens' starting quarterback. But Flacco took a step in the wrong direction last season and saw his QB rating drop from a career-high 93.6 in 2011 to 80.9 in 2012. His 12 interceptions tied a career-high and his 20 touchdown passes topped only the 14 he threw as a rookie in 2008. However, the big concern when examining Flacco's 2012 stat line is his career-low 57.6% completion percentage.
Career numbers in wins…
QB rating: 95.9
Completion percentage: 62.2%
TD-INT: 58-16
Career numbers in losses…
QB rating: 68.2
Completion percentage: 58.3%
TD-INT: 22-30
Flacco clearly plays a respectable role in Baltimore victories, but it's also apparent that he has an even bigger hand in the team's losses. For the Ravens to take the next step, the organization is going to need a more consistent effort out of the quarterback position.
Because when you take a look at the last five Super Bowls and the quarterbacks who appeared in them (Brady, Eli Manning, Rodgers, Roethlisberger, Brees, Peyton Manning, Warner), it's clear as day how much consistency and productivity at the position translates into a deep postseason run.
EXAMING THE SCHEDULE
Here's how the Ravens stack up in relation to the point spreads for Week 1 through Week 16 that were released by Cantor Gaming last month:
WEEK 1: -7 vs. Cincinnati
WEEK 2: +3.5 at Philadelphia
WEEK 3: +1.5 vs. New England
WEEK 4: -10 vs. Cleveland
WEEK 5: -3 at Kansas City
WEEK 6: -5.5 vs. Dallas
WEEK 7: +3 at Houston
WEEK 8: BYE
WEEK 9: -5.5 at Cleveland
WEEK 10: -8 vs. Oakland
WEEK 11: +3 at Pittsburgh
WEEK 12: +1 at San Diego
WEEK 13: -3 vs. Pittsburgh
WEEK 14: -3.5 at Washington
WEEK 15: -3.5 vs. Denver
WEEK 16: -3.5 vs. New York Giants
WEEK 17: at Cincinnati (no spread available)
Favorite: 10 times
Underdog: 5 times
Now, let's take those numbers and compare them to the other AFC powerhouses:
New England Patriots: Favorite 15 times, Underdog 0 times
Pittsburgh Steelers: Favorite 11 times, Underdog 4 times
Houston Texans: Favorite 9 times, Underdog 4 times, Pick 'Em 2 times
And then we'll take one more step by comparing season win totals:
Baltimore Ravens: 10-10.5 wins
Houston Texans: 9.5-10.5 wins
New England Patriots: 11.5-12.5 wins
Pittsburgh Steelers: 10-10.5 wins
It's clear that the thought process in Vegas and offshore is that the Ravens are one of the AFC's best teams, but they're not in that elite tier that features the New England Patriots. In order to get over the hump, two things will need to happen this season: The Ravens have to earn a first-round bye and Flacco needs to take his game to the next level.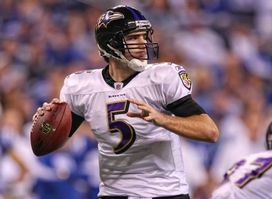 ICONJoe Flacco's best season as a pro is what Baltimore needs in 2012 if the team hopes to go the distance.
In four years under Harbaugh, the Ravens have gone 27-5 (.843) at home during the regular season and 1-0 at home during the playoffs. But those numbers take a predictable hit on the road, as the team has gone just 17-15 during the regular season and 4-4 in the playoffs away from M&T Bank Stadium. Take note that two of those postseason road losses came in the AFC Championship Game.
As for Flacco, the status quo won't be enough in 2012. Ed Reed and Ray Lewis are on their last legs and Terrell Suggs is nursing a torn Achilles tendon. For Baltimore to finally earn a trip to the Super Bowl, Flacco will need to elevate his play to a level we have never seen before from the 27-year-old. Anything less will result in yet another shortcoming.
Will the Ravens win the AFC this season? It's possible. Would I bet on it? No.
Hit me up on Twitter: @JoeFortenbaugh