December 06, 2011 -
Barry Dorey
It looks like RG3 is your Heisman Trophy winner
While the official announcement won't be made until Saturday evening, all indications are that Baylor quarterback Robert Griffin III will be the individual who hoists the Heisman Trophy in Manhattan this weekend.
Here's what we know…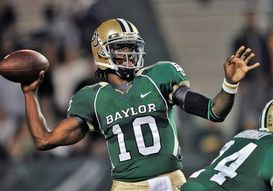 ICONRG3 is now listed as low as -400 at some shops to win the Heisman.
Griffin, along with Alabama running back Trent Richardson, Stanford quarterback Andrew Luck, Wisconsin running back Montee Ball and LSU defensive back Tyrann Mathieu were announced as the five Heisman finalists Monday evening.
Following that announcement, BetOnline.com released odds on each player to take home the trophy. Here are the opening numbers:
Trent Richardson: -160
Andrew Luck: +125
Robert Griffin III: +300
Montee Ball: +600
Tyrann Mathieu: +800
It only took a few hours before a dramatic shift in the odds occurred, with RG3 emerging as the runaway favorite:
Robert Griffin III: -400
Trent Richardson: +225
Andrew Luck: +275
Montee Ball: +1500
Tyrann Mathieu: +2000
"Since we re-opened the Heisman odds last night, the early bettors pounced on RG3," Dave Mason of BetOnline.com told the National Football Post Tuesday morning. "We moved Griffin's odds from +300 down to +150. That didn't stop the bleeding at all as they kept betting him at -150, -200, -300."
In addition to the odds swinging drastically in his favor, perhaps the best thing that Griffin has going for him is the fact that Stiff Arm Trophy.com, a Heisman Trophy website that has accurately predicted the winner in each of the last nine years, currently has the Baylor signal-caller as the heavy favorite over Andrew Luck based on the 122 Heisman ballots they have already identified.
Should he end up winning the Heisman Saturday night in New York, Griffin and his Baylor Bears will then look to take out the Washington Huskies in the Valero Alamo Bowl on December 29.
Baylor is currently a 9-point favorite.
Hit me up on Twitter: @JoeFortenbaugh