May 20, 2013 -
Joe Fortenbaugh
It was a busy weekend in Las Vegas
It didn't take long for the big dogs in Sin City to follow the lead set by our neighbors to the north. Just over one week after the Atlantis sports book in Reno became the first shop to enter the 2013 NFL season win totals market, Cantor Gaming (Friday) and the LVH SuperBook (Sunday) joined the party with their own opinions.
In addition to posting season win totals on Sunday, the LVH also hung lines for 80 NFL games played between Week 2 and Week 17. You'll find the full rundown at the end of this article.
So the calendar hasn't even flipped to June and we already have an opinion from three different sports books on each of the 32 NFL franchises. The most intriguing number at the moment? Well, that would be the Green Bay Packers. The Atlantis hung Aaron Rodgers and company at 12, but adjusted south prior to Cantor and the LVH coming out with a lower total.
Before we get to the complete breakdown, take note of the following:
Biggest Discrepancies
1. Green Bay: 12 wins at Atlantis, 10 wins at LVH.
2. Buffalo: 5 wins at Atlantis, 6.5 wins at Cantor and LVH.
3. St. Louis: 6.5 wins at Cantor, 8 wins at Atlantis.
4. Baltimore: 8.5 wins at LVH, 9.5 wins at Atlantis.
5. Cleveland: 5 wins at Atlantis, 6 wins at LVH.
6. Denver: 11 wins at Cantor, 12 wins at Atlantis.
7. Houston: 10 wins at LVH, 11 wins at Atlantis.
8. Miami: 6.5 wins at Cantor, 7.5 wins at Atlantis and LVH.
9. Pittsburgh: 9 wins at LVH, 10 wins at Atlantis.
10. Seattle: 10 wins at Cantor, 11 wins at Atlantis.
11. Tampa Bay: 6.5 wins at Atlantis, 7.5 wins at Cantor and LVH.
12. Washington: 8 wins at Cantor and LVH, 9 wins at Atlantis.
Unanimous
1. Atlanta: 10
2. Chicago: 8.5
3. Dallas: 8.5
4. New York Giants: 9
5. Oakland: 5.5
6. Tennessee: 6.5
High/Low
Atlantis: 12 wins (Denver and Green Bay), 4.5 wins (Jacksonville)
Cantor: 11 wins (San Francisco, Denver, New England), 5 wins (Jacksonville)
LVH: 11.5 wins (San Francisco, Denver, New England), 5 wins (Jacksonville)
One for the road…
17 weeks of NFL action produces a grand total of 256 games. That means 256 winners and 256 losers. Add the 32 win totals from our three sports books and you get the following:
Atlantis: 262.5 wins
LVH: 260 wins
Cantor: 256.5 wins
Early leans
UNDER 7 wins New York Jets (-110, Atlantis): I loved it at 7 and am still willing to play it at 6.5 (-110, LVH). The Jets followed up a 6-10 campaign in 2012 by getting worse from a personnel standpoint this offseason. Sure, the Tim Tebow drama is a thing of the past, but how exactly does Gang Green plan to improve on last season's 17.6 points per game average (28th in NFL)? Darrelle Revis is now in Tampa and without him this defense is a far cry from the unit that used to bail out the offense back in 2009 and 2010.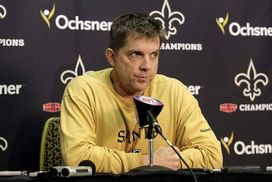 Sean Payton's return to the sidelines will mean big things for the Saints in 2013.
OVER 9 wins New Orleans Saints (-115, Cantor): Go 4-2 within the division, come up victorious in home games against Arizona, Miami, Buffalo and Dallas and then find a way to grind it out on the road against the Jets and Rams. That gives you ten wins right there. Getting San Francisco at home and Chicago on the road in early October are big plusses.
OVER 6.5 wins Kansas City Chiefs (-110, Cantor): I've never been a big Alex Smith fan, but the guy is still 100 times better than the rotating collection of stiffs that have occupied the quarterback position in Kansas City over the last few seasons. Between stability and experience at quarterback along with my belief that Andy Reid's offense gets big results from Dwayne Bowe and Jamaal Charles, I'm willing to back the Chiefs getting to seven wins. Hell, it's not all that crazy to think Kansas City goes 4-0 against Oakland and San Diego. Speaking of the Raiders…
UNDER 5.5 wins Oakland Raiders (-110, Cantor): I'm going to spend more time researching the Silver & Black over the summer, but the bottom line is that when I look at the Oakland schedule, I have no clue how this organization gets to 6-10. Road games at Denver, Kansas City, the New York Giants, Houston and Dallas look daunting, as do home showdowns with Denver, Indianapolis, Washington, Pittsburgh and Philadelphia.
OVER 6.5 wins Miami Dolphins (-120, Cantor): Miami went 7-9 last season with a rookie quarterback, first-year head coach and virtually no firepower on the offensive side of the football. Enter Mike Wallace, an upgraded defense (Dannell Ellerbe, Phillip Wheeler, Dion Jordan) and a signal-caller in Ryan Tannehill who will be better in 2013 than he was in 2012. Four games against the Jets and Bills along with winnable matchups that include Cleveland, Tampa Bay, San Diego and Carolina all look very appealing for over bettors.

2013 LVH Games of the Year lines
CLICK HERE to check out the opening NFL point spreads from Cantor Gaming.
Note: 19 of the following 80 games feature home underdogs.
WEEK 2
New York Jets at New England Patriots (-12.5)
Minnesota Vikings at Chicago Bears (-3.5)
Denver Broncos (-1) at New York Giants
San Francisco 49ers at Seattle Seahawks (-2.5)
Pittsburgh Steelers at Cincinnati Bengals (-3, even)
WEEK 3
Kansas City Chiefs at Philadelphia Eagles (-3)
Houston Texans at Baltimore Ravens (-2.5)
Indianapolis Colts at San Francisco 49ers (-9)
Chicago Bears at Pittsburgh Steelers (-3)
Oakland Raiders at Denver Broncos (-13.5)
WEEK 4
San Francisco 49ers (-3.5) at St. Louis Rams
Seattle Seahawks at Houston Texans (-2.5, -120)
Pittsburgh Steelers (-1.5) at Minnesota Vikings
New England Patriots at Atlanta Falcons (-1)
Miami Dolphins at New Orleans Saints (-5.5)
WEEK 5
Buffalo Bills at Cleveland Browns (-3)
New Orleans Saints at Chicago Bears (-2.5, -120)
Denver Broncos (-3.5) at Dallas Cowboys
Houston Texans at San Francisco 49ers (-6.5)
New York Jets at Atlanta Falcons (-9.5)
WEEK 6
New York Giants at Chicago Bears (-2.5)
Green Bay Packers at Baltimore Ravens (-1.5)
New Orleans Saints at New England Patriots (-7)
Washington Redskins at Dallas Cowboys (-2)
Indianapolis Colts at San Diego Chargers (-2.5)
WEEK 7
Seattle Seahawks (-6.5) at Arizona Cardinals
Dallas Cowboys at Philadelphia Eagles (-1)
Baltimore Ravens at Pittsburgh Steelers (-3.5)
Denver Broncos (-4) at Indianapolis Colts
Minnesota Vikings at New York Giants ( -4.5)
WEEK 8
Carolina Panthers at Tampa Bay Buccaneers (-3)
New York Giants at Philadelphia Eagles (pick)
Washington Redskins at Denver Broncos (-8)
Green Bay Packers (-3, even) at Minnesota Vikings
Seattle Seahawks (-3.5) at St. Louis Rams
WEEK 9
Cincinnati Bengals at Miami Dolphins (-2)
Atlanta Falcons (-1) at Carolina Panthers
Pittsburgh Steelers at New England Patriots (-9.5)
Indianapolis Colts at Houston Texans (-6)
Chicago Bears at Green Bay Packers (-4.5)
WEEK 10
Washington Redskins at Minnesota Vikings (-2.5)
Seattle Seahawks at Atlanta Falcons (-2)
Denver Broncos (-7) at San Diego Chargers
Dallas Cowboys at New Orleans Saints (-3.5)
Miami Dolphins at Tampa Bay Buccaneers (-2.5, -120)
WEEK 11
Indianapolis Colts at Tennessee Titans (pick)
San Francisco 49ers (-3) at New Orleans Saints
Minnesota Vikings at Seattle Seahawks (-8.5)
Green Bay Packers at New York Giants (-1.5)
New England Patriots (-6) at Carolina Panthers
WEEK 12
New Orleans Saints at Atlanta Falcons (-4)
Chicago Bears at St. Louis Rams (-2.5)
Dallas Cowboys at New York Giants (-3, even)
Denver Broncos at New England Patriots (-3)
San Francisco 49ers (-3) at Washington Redskins
WEEK 13
Green Bay Packers (-3.5) at Detroit Lions
Oakland Raiders at Dallas Cowboys (-9.5)
Pittsburgh Steelers at Baltimore Ravens (-3.5)
New York Giants at Washington Redskins (-2)
New Orleans Saints at Seattle Seahawks (-7)
WEEK 14
Houston Texans (-6.5) at Jacksonville Jaguars
Indianapolis Colts at Cincinnati Bengals (-3)
Seattle Seahawks at San Francisco 49ers (-4.5)
Atlanta Falcons at Green Bay Packers (-4.5)
Dallas Cowboys at Chicago Bears (-3)
WEEK 15
San Diego Chargers at Denver Broncos (-10)
Washington Redskins at Atlanta Falcons (-4.5)
Green Bay Packers (-2) at Dallas Cowboys
Cincinnati Bengals at Pittsburgh Steelers (-3)
Baltimore Ravens (-1) at Detroit Lions
WEEK 16
Denver Broncos (-1) at Houston Texans
Dallas Cowboys at Washington Redskins (-3)
Pittsburgh Steelers at Green Bay Packers (-5.5)
New England Patriots (-2.5) at Baltimore Ravens
Atlanta Falcons at San Francisco 49ers (-6)
WEEK 17
Carolina Panthers at Atlanta Falcons (-3.5)
Green Bay Packers at Chicago Bears (pick)
Baltimore Ravens at Cincinnati Bengals (-2.5)
Philadelphia Eagles at Dallas Cowboys (-3)
Washington Redskins at New York Giants (-2.5)
Hit me up on Twitter: @JoeFortenbaugh