December 30, 2013 -
Joe Fortenbaugh
It's all about expectations
The axe-dropping business transactions conducted around the National Football League on Black Monday are typically met with a sense of relief, satisfaction or some combination of the two by the fan bases and media members connected to the organizations that have commenced the initial step of a regime change. Look no further than our nation's capital for proof, as one would be hard-pressed to unearth a member of the Washington faithful disconcerted over the Monday firing of head coach Mike Shanahan, who posted double-digit losing campaigns in three of his four seasons with the Redskins.
But in a reaction that, to this writer, appears amusingly fitting for a franchise that just put the cherry on a sewage sundae comprised of eleven consecutive playoff-less seasons, the firing of first-year head coach Rob Chudzinski in Cleveland has been met with both criticism and scorn for a front office many believe may have acted a bit hastily following the Browns' 4-12 finish. Chudzinski took the reins of an organization with an unserviceable quarterback situation that hadn't won more than five games in a season since 2007. One year on the job, many feel, wasn't nearly enough time to warrant such an abrupt dismissal.
Justified or not, the rationale behind Chudzinski's canning is rooted in expectations. It may be impractical to expect a complete turnaround in just one year's time for a franchise that had gone 52-108 (.325) with just one winning season in the ten years prior to the Chudzinski's arrival. But is it too much to ask for some semblance of progress? A ray of sunshine amidst a dreary Cleveland winter? A glimmer of hope that better days lie ahead?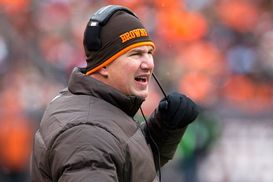 Chudzinski was dismissed Sunday night after just one season on the job.
The answer is a resounding no. Cleveland CEO Joe Banner and General Manager Michael Lombardi knew they were taking on a rebuilding project when accepting their current positions with the Browns. Both men know it takes time to build a winner. But a clear step in the wrong direction is not what either man had in mind when hiring Chudzinski prior to the 2013 season.
The Browns went from a 5-11 football team in 2012 under former coach Pat Shurmur to a 4-12 club in Chudzinski's first and only year on the job. Yeah, Cleveland has problems at quarterback. But Chudzinski wasn't the only guy who took control of a team last offseason that was in bad shape. Seven other head coaching changes took place following the conclusion of the 2012 season, so why don't we take a look at how those fellow newcomers fared in comparison to Chudzinski:
Andy Reid, Kansas City Chiefs: Took a 2-14 dumpster fire of a franchise that ranked 25th in the league in scoring defense (26.6 pts/gm) and turned it into an 11-5 playoff-bound squad that ranked fifth in scoring defense (19.1 pts/gm). Hell, had it not been for a blown call, Reid's B squad would have beaten the highly-motivated Chargers in San Diego on Sunday for the team's 12th victory.
Chip Kelly, Philadelphia Eagles: From worst to first, Kelly's initial foray into the professional ranks as a head coach resulted in a 10-win campaign and NFC East title with a quarterback in Nick Foles who ranked second on the depth chart at the beginning of the season.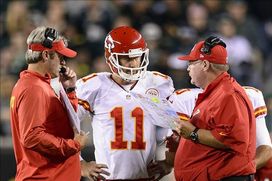 Reid took the 2-14 Chiefs and turned them into an 11-5 playoff squad.
Bruce Arians, Arizona Cardinals: Playing in the league's most vicious division, Arians acquired a broken-down, over-the-hill quarterback in Carson Palmer and somehow found a way to grind out ten wins after the Cardinals went just 5-11 a year ago. And let's not forget that one of those victories took place in Seattle, where the Seahawks hadn't lost since December of 2011.
Mike McCoy, San Diego Chargers: Expectations couldn't have been lower in the wake of the Norv Turner era, where McCoy inherited a porous defense, terrible offensive line and quarterback in Philip Rivers who appeared to be on his last legs. Fast forward to the end of December where the Chargers are headed to Cincinnati for the first round of the playoffs after completing a 9-7 season with a Pro Bowl-bound Rivers under center.
Doug Marrone, Buffalo Bills: Guided the Bills to a 6-10 campaign despite a rotating door at the quarterback position that featured three inexperienced signal-callers who combined for exactly zero starts prior to Week 1. Marrone took a defense that ranked 26th in scoring (27.2 pts/gm) and 22nd in total defense (362.9 yds/gm) in 2012 and transformed it into a serviceable unit that ranked 10th in total defense (333.4 yds/gm) and 20th in scoring (24.2 pts/gm) this season.
Marc Trestman, Chicago Bears: Went 8-8 despite losing starting quarterback Jay Cutler for five games, but that will be viewed as a disappointment in Chicago following Lovie Smith's 10-6 campaign last season. The Bears went from 28th in total offense under Smith in 2012 to eighth under Trestman, but the defense regressed dramatically from fifth in the NFL to 30th.
If it feels as if we've forgotten someone, that's preciously because we waited until now to mention Gus Bradley and the Jacksonville Jaguars. Good luck building an argument that asserts Bradley inherited a better situation than Chudzinski. Both coaches took over terrible football teams rooted in losing, both men had to make hay with below-average quarterbacks. But there's a big difference in the performances turned in by each coach this season, which is why Bradley's campaign can be viewed as a success while Chudzinski's was deemed a failure.
A 2-14 franchise from a year ago, the Jaguars got off to a 0-8 start this season that gave every player on the roster a reason to throw in the towel just like the team's AFC South rival in Houston. But Bradley, despite working with a journeyman quarterback in Chad Henne and over-the-hill ball-carrier in Maurice Jones-Drew, not to mention the Justin Blackmon suspension and Cecil Shorts injury, found a way to coach his team to a 4-4 record over the second half of the season, which included a 32-28 win over Chudzinski's Browns in Cleveland.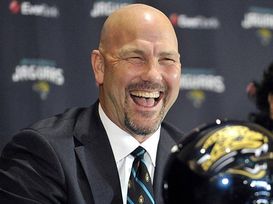 Bradley found a way to go 4-4 over the second half of the season with one of the worst rosters in football.
Working with the worst roster in football in one of the toughest spots imaginable, Bradley did what he was expected to do: He coached. The first-year boss found a way to motivate a downtrodden football team with very little talent and got them to grind out four victories—two more than what 2012 produced—over the last eight games of the year.
Chudzinski's 2013 season followed a much different trajectory. The Browns shocked many observers by jumping out to a 3-2 start, but then proceeded to drop three of their next four contests to give the team a 4-5 record with seven games to play. And what happened next is exactly why the Cleveland brass felt a change was in order.
While Bradley was busy making lemonade out of lemons in Jacksonville, Chudzinski's Browns dropped their final seven games of the season to finish 4-12, which meant t hat after a 3-2 start, Cleveland went a dismal 1-10 to close out the year. When the head coach was expected to find a way to mitigate the damage, all he wound up discovering was Cleveland's sixth-consecutive losing season.
The expectations set forth for both Gus Bradley and Rob Chudzinski entering 2013 were reasonable. Neither organization had realistic visions of playing in January. But the integral difference between the two coaches was that Bradley found a way to demonstrate progress, while Chudzinski produced exactly what the Browns were trying to get away from.
This doesn't make Rob Chudzinski a bad coach. But it does offer up a reason for why he was dismissed after just one season on the job.
Hit me up on Twitter: @JoeFortenbaugh