December 12, 2012 -
Joe Fortenbaugh
It's getting hot in here
Teams in the hunt for a postseason berth would love nothing more than to control their own destiny. Sadly, that's rarely the case for the majority of organizations chasing the Vince Lombardi Trophy 14 weeks into the season.
Today we're going to take a look at the Week 15 slate of matchups with a special emphasis paid to both the current playoff scenarios as well as two key late games that could see a last-minute point spread shift depending upon what happens earlier in the day.
CLICK HERE to check out the current lines.
Thursday, December 13
Cincinnati Bengals (7-6, 4-2 road) at Philadelphia Eagles (4-9, 2-4 home)
Time: 8:25pm ET
Open: Cincinnati -3
Current: Cincinnati -4
Analysis: At 7-6, Cincinnati's Week 14 meltdown against the Dallas Cowboys proved an opportunity squandered with divisional foes Pittsburgh and Baltimore falling on the same weekend. Currently the seventh seed in the AFC and with a road date at Pittsburgh on deck, take note that over the last six seasons, teams playing a road non-conference game one week before a road divisional game are just 19-34 (.358) ATS in the non-conference showdown. However, this implies a potential look-ahead situation and at 7-6 and fighting for their playoff lives, the Bengals can't afford to get caught looking past Philadelphia.
Sunday, December 16
Green Bay Packers (9-4, 3-3 road) at Chicago Bears (8-5, 5-2 home)
Time: 1:00pm ET
Open: Green Bay -3
Current: Green Bay -3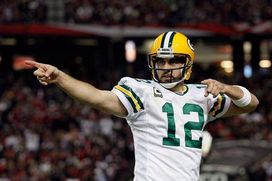 Aaron Rodgers and the Packers have had a lot of ATS success at Chicago over the last few years.
Analysis: The Packers can clinch a playoff berth with a win, while a Chicago victory simply keeps the Bears in the hunt for postseason contention. Lovie Smith's squad currently holds possession of the sixth seed in the NFC, but having dropped four of their last five games, there's blood in the water. Washington, Dallas, Minnesota and St. Louis would love nothing more than a Green Bay win, but all of those teams play at 1:00pm with the exception of the Dallas Cowboys (vs. Pittsburgh, 4:25pm ET). Take note that the Packers are 4-1 ATS in their last five games at Chicago.
New York Giants (8-5, 3-3 road) at Atlanta Falcons (11-2, 6-0 home)
Time: 1:00pm ET
Open: Atlanta -1
Current: Atlanta -1.5
Analysis: Major postseason implications hang in the balance for this 2012 wildcard rematch. The Falcons can clinch a first-round bye with a win and either A) a Green Bay loss or tie, B) a San Francisco loss or C) an Atlanta tie coupled with a Green Bay loss, while the Giants look to maintain control of their division along with the NFC's fourth seed. In regards to Atlanta, San Francisco doesn't play until 8:30pm ET while the Giants will be keenly aware of what takes place in Dallas beginning at 4:25pm ET. A Green Bay loss against the Bears at 1:00pm coupled with a Big Blue victory would vault the Giants into the NFC's third seed.
Minnesota Vikings (7-6, 1-5 road) at St. Louis Rams (6-6-1, 4-3 home)
Time: 1:00pm ET
Open: St. Louis -3
Current: St. Louis -3
Analysis: If the season ended today, the Vikings (ninth seed) and Rams (tenth seed) would both miss out on the playoffs. But with three games left to play both organizations are still in the hunt, making Sunday's showdown in St. Louis a de facto playoff game. Take note that the Vikings are 0-4 ATS over their last four road contests while the Rams are 4-1 ATS over their last five games overall. In addition, this is St. Louis' final home tilt of the season.
Washington Redskins (7-6, 3-3 road) at Cleveland Browns (5-8, 4-3 home)
Time: 1:00pm ET
Open: Off the board (RG3 injury)
Current: Off the board
Analysis: Credit the Browns for making it 14 weeks without being mathematically eliminated from postseason contention. That's a step in the right direction. But while it's highly unlikely that Cleveland finds a way to keep playing football past Week 17, the same cannot be said for the seventh-seed Redskins, who still have a very good chance at capturing a divisional championship. Playing at 1:00pm ET means that Washington won't have the luxury of watching what anybody else in the NFC is doing. They just need to take care of business and hope the breaks fall their way, as a Seattle loss to Buffalo (4:05pm ET) and a Dallas loss to Pittsburgh (4:25pm ET) would greatly help the team's postseason cause.
Denver Broncos (10-3, 5-2 road) at Baltimore Ravens (9-4, 5-1 home)
Time: 1:00pm ET
Open: Denver -2.5
Current: Denver -2.5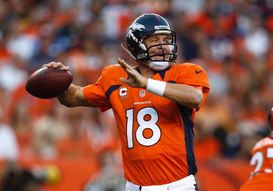 Manning and the Broncos are looking for a first-round bye.
Analysis: The Broncos have already clinched the AFC West which assures the team of at least one home playoff game come January. But at 10-3, Denver is still trying to find a way to earn a first-round bye. As for the Ravens, Baltimore can wrap up the AFC North with A) a win, B) a tie coupled with a Pittsburgh loss or tie and a Cincinnati loss or tie or C) Pittsburgh and Cincinnati losses. The Bengals play on Thursday while the Steelers kick-off at 4:25pm ET on Sunday, but the Ravens are probably more concerned with snapping their current two-game losing steak. A win here would give Joe Flacco and company the tiebreaker over Peyton Manning in the race for the AFC's third seed.
Indianapolis Colts (9-4, 3-3 road) at Houston Texans (11-2, 5-1 home)
Time: 1:00pm ET
Open: Houston -8
Current: Houston -8
Analysis: At 11-2, it's hard to imagine that Houston's feeling the heat. But that's exactly the case heading into the first of two meetings against division-rival Indianapolis that will take place over the next three weeks. The Texans claim the division with a win and can lock-up the AFC's No. 1 seed with a win along with a New England loss or tie AND a Denver loss. Meanwhile, the Colts are headed back to the postseason with a win or a tie and any of the following: Cincinnati loss or tie, Pittsburgh loss or tie, Baltimore win. With the Patriots kicking off at 8:25pm ET, Houston would like nothing more than a victory at 1:00pm to keep the pressure on New England. Especially when you consider the fact that a loss on Sunday opens up the door for the Colts to win a division that the Texans have been in control of since Week 1.
Seattle Seahawks (8-5, 2-5 road) at Buffalo Bills (5-8, 3-3 home)
Note: This game will be played in Toronto.
Time: 4:05pm ET
Open: Seattle -5.5
Current: Seattle -5.5
Analysis: Four wins over their last five games have put the Seahawks in position to make a serious run at a divisional championship. A win over Buffalo on Sunday coupled with a San Francisco loss at New En gland on Sunday night would set up an epic showdown at CenturyLink Field in Week 16 between the Niners and Seahawks that would put Seattle in the driver's seat for a home playoff game in the event of a victory. Does Pete Carroll's crew get caught looking ahead, or do they take it one game at a time? You can bet the 49ers will be keeping a close eye on the developments that transpire north of the border.
ALERT NO. 1
Pittsburgh Steelers (9-4, 4-3 road) at Dallas Cowboys (7-6, 3-3 home)
Time: 4:25pm ET
Open: Dallas -1
Current: Pittsburgh -2
Analysis: Both organizations will be glued to the television screens prior to kickoff, as Dallas and Pittsburgh find themselves embroiled in heated playoff races with a multitude of teams. At the current moment, the Steelers are in possession of the AFC's sixth seed while the Cowboys hold the eighth seed in the NFC. Pittsburgh will be rooting for a Cincinnati loss on Thursday as well as defeats from Baltimore and Indianapolis at 1:00pm ET on Sunday. Meanwhile, Dallas will have a rooting interest in Cleveland knocking off Washington (1:00pm), Atlanta beating the Giants (1:00pm) and Green Bay defeating the Bears (1:00pm). This line could see a late flurry of action depending upon what happens during the early games on Sunday, so be sure to keep a close eye on Vegas.
ALERT NO. 2
San Francisco 49ers (9-3-1, 4-2 road) at New England Patriots (10-3, 5-1 home)
Time: 8:30pm ET
Open: New England -4.5
Current: New England -5.5
Analysis: The last thing the 49ers want is to head to Seattle in Week 16 with the NFC West up for grabs. But Jim Harbaugh's crew will have no other choice if the 49ers fail to find a way to upset the red-hot Pats in Foxborough on Sunday night. The NFC's No. 2 seed at the current moment, San Francisco could go from a first-round bye to a road wilcard game in a span of just eight days if things break the wrong way over their next two outings. Meanwhile, New England is out for blood and is looking to overtake the Texans for the top seed and home field advantage in the AFC. The only way to do that is to keep winning. Take note that a Seattle loss to Buffalo at 4:05pm ET could drive some late money to the window in favor of New England.
Hit me up on Twitter: @JoeFortenbaugh