October 29, 2012 -
Joe Fortenbaugh
It's getting hot in here
Sunday's NFL action saw a multitude of head coaches who began the year on the hot seat come up short in crucial situations. As a result, criticism in several cities around the league is intensifying.
After speaking with Dave Mason of BetOnline.com Monday morning, the offshore sports book has now posted odds on which head coach will be the first to fall victim to the dreaded axe in 2012.
Norv Turner, San Diego Chargers: 2.5-1
Turner had two years left on his contract—at $3 million a pop—when Chargers owner Dean Spanos made the call to bring him back following last season's 8-8 flop. But the writing has been on the wall for quite some time in Southern California, as the decision to retain Turner last January was viewed largely as a choice by San Diego ownership to not spend $6 million on a guy no longer employed by the franchise.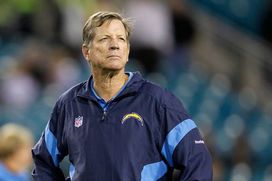 Barring a late-season turnaround, the Norv Turner era in San Diego is over.
The Bolts have failed to make the playoffs in each of the past two seasons and by all accounts this team is getting worse with every passing week. A 7-6 loss at Cleveland on Sunday that saw running back Ryan Mathews—whom the Chargers traded up 16 spots in the first round to acquire back in 2010—fumble yet again illuminates a series of bad personnel decisions (Robert Meachem, anyone?) that has general manager A.J. Smith on the chopping block right next to Turner.
And what happened to first-round pick Melvin Ingram, whom we were hearing so much about back in August? Good question. Through seven games this season, Ingram has 0.5 sacks and 12 total tackles.
Still, Spanos may be content to let Turner finish off the season, as the current coaching staff is devoid of any legitimate candidates to fill the role for 2013.
Jason Garrett, Dallas Cowboys: 3-1
Considered to be the next big thing in the coaching world while serving as offensive coordinator under former boss Wade Phillips, Garrett looked poised to fulfill the prophecy after taking over a 1-7 train wreck in 2010 and guiding the Cowboys to a 5-3 finish.
Unfortunately for Cowboys fans, Garrett has gone bust in the goodwill department and is just 11-12 since the start of the 2011 campaign. Quarterback Tony Romo is lost in a downward spiral of bad decision making and former first-round pick Dez Bryant looks like nothing more than a Day 1 rookie who is completely overwhelmed by the Dallas playbook. And therein lies the problem, because Garrett's specialty is supposed to be offense.
Knowing owner Jerry Jones' penchant for swift decision making based on an itchy trigger finger, Garrett could be on his way out the door in a hurry if he doesn't find a way to start tallying notches in the win column.
Rex Ryan, New York Jets: 4-1
Bill Walsh will always be tied to Joe Montana and Bill Belichick will forever be linked with Tom Brady. That's the way it works with dynasties in the NFL. Unfortunately for Jets general manager Mike Tannenbaum and head coach Rex Ryan, they hitched their wagons to the wrong guy.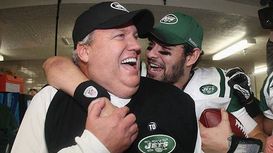 It was less than two years ago that Ryan and Sanchez looked destined to achieve big things.
After back-to-back appearances in the AFC Championship game, the Jets have gone just 11-13 over the last two seasons while starting quarterback Mark Sanchez currently ranks 32nd in the league in completion percentage (52.9%), seventh in interceptions (8), 30th in yards per attempt average (6.38) and 30th in QB rating (72.8).
Yet, for some baffling reason, Ryan continues to stick with Sanchez week in and week out. Is it because he thinks that backup quarterback Tim Tebow is incapable of producing more favorable results? If that's the case, then why the hell did New York sign the guy in the first place?
Somebody's head is going to roll in New York at the end of this season. Tannenbaum is the most obvious choice, but Ryan could join him in the unemployment line if owner Woody Johnson decides that he wants to start fresh by cleaning house.
Romeo Crennel, Kansas City Chiefs: 5-1
"Now, that I'm not exactly sure either."
--Chiefs head coach Romeo Crennel, when asked why Pro Bowl running back Jamaal Charles touched the ball just eight times in Kansas City's 26-16 loss to the Raiders on Sunday.
The Chiefs have played 428 minutes and 33 seconds of regular season football so far in 2012. And during that time, Romeo Crennel's team has led their opponents for exactly zero seconds.
Take his 1-6 mark this year and combine that with the 24-40 record he posted in four seasons at the helm in Cleveland and it's clear that Crennel isn't meant to be a head coach in the NFL. He's finished in Kansas City, but the big question is whether or not general manager Scott Pioli will pull the trigger before year's end. Pioli canned former head coach Todd Haley last season and firing another one of his guys less than one year later would give Kansas City ownership more than enough justification to put their current general manager in a seat next to Crennel on the same bus out of town.
Remember, Pioli played the role of accomplice in Matt Cassel's $63 million heist back in 2009, which came in the legalized form of a six-year contract.
Ron Rivera, Carolina Panthers: 6-1
Things were looking good for Rivera after a 6-10 first season at the controls in Carolina that saw rookie quarterback Cam Newton named 2011 Offensive Rookie of the Year.
Unfortunately for Rivera, his Panthers are off to a dreadful 1-6 start to the season and the guy who hired him back in 2011 (Marty Hurney) was fired last week. That means a new general manager—who will most likely want to hire his own staff—will be in place to start the 2013 campaign.
Still, Rivera did a good enough job last year. And as a result, owner Jerry Richardson wouldn't be making a bad decision by at least allowing him to finish out the season.
Andy Reid, Philadelphia Eagles: 6.5-1
With a 3-4 record following Sunday's 30-17 drubbing at the hands of the undefeated Falcons, the question in Philadelphia at the moment isn't "if" Reid will be sent packing, it's "when."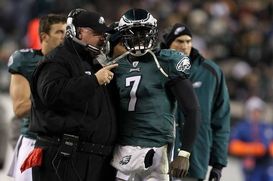 Many are to blame for Philly's troubles this season, but it always comes back to the head coach.
In a bush league move that neither solved any problems nor distracted the public from the organization's real issues, Reid canned defensive coordinator Juan Castillo two weeks ago and is now rumored to be contemplating a change at the quarterback position by sending the highly-paid Michael Vick to the bench in favor of rookie third-rounder Nick Foles. Such a transition would likely signal the end of the failed Vick experiment, bringing even more light to a six-year deal that will go down as one of the worst in NFL history.
Look no further than Sunday's performance against Atlanta for the most telling signs that the Eagles head coach has lost his touch. Reid was defeated coming off the bye for the first time in his 14-year tenure in South Philly while watching his allegedly explosive offense generate less than 20 points for the fi fth time in seven games.
However, with a career record of 71-36-1 (.664) in the months of November and December, does owner Jeffery Lurie give Reid one last chance to pull a rabbit out of his hat, or does he make the move soon in an effort to send a message to the city that this type of play is unacceptable?
The rest…
Chan Gailey, Buffalo Bills (6.5-1): It's never a good thing when you open up the bank vault to upgrade your defense, only to watch that unit get decimated week after week. Gailey is just 13-26 since taking the Bills job back in 2010 and if his team doesn't get competitive in a hurry, owner Ralph Wilson will have no choice but to find someone who can get the most out of his recent spending spree. Remember, Buffalo hasn't qualified for postseason play since 1999.
Pat Shurmur, Cleveland Browns (7-1): If it hasn't happened already, expect these odds to be adjusted in a hurry. With a new owner and front office ready to right the ship beginning in 2013, Shurmur's time in Cleveland is pretty much over. Whether or not he can make it through 17 weeks is another story.
Marvin Lewis, Cincinnati Bengals (15-1): The Andy Dalton-A.J. Green connection—coupled with a trip to the playoffs in 2011—pretty much guarantees that Lewis will be around for the remainder of the season. But at what point does Bengals ownership realize that Lewis has been around for ten years and has never won a playoff game?
Hit me up on Twitter: @JoeFortenbaugh