August 27, 2010 -
Joe Fortenbaugh
It's make or break time
Week 3 of the NFL preseason isn't just an important time for coaching staffs and front office personnel, it's a crucial week for fantasy owners as well.
The first three to four rounds of any fantasy draft are somewhat easy to predict at this point in the summer, but it's the middle and later rounds where the diamonds in the rough can be unearthed at a great price.
With that in mind, there are several key players and positional battles fantasy owners are advised to monitor this weekend.
Let's take a look…
The 2010 NFL regular season is almost upon us! Click HERE to purchase the 2010 National Football Post fantasy draft guide and Total Access Pass!
Friday
Washington Redskins at New York Jets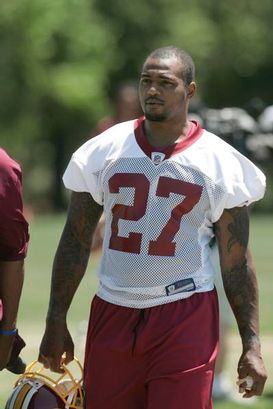 ICONIs the end near for Larry Johnson?
The battle: Ryan Torain vs. Larry Johnson vs. Willie Parker
Analysis: Former Pro Bowler Clinton Portis is going to be the lead dog in Washington this season, but who will emerge to grab the No. 2 spot? Both Parker (1 carry for -1 yards) and Johnson (8 carries for 4 yards) have seen very limited action in the Redskins' first two preseason games. Not only that, but it wouldn't be a surprise to see both guys on the street without a job when the final roster is announced. Former Denver Broncos running back Ryan Torain (18 carries for 64 yards) has a lengthy injury history, but could be the dark horse that emerges to win the job.
Philadelphia Eagles at Kansas City Chiefs
The battle: Jamaal Charles, Thomas Jones and Dexter McCluster
Analysis: Chiefs head coach Todd Haley had some fun with the depth chart this August and originally listed Jones as the No. 1 running back in Kansas City. That motivational tactic appeared to work as Charles is currently averaging 7.0 yards per carry (9 carries for 63 yards) through the Chiefs first two preseason games. He'll be the featured ball carry in 2010, but keep an eye on Jones to see if he can make a late push to warrant a larger role in the offense. In addition, deep sleeper Dexter McCluster (WR/RB) has already piled up 64 yards on nine total touches (6 targets). Keeper league owners should pay attention to what the rookie from Ole Miss does against the Philly defense on Friday.
Saturday
Cleveland Browns at Detroit Lions
The battle: Montario Hardesty vs. Peyton Hillis
Analysis: It looks like Jerome Harrison (12 carries for 38 yards and 1 touchdown) is going to open the year as the featured running back in Cleveland, but who is going to emerge as the Browns No. 2 option? Rookie second-round pick Montario Hardesty (Tennessee) has missed almost the entire preseason with a bone bruise on his right knee, which has opened the door for Hillis (14 carries for 54 yards, five receptions for 46 yards) to make some noise. The bad news for Hardesty is that he isn't expected to play Saturday at Detroit, but could be back in the lineup for the Browns' final preseason game (September 2) against the Chicago Bears. Be sure to keep a close eye on this situation as Hardesty has a high ceiling and a ton of upside But remember, he has some durability issues that date back to his college days at Tennessee.
Jacksonville Jaguars at Tampa Bay Buccaneers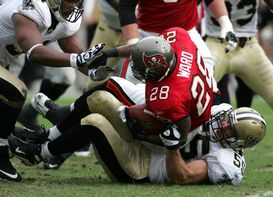 ICONA poor showing this weekend could mean the end of the road for Ward in Tampa.
The battle: Derrick Ward vs. Kareem Huggins
Analysis: It's hard to believe that it was only 17 months ago that the Buccaneers signed Ward to a four-year, $17 million contract to come in and compete with Cadillac Williams for the starting job in Tampa. But after an unimpressive 2009 campaign coupled with the fact that Ward showed up to camp out of shape this summer, the former New York Giant could find himself out of a job in the very near future. Ward is averaging a pathetic 1.8 yards per carry this preseason and is on the verge of losing the No. 2 job to second-year back Kareem Huggins (16 carries, 99 yards, 6.2 YPC), who has looked very impressive in two August appearances. Should Ward fail to deliver Saturday night against a below-average Jacksonville run defense, the 29-year old may have to start thinking about a new line of work.
New York Giants at Baltimore Ravens
The battle: Ahmad Bradshaw vs. Brandon Jacobs
Analysis: I'm hoping that by this point in the summer you guys have read enough of my columns to know how high we are on Bradshaw this season. The dual-threat playmaker has touched the ball 11 times this preseason for 85 yards and one touchdown and has started at running back in both of New York's preseason games. On the flip side, bruising back Brandon Jacobs has only amassed four carries for two yards and is in danger of having his role reduced this season. A decent showing this Saturday against the Ravens should be enough for Bradshaw to solidify himself atop the New York depth chart. His draft stock is currently on the rise, but the 24-year old can still be had for a great value in the 6th round.
Seattle Seahawks at Minnesota Vikings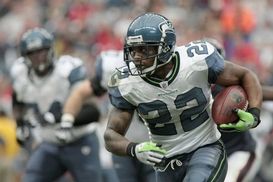 ICONIs there any chance Julius Jones can work his way back into contention for the starting job in Seattle?
The battle: Leon Washington vs. Justin Forsett vs. Julius Jones
Analysis: It's going to be slim pickings for the Seattle backfield this weekend against Minnesota's stout front four, but if any of these three ball carries can step up and make some plays, we may finally get our answer in regards to who "the guy" will be for the Seahawks this season. Head coach Pete Carroll is giving each running back a chance to work with the staring unit and this Saturday is former Jet Leon Washington's opportunity to shine. Despite appearing in just one preseason game to date, Washington has been the most impressive (4.8 yards per carry, 1 touchdown), while Jones (2.7 yards per carry, 0 touchdowns) and Forsett (2.5 yards per carry, 0 touchdowns) have failed to get anything going. Both Forsett and Washington are currently being targeted in the middle to later rounds, so this is a crucial game to monitor if you are looking for an RB3/RB4 with some upside.
The battle: Bernard Berrian vs. Himself
Analysis: With Sidney Rice likely sidelined for the first half of the season after undergoing hip surgery this week and second-year wideout Percy Harvin battling migraine issues, Bernard Berrian is never going to have a better opportunity to make an impact in the NFL. The 29-year old is in a position to become quarterback Brett Favre's No. 1 target, but he has to earn it on the field before we can advise you to spend a mid-round draft pick on him. Berrian's stock is currently on the rise due to the injury bug that has hit the Minnesota receiving unit but remember, he hasn't done anything on the gridiron to earn it. The last thing you want to do is overpay for a wideout that is going to catch 50 passes this season.
Dallas Cowboys at Houston Texans
ICONThat's how you carry the ball, Slaton!
The battle: Arian Foster vs. Steve Slaton
Analysis: With rookie second-round pick Ben Tate lost for the year, the backfield situation in Houston has gotten very interesting. Arian Foster looks like the frontrunner to win the job (12 touches, 74 yards, 1 touchdown), but the 24-year old lost a fumble in the Texans' second preseason game against the New Orleans Saints. Meanwhile, 2008 standout Steve Slaton has looked decent (17 touches, 58 yards) but lost a fumble in Houston's first preseason game against the Arizona Cardinals. Head coach Gary Kubiak is fed up with his running backs' inability to hold onto the football, so the decision could come down to which player fumbles the least. Not exactly a comforting concept, but the Texans can't afford any more turnovers from the running back position.
Arizona Cardinals at Chicago Bears
The battle: Derek Anderson vs. Himself
Analysis: Thursday's report that quarterback Matt Leinart is headed back to the bench has opened the door for Anderson to once again become a starting signal-caller in the NFL. However, while Anderson isn't exactly a top fantasy option, owners interested in selecting wide receiver Larry Fitzgerald need to pay close attention to this development. We all know that Fitz is a star, but poor quarterback play could knock him from the top tier at the wide receiver position. He's going to need a quarterback that can target him down the field and provide the jump ball opportunities that Fitzgerald is so good at winning. Anderson needs to step up in a hurry, or Fitz owners could find themselves in a jam.
San Francisco 49ers at Oakland Raiders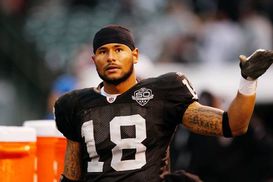 ICONWith little competition, it could be smooth sailing for Murphy into the No. 1 spot on the depth chart.
The battle: Louis Murphy vs. Nobody
Analysis: Somebody, repeat, SOMEBODY has to catch the football in Oakland this season. Second-year wide receiver Chaz Schilens looked like a decent sleeper option until he went under the knife for arthroscopic knee surgery earlier this week. 2009 top-ten draft pick Darrius Heyward-Bey has yet to show anybody anything, which leaves second-year man Louis Murphy as fantasy owners' best bet. The former Florida Gator currently leads all Raiders pass-catchers in receiving yards this season (67) and ranks second in receptions (4). A respectable showing against the 49ers defense on Saturday could warrant a late-round flier.
For those of you taking part in fantasy drafts this weekend, best of luck. If you've been studying and mock drafting this summer, now is your time to shine.
Hit me up on Twitter: @JoeFortenbaugh